/ Source: The Associated Press
Drug cartels fund a tenth of Mexico's economy. They have infiltrated many local and state police forces and staged assaults on army bases. Now they're violently inserting themselves into politics, killing the leading candidate for governor of a northern state only days before Sunday's elections in 12 states.
The assassination of Rodolfo Torre in the border state of Tamaulipas on Monday capped the deadliest month yet in President Felipe Calderon's military-led offensive against drug traffickers. Carefully planned attacks — including an ambush that killed 12 federal police officers — have served as chilling reminders that Mexico's drug cartels can get to anyone, anywhere, armed with sophisticated weaponry and billions of dollars to pay off informants.
Mexican officials said Sunday's voting would go forward as planned, including in Tamaulipas, where Torre's replacement as candidate of the Institutional Revolutionary Party had not even been named.
Cartels seen in control
But even as Calderon's government urged citizens to stand up to the cartels by turning out to vote, Mexicans increasingly see the cartels — not Calderon — as having the upper hand.
"Organized crime has voted," the national newspaper Reforma wrote in a front-page editorial Tuesday. "What's the point of having elections when a de-facto power is imposing its will over the will of citizens?"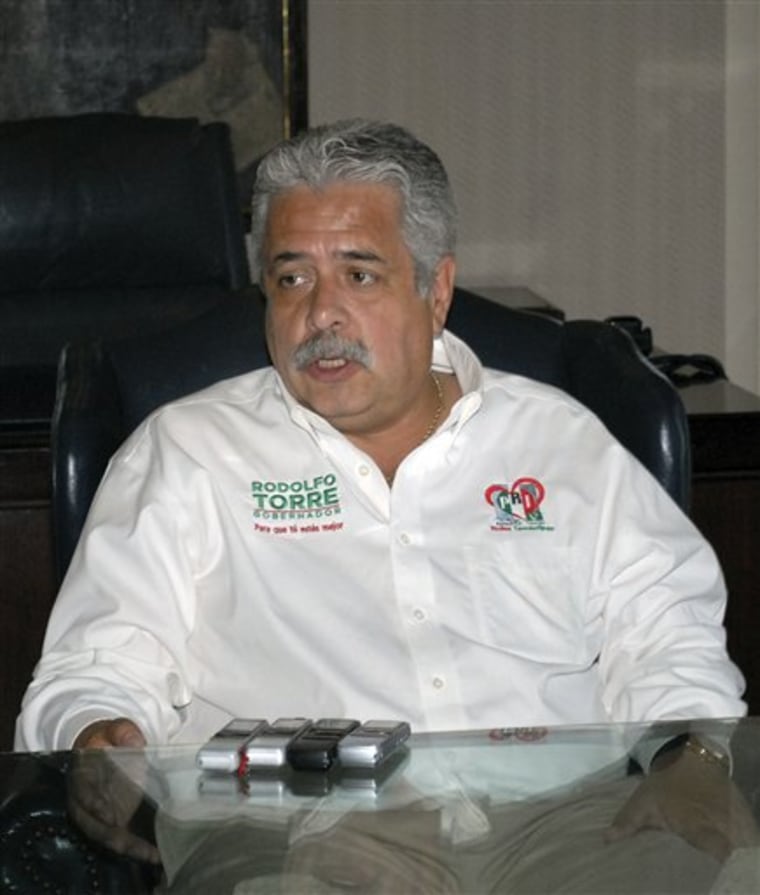 Throughout Mexico, the cartels have had a strong impact on this year's campaigning. The mayor of Cancun, who was running for governor of Quintana Roo state, was arrested last month on charges of protecting two cartels. In Sinaloa and other states, assailants have lobbed grenades at party offices. And rumors abound about candidates who just might be on the take from one or another of the powerful drug organizations.
The assault on Torre's campaign caravan was typical of a cartel hit. Gunmen intercepted his convoy as it headed to the airport, indicating they knew exactly when he would be passing by. The body of the candidate and four others in the caravan lay strewn on the street, suggesting they had tried to flee.
Feud spurs violence
Mexicans took the hit to be part of a feud between the Gulf cartel and a gang of hit men who split from it known as the Zetas, who have been battling in Tamaulipas this year.
The Zetas have grown into a formidable drug trafficking organization in their own right, with operations reaching deep into Central America, and the Gulf and Sinaloa cartels have teamed up to fight their new, common enemy.
The Zetas, former members of a military intelligence battalion sent to fight the cartels, joined forces with the Gulf cartel in the 1990s and increasingly began controlling life in Tamaulipas. In addition to drug smuggling, they began extorting money from businesses such as restaurants, car dealerships and junkyards. They kidnapped people for ransom and charged "fees" to migrant smugglers and other drug traffickers.
More recently, gunmen believed to be from the Zetas have staged bold attacks on security forces in Tamaulipas, setting up roadblocks and assaulting army garrisons, armed with grenades and semi-automatic weapons.
Now, they may be trying to determine who runs the state.
Too dangerous to run
Torre was the second candidate killed in Tamaulipas in the run-up to Sunday's elections: Jose Guajardo Varela was gunned down in May after ignoring warnings to drop out of the race for mayor of Valle Hermoso. Several parties have complained they can't find anyone to run for office in some Tamaulipas towns because it's too dangerous.
"The freedom that we had three, four or five years ago in Tamaulipas and in Mexico is gone," said Gustavo Cardenas, a former Tamaulipas senator who promised his family he would not run for office this year to avoid becoming a target. "This is only the beginning. This is the product of great corruption, of great impunity."
Many took the attack on Torre as proof of long-standing allegations that his party, known as the PRI, has protected the Gulf cartel in Tamaulipas.
"Their candidate is Tamaulipas was assassinated because of its complicity," said Adriana Davila, a candidate for governor of central Tlaxcala state running for Calderon's National Action Party.
Murderous message
But Mexico's interior minister, Fernando Gomez Mont, called Torre an honest man with no hint of corruption in his past.
And some PRI activists in Tamaulipas said that might be what got him killed.
Mauricio Cerda, who runs a PRI-aligned citizens' political organization in Ciudad Victoria, sees Torre's killing as a message to current Gov. Eugenio Hernandez, who has angered drug cartels by appealing for more federal troops and police in the state.
"It was a strong message for the governor: 'Don't rock the boat,'" he said.