/ Source: msnbc.com news services
Seven-foot waves and 25 mph winds generated by Hurricane Alex, along with high tides, pushed more oil from the massive spill onto Gulf Coast beaches Wednesday.
In Louisiana, heavy rains pounded the Grand Isle region, causing flash flooding in low-lying areas. Long bolts of lightning streaked the dark skies, keeping oil-cleanup operations locked down. A pounding surf had moved some of the boom that lines the beach.
Coast Guard Cmdr. Joe Higgens said the booms protecting the region would probably take a beating because of heavy seas and storm surge, and workers will start putting the barriers back in place once the weather clears.
Earlier Wednesday, Alex pushed an oil patch toward Grand Isle and uninhabited Elmer's Island, dumping tar balls as big as apples on the beach.
"The sad thing is that it's been about three weeks since we had any big oil come in here," marine science technician Michael Malone said. "With this weather, we lost all the progress we made."
BP said suspended operations included skimming, controlled burns of oil on the ocean surface and flights spraying dispersant chemicals. The oil-capture and relief well drilling operations were ongoing.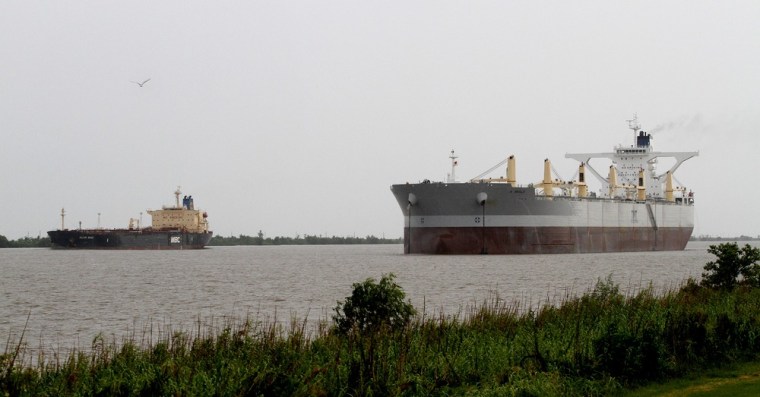 Once the storm passes, a new weapon could be depoyed: a former oil tanker converted into an oil skimmer that stands 10 stories tall and is longer than three football fields.
Now anchored in the Mississippi River, the ship has never been tested, and many questions remain about how it would operate. Federal officials would have to sign off on using it before BP could give it a cleanup contract.
Although Alex will not make a direct hit on oil platforms in the Gulf, the storm was potent enough that several companies have evacuated rigs. About a quarter of oil production and 9.4 percent of natural gas output in the Gulf of Mexico have been shut, U.S. officials said.
The loss of skimmers, combined with gusts driving water into the coast, left beaches especially vulnerable.
In Alabama, the normally white sand was streaked with long lines of oil. One swath of beach 40 feet wide was stained brown and mottled with globs of oil matted together.
Oily water on roads
Coastal areas are also seeing unusually high tides.
Along the Mississippi coast, exasperated drivers were forced to take detours along some busy beach roads to avoid oily water splashing onshore.
Strong northern winds and high tides pushed tar balls and waves of dark brown mousse patties over several seawalls that line major beach roads.
"I have had enough. Now it is coming up on the roads. Next the oil will be in our homes. Just watch. This is (Hurricane) Katrina all over again, just worse," said Kelly Mills, an area resident.
On Louisiana's Bay Baptiste, whitecaps were visible in the distance as the outer bands of Alex began to move into the region. Several marshes were only partially boom-protected, with oil coating the bottom of reeds as crabs covered in crude scurried on nearby marsh islands.
A thin sheen of oil covered much of the bay's water.
"Because of the spill, any effect from the storm will be bad," said Michael Dardar, of Raceland, Louisiana. "High waves will drag oil over and under the boom."
The nasty weather will likely linger in the Gulf through Thursday, National Weather Service meteorologist Brian LaMarre said.
Alex made landfall in Mexico near the Texas border with maximum sustained winds near 105 mph. The National Hurricane Center said the Category 2 storm was the first June Atlantic hurricane since 1995.
Officials scrambled to reposition boom to protect the coast, and had to remove barges that had been blocking oil from reaching sensitive wetlands. Those operations could soon get a boost. The U.S. accepted offers of help from 12 countries and international organizations.
Mexico, Norway, Holland and Japan are providing skimmers; Canada is providing containment boom; and Croatia is pitching in with technical advice. Only one offer has been rejected, according to the chart. Dispersant chemicals offered by France are not approved for use in the U.S.
The U.S. rarely faces a disaster of such magnitude that it requires international aid, though it did accept assistance after Hurricane Katrina.
Winds, waves could break up oil
Scientists have said the rough seas and winds, though, could actually help break apart the oil and make it evaporate faster.
The wave action, combined with dispersants sprayed by the Coast Guard, have helped break a 6-by-30-mile oil patch into smaller patches, Coast Guard Cmdr. Joe Higgens said.
"It's good news because there is less on the surface," Higgens said. "It's surface oil that washes up on the beaches."
Jefferson Parish Council member Chris Roberts said the oil was entering passes Tuesday at Barataria Bay, home to diverse wildlife. A day earlier, barges that had been placed in the bay to block the oil were removed because of rough seas. Boom was being displaced and had to be repositioned, he said.
The Bureau of Ocean Energy Management, Regulation, and Enforcement said 28 platforms and three rigs in the path of the storm in the western Gulf have been evacuated. Still in the water are vessels being used to capture or burn spewing oil and gas and those drilling relief wells that officials say are the best hope for stopping the leak for good.
So far, between 70 million gallons and 137 million gallons of oil have spewed into the Gulf from the broken BP well, according to government and BP estimates. The higher estimate is enough oil to fill half of New York's Empire State Building with oil.
In related developments Wednesday:
The first of several tests on chemicals used to break apart the oil shows all the available dispersants are generally equally toxic, the Environmental Protection Agency said. The testing also showed the chemicals are far less toxic than oil and that none of the chemicals have dangerous effects on the sea life tested. Further tests are underway to see whether the combination of dispersants and oil poses more risks than benefits.
An Interior Department official says the government is expected soon to issue more permits for drilling in shallow waters of the Gulf of Mexico. The decision would not affect the six-month moratorium on deepwater drilling imposed in the aftermath of BP's Deepwater Horizon oil spill. While drilling in shallow waters was not part of the moratorium, there has been confusion about whether new permits will be approved for shallow water leases. Interior Deputy Secretary David Hayes told a House hearing that he expects more shallow water drilling applications to be approved as they are received.