Can't stomach the ongoing vampire soap opera that is "Twilight" and yet find yourself inexplicably drawn to it at the same time?
While flocks of swooning teens (and, yes, even post-teens) line-up for "The Twilight Saga: Eclipse" as it opens in theaters today, we recommend you take refuge in "8-Bit Twilight Eclipse," a totally unauthorized, remarkably amusing game.
This game/interactive YouTube video was written and directed by Benny and Rafi Fine, a comedic filmmaking duo better known as The Fine Brothers (check out their hilarity here) with music and animation whipped up by Doc Octoroc (the mastermind behind "Dr. Horrible's Sing-Along Game.")
Using the very latest in 8-bit graphic and sound design technology, they've brought Bella, Edward and Jacob to their fans like never before. Through the magic of the YouTubes, you can not only watch as the tale of sparkly blood suckers and oversized moon dogs takes its latest heart-wrenching twists and turns, you can actually decide what happens to the characters along the way.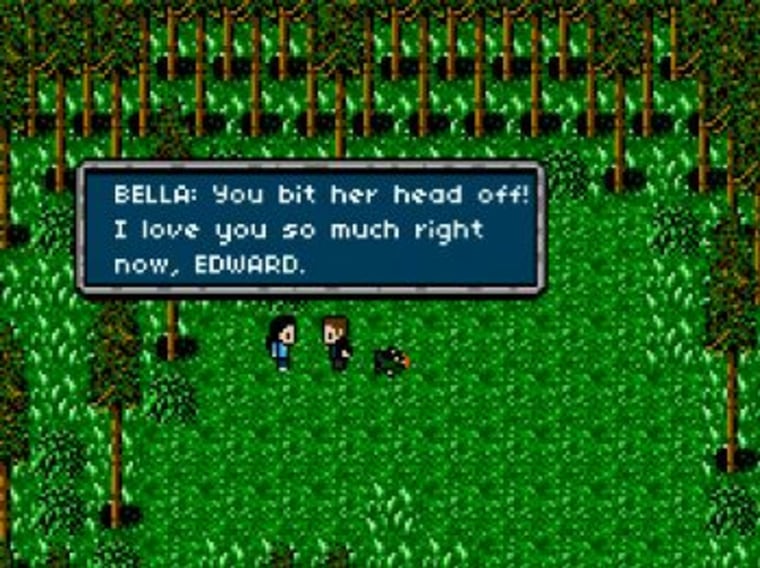 Will Edward win Bella's heart? Or will it be Team Jacob? With the click of your mouse, you decide!
"Being comedic filmmakers and satirists, it's great to find mega franchises with huge followings that have people who love it and people who hate it, and then create a fun experience that both sides can enjoy," said Rafi Fine, pointing out that it's similar to what he and his brother did with their "Lost" action figure parodies. "Twilight was a no brainer with the movie coming out. A perfect storm of pop culture, geek culture, lovers and haters."
Indeed, for all you Twi-hards cramming yourselves into theaters today, "8-Bit Twilight" lets you extend your "Twilight" mania to the privacy of your own home and for the price of totally free. And for all you Twi-haters, "8-bit Twilight" gives you the opportunity to guffaw your way through this redonkulous tale without an emotionally overwrought vampire-wanna-be clubbing you upside the head with her official Twilight branded lunchbox.
We do hope, however, that the next time The Fine Brothers make a "Twilight" game, they give players a third ending choice. Forget Edward vs. Jacob. We want to give Bella the boot and let the boys run off together.
(Thanks to Kotaku.com for bringing this treasure to our attention.)
Winda Benedetti welcomes vampires AND werewolves to join her .