/ Source: The Associated Press
Before Vicky Pelaez became a columnist for one of the United States' best-known Spanish-language newspapers, she was a scrappy television reporter in her native Peru who turned her kidnapping by a leftist guerrilla group into a chance to get a scoop.
Her husband, Juan Lazaro, was a photographer for various publications and a karate instructor. He claimed to have been born in Uruguay.
They shared a passion for the left that they carried with them in the late 1980s when they moved to New York, where Pelaez became a columnist for El Diario/La Prensa and Lazaro pursued studies in political science.
The couple also would come to share a secret life as covert agents for the Russian government, prosecutors say.
They were among 10 suspects in New York, Massachusetts and Virginia charged in a spy case that has evoked memories of Cold War espionage. An 11th suspect disappeared in Cyprus after being released on bail.
The FBI says Pelaez and Lazaro took money from Russian officials for their intelligence work. Attorneys for Pelaez and Lazaro say they're innocent, and Pelaez' son, Waldo Mariscal, has called her arrest "ridiculous."
Pelaez, 55, and Lazaro, 65, were set to appear before a federal judge Thursday for bail hearings. At the same time, members of the Peruvian community planned to hold a rally for Pelaez outside the Manhattan courthouse.
Federal agents have yet to detail all their evidence against the couple, but say they had them under surveillance for at least a decade.
Court records suggest that at least some of the material they gathered was of questionable value, and seem to portray them as dispirited about what they were doing.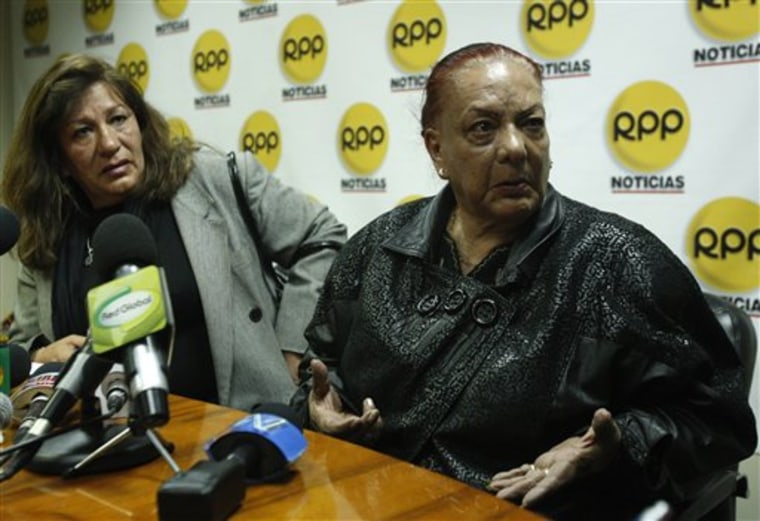 In 2002, U.S. agents recorded Lazaro complaining to his wife about Moscow's disappointment with his reports, according to the FBI.
"They tell me that my information is of no value because I didn't provide any source," he said, according to an FBI transcript of the conversation.
"Really?" Pelaez said. She suggested he just make up a name to appease his bosses. "Put down any politician from here!" she said.
Lazaro then lamented that Moscow seemed disinterested in the U.S. anyway.
"On the inside, they don't even care about the country," he said.
"So, why do they have you?" Pelaez said. "If they don't care about the country, what do we have intelligence services for?"
Prosecutors haven't said how they believe the pair got involved in spying, although they hinted that Lazaro may have personal ties to Russia. The FBI said it recorded a conversation between the couple at their Yonkers home in 2002 in which Lazaro described moving to Siberia as a child.
Those who know Pelaez and Lazaro have questioned whether they were detained because of their political views.
To her sister's defense
Elvira Pelaez, the sister of the detained journalist, said at a news conference Wednesday in Peru's capital, Lima, that the evidence against her sister was "vague." She said the charges were a repressive response to her sister's work, which deals with subjects that make the U.S. government uncomfortable.
"The complaint they've filed contains absolutely no evidence of anything," she said in Spanish.
Prosecutors say Vicky Pelaez was videotaped meeting with a Russian government official at a public park in an undisclosed South American country, where she received bags containing $80,000. In 2007, they say, Lazaro was videotaped at the park receiving money from the official.
Pelaez and Lazaro met in the 1980s in Lima. She had studied journalism in college and was working as a television reporter.
On Dec 8. 1984, while working for Channel 2, Frecuencia Latina, Pelaez was kidnapped for a day by members of the Tupac Amaru Revolutionary Movement, one of the country's main communist armed insurgencies, along with her cameraman.
She persuaded one of the group's leaders, Victor Polay, to let her interview him. The interview wasn't broadcast on television, but the following year it appeared in Marka, a newspaper with leftist leanings.
It was partly because of that ordeal that Pelaez and Lazaro left the country for New York, her sister said.
"She was recently married, and she left because the kidnapping had scared her a bit," Elvira Pelaez said.
By 1987, the couple had established themselves in New York.
While Pelaez continued to pursue her career as a columnist, Lazaro studied at the New School for Social Research, now called The New School, a university in Manhattan.
'Everyone contributes equally'
In 1990, Lazaro published a study in a leftist European journal about the positive role of women as combatants in Sendero Luminoso, or Shining Path, a violent Maoist insurgency in Peru that had peaked in the 1980s before government security forces cracked down on it.
"It seems that sexism, normally one of the stronger barriers limiting female performance in guerrilla actions to support roles in the majority of the revolutionary movements, has been overcome by the Sendero Luminoso," Lazaro wrote in the study, called "Women and Political Violence in Contemporary Peru."
Pelaez, through her El Diario column, aggressively criticized the U.S. government and defended illegal immigrants. Her pieces are widely reprinted on left-leaning websites.
"There is no alternative but to organize on the basis of a communal philosophy: today for you, tomorrow for me," she wrote in February 2009 in a column about undocumented immigrants amid the recession. "If it becomes necessary, they must form popular movements in which everyone contributes equally, providing clothing, shelter, etc."
When they were arrested, the couple were living in Yonkers, just north of New York, with their two children, one an adult and the other a teenager.
Associated Press writer Clara Salazar contributed to this story from Lima, Peru.