/ Source: The Associated Press
Russian money and influence have long made a splash on this Mediterranean resort island, where a suspected spy paymaster vanished after being allowed to walk free on bail.
Russian energy giant Lukoil has a big presence here, and the Greek Cypriot president, a communist who studied in Moscow, is expecting an illustrious visitor in October — Russian President Dmitry Medvedev.
Embarrassed authorities searched airports, ports and yacht marinas Thursday for the suspect, identified as Christopher Robert Metsos. Freed on $33,000 bail, he failed to show for a required meeting with police on Wednesday.
There's no evidence for now that the deep Russian presence in Cyprus played a role in his release, but the Cypriot government is under pressure to explain the bewildering fumble involving a man wanted in the United States for allegedly operating a Russian spy ring there.
Ten suspects are in custody in the U.S., where federal prosecutors said Thursday one man had confessed to federal agents that he worked for Russia's intelligence service. Six suspects appeared in courts in New York and Boston, while a hearing in Alexandria, Va., was postponed. Most of the suspects are charged with crimes that carry penalties of up to 25 years.
Cyprus' heyday
The case, a throwback to the Cold War era, recalls Cyprus' own heyday as a place of intrigue, a listening post for spies of all stripes who maneuvered in the Middle East and a convenient transit point for the shady figures of espionage.
Greek Cypriot police examined surveillance video from crossing points on the war-divided island, fearing the suspect may have slipped into the Turkish Cypriot north, a diplomatic no-man's land recognized only by Turkey.
But the fugitive might feel more at home in the Greek-speaking south, where tens of thousands of Russians own mansions and offshore accounts, read Russian-language newspapers and send their children to Russian schools. Recently, the tourist town of Limassol hosted a Russian festival that was opened by Greek Cypriot President Dimitris Christofias.
Cyprus is a top gateway of foreign investment into Russia, and is a popular destination for Russian capital because of low taxes. Cypriot firms have been used as holding companies to avoid taxation in Russia. In recent years, Cyprus took steps to open up bank records so Russian authorities could track tax dodgers.
The political links are tight, too. Christofias, the only communist head of state in the European Union, earned a doctorate in history in Russia and speaks the language. He has welcomed Russian support for peace talks with the Turkish-speaking north, and his foreign minister met his Russian counterpart last week.
On Thursday, as police scoured the island for Metsos, Christofias was hosting an event at the presidential palace to mark the arrival of one of Russia's largest banks, Gazprombank.
In Nicosia, Justice Minister Loucas Louca admitted that a judge's decision to release Metsos "may have been mistaken" and said authorities were examining leads on his possible whereabouts.
"We have some information and we hope that we will arrest him soon," Louca told reporters.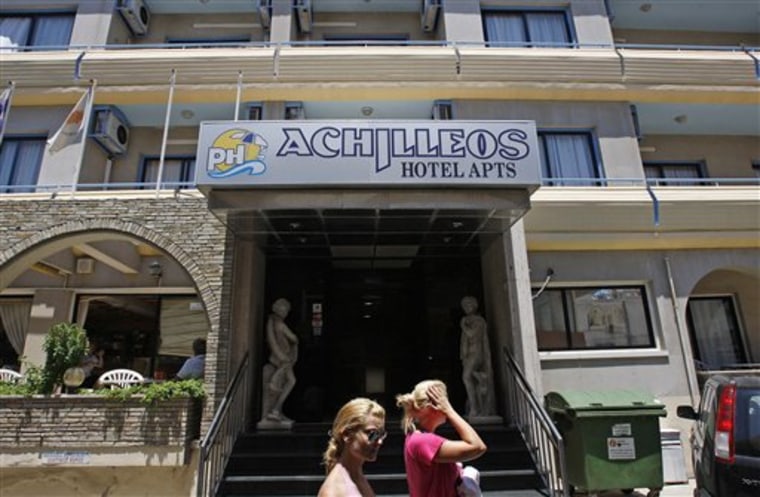 The balding, bespectacled Metsos, 54, is wanted in the United States on charges that he supplied money to the spy ring that reputedly operated under deep cover in America's suburbs.
'As we had feared'
In Washington, the Justice Department expressed disappointment Thursday that Metsos was freed on bail. "As we had feared, having been given unnecessarily the chance to flee, he did so," said Dean Boyd, a spokesman for the department's national security division.
Cypriot police spokesman Michalis Katsounotos said there were "no indications yet" that Metsos had left the south of the island — and insisted that police bore no responsibility for his disappearance.
"The nagging question of why he was released on bail is best posed to the court, not the police," Katsounotos told The Associated Press.
Russians shuttle through the international airport in Larnaca, where Metsos was arrested Tuesday while waiting to board a flight for Budapest, Hungary. He was traveling on a Canadian passport and said he was a tourist.
About 150,000 Russian tourists visited Cyprus in 2009 and even more are expected this year. Cyprus authorities are trying to make it easier to issue travel visas to Russian citizens and cultural ties extend to the religious: Russians recently inaugurated a large Orthodox church.
Turkey is bound by Interpol warrants, but Cyprus' Turkish-speaking north is not and has no extradition treaties with other countries. Its only air link is to Turkey, though ferries run to Lebanon and Syria.
About 25 flights take off daily from northern Cyprus to more than a half-dozen Turkish cities.
No word from Turkey
A Turkish Interior Ministry official said he had no information about any search warrant for Metsos in Turkey, but if one was issued, police at airports and ports would be on the lookout for him. He spoke on his department's customary condition of anonymity.
Metin Beyoglu, a spokesman for the breakaway Turkish Cypriot government, said there was no information that Metsos had crossed into the north.
Katsounotos says Metsos arrived on the island June 17 and Cypriot authorities received the Interpol arrest warrant June 25. He was arrested four days later.
Cyprus was split into an internationally recognized Greek Cypriot south and Turkish Cypriot north in 1974 when Turkey invaded in response to a coup by supporters of union with Greece.
Cyprus has for decades been a hotbed of espionage intrigue, as spies converged on the east Mediterranean island positioned at the crossroads of three continents — Europe, Africa and Asia.
The stepfather of psychic Uri Geller ran a hotel in the mid-1950s that was a front for Israel's Mossad spy agency, and Geller ran errands for agents.
More recently, former CIA agent Harold Nicholson, in prison for espionage, recruited his 24-year-old son Nathaniel to meet Russian agents in cities around the world from 2006 to 2008 to collect money owed by his former handlers. One of those cities was the Cypriot capital, Nicosia.