/ Source: The Associated Press
Two runaway horses pulling a wagon trampled spectators at a small-town Fourth of July parade, killing a 60-year-old woman and injuring at least 23 other people, four critically.
The horses bolted after one rubbed its head against the other, removing that horse's bridle, police said. They galloped for several blocks with the wagon in tow, trampling parade-goers. The wagon flipped and ejected its two passengers, police said.
Among those injured were children who had stooped in the street to pick up candy that had been tossed to them.
Sandie Crilly, 46, of Willow Springs, Ill., said she was collecting Tootsie Rolls from the street with her 8-year-old son, 12-year-old niece and 2-year-old granddaughter when the horses ran toward them about halfway through the parade.
Someone yelled to get out of the way, she said.
"I could see it was two horses," Crilly said. "I could see they were running at full speed and they were harnessed together and I knew we were going to most certainly get hit, and as soon as it happened, everybody was crying and screaming."
Police declined to identify the woman who died, but said she passed away at the University of Iowa Hospital in Iowa City. Four people were hospitalized in critical condition, five others were seriously hurt and 14 others sustained minor injuries, police said.
The parade is a decades-long tradition in Bellevue, a town of about 2,300 people on the Iowa-Illinois border.
"The mood is shock and disbelief," Bellevue Mayor Virgil Murray said. "We've had this parade forever. We've had horses in the parade forever."
Crilly, who was visiting her parents in Bellevue, said someone pulled her granddaughter to safety, but her niece's left wrist was broken and her two front teeth were knocked out. Everyone else in their group sustained bumps and bruises, she said.
Paramedics treated victims at a nearby art gallery and a triage area was set up near the Mississippi River, where volunteers held up tarps to shield the injured and paramedics from the sun and heat, Crilly said. Others brought the injured ice and water, she said.
"It was madness," Crilly said. "I mean we were in a triage. The town really came together. It was a huge community effort."
Murray said residents pitched in, making phone calls and sending text messages to get word out that doctors and nurses were needed.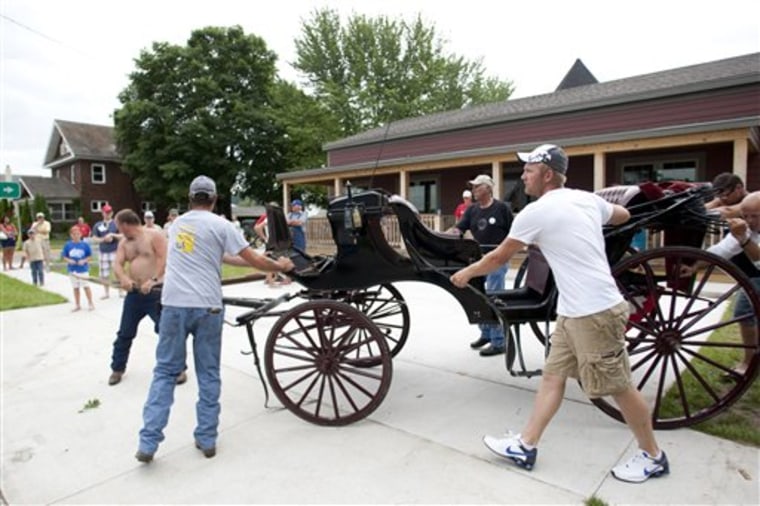 The injured were sent by ambulance and medical helicopter to hospitals in Dubuque, Maquoketa and Iowa City. Ten patients were taken to Mercy Medical Center-Dubuque, nine of them children, house supervisor Carol Dietzel said.
One child in critical condition was flown to University of Iowa Hospital, and another critically injured child was in surgery at Mercy Medical, she said. Six children were treated and released.
"We've never really had any tragedy," the mayor said. "Usually our biggest nemesis is if it rains. That's what we're always worried about."
Between 3,000 and 4,000 people attend the parade, many people coming in from rural areas and nearby towns, he said.
Iowa Gov. Chet Culver released a statement, saying he was thinking and praying for the victims.
"I am especially saddened because the accident occurred during the events celebrating Independence Day, which is a day that should be filled with pride and joy for all Iowans and Americans," Culver said.