Cause Celeb highlights a celebrity's work on behalf of a specific cause. This week, we speak with "Survivor" winner Ethan Zohn about his involvement with , an international organization that uses pro soccer players to educate youth in Africa about HIV/AIDS. Zohn donated a portion of the money he won from "Survivor" to co-found Grassroot Soccer with Dr. Tommy Clark and his friends Kirk Friedrich and Methembe Ndolvu in 2003. Grassroot Soccer and HIV-awareness organization (RED) partnered in Khayelitsha, South Africa, along with Converse, Bugaboo, and Dr. Dre's Beats to form holiday camps for students during the the World Cup. 
Zohn recently published two children's books, "Soccer World South Africa" and "Soccer World Mexico." He also hosts a television series, "Outside Today."
Question: Can you tell us a little bit about Grassroot Soccer and your role as the co-founder?
Zohn: I am one of the co-founders of Grassroot Soccer. I lived and played professional soccer in Zimbabwe in 1999 and 2000. While I was there, I had some experiences that shocked me. One of my close friends ended up passing away from AIDS. While I was there, I was able to see how one disease can strike a whole community that I was now a part of. At that time I did not know what to do, I couldn't do anything about it. Later, I was lucky enough to get chosen to be on that reality television show "Survivor." That took place in Kenya, and when I was playing the show, I had another opportunity to play soccer with all these children on the challenges. Here I am in the middle of this cultural game of "Survivor," and I had this real-world experience. It was at that moment that I decided that if this was my way, if I win a lot of money or whatever happens, I am going to use that money to do something good. When I returned home to the United States I ended up winning and I gave a portion of that money to co-found Grassroot Soccer with some soccer buddies of mine. A guy by the name of Dr. Tommy Clark — he is the actual founder, the brain child, myself, Kirk Friedrich and Methembe Ndlovu. We started Grassroot Soccer in 2003.
Q: Why was it important for Grassroot Soccer to partner with (RED) on the camp?
Zohn: Well, we all know World Cup in South Africa is just an incredible opportunity to highlight the beautiful aspects of the country for the rest of the world. It is also about being able to raise awareness of one of the most devastating epidemics in this country and the entire continent. Just to put things in perspective, in the same month that the World Cup is taking place nearly 23,000 South Africans will die of AIDS.
Each day about 4,000 people are dying across Africa. What's crazy is that they are dying of a preventable disease. AIDS is a preventable disease. We were able to partner with (RED). The (RED) campaign partners with different large corporations. Each corporation basically has one product that they designate as (RED). The proceeds from that product go to fund the global fund. The global fund uses that money to give grants to different organizations around the world.
Currently, (RED) has raised about $150 million dollars to finance the global fund. A lot of these programs are in Africa. Right now they are currently doing a lot of stuff in South Africa. So basically, Grassroot Soccer during the months of the World Cup, is having these holiday camps because all the schools are shut down and the kids are going to be running crazy. We want to give the kids something to do so they are not out there on the streets causing trouble and (RED) came in and sponsored these holiday camps along with Dr. Dre's beats, Bugaboo, Converse and Grassroot Soccer. We're all coming together to host a weeklong soccer program that basically uses the power of soccer to provide African youth with the knowledge, life skills, and support so they are HIV free.
The program really builds upon all the work that both of our organizations are doing on a regular basis in Africa. The (RED) campaign and the global fund do a lot of medication-type stuff. They provide ARVs (anti-viral drugs). It costs 40 cents a day to provide ARVs to one person. If you are HIV positive and you need ARVs, you can extend your life and lead a normal lifestyle. Grassroot Soccer does education and prevention. The perfect combination for Grassroot Soccer for education and prevention, and (RED) and the global fund who are doing medication drugs. So educate and medicate is kind of the way we are looking at it.
Q: Can you tell us your personal cancer story and how the disease has affected you since your diagnosis?
Zohn: I've been asked this question a lot. People find it a lot of fun that I was a reality show contestant on "Survivor" and I am a cancer survivor and they love that.
Since 2003, HIV and AIDS has been my cause of choice. I tried to raise awareness. I been to Africa, been to schools, and I raised money. I will never, God forbid, know what it is like to be HIV positive and I will never know what it is like to have that type of diagnosis. What I do know is what it is like to have a life-threatening illness and for me I had a pretty rough year at the doctors. They tried multiple ways of healing me and it didn't work. At that time you just crave survival and all you want to do is live another day.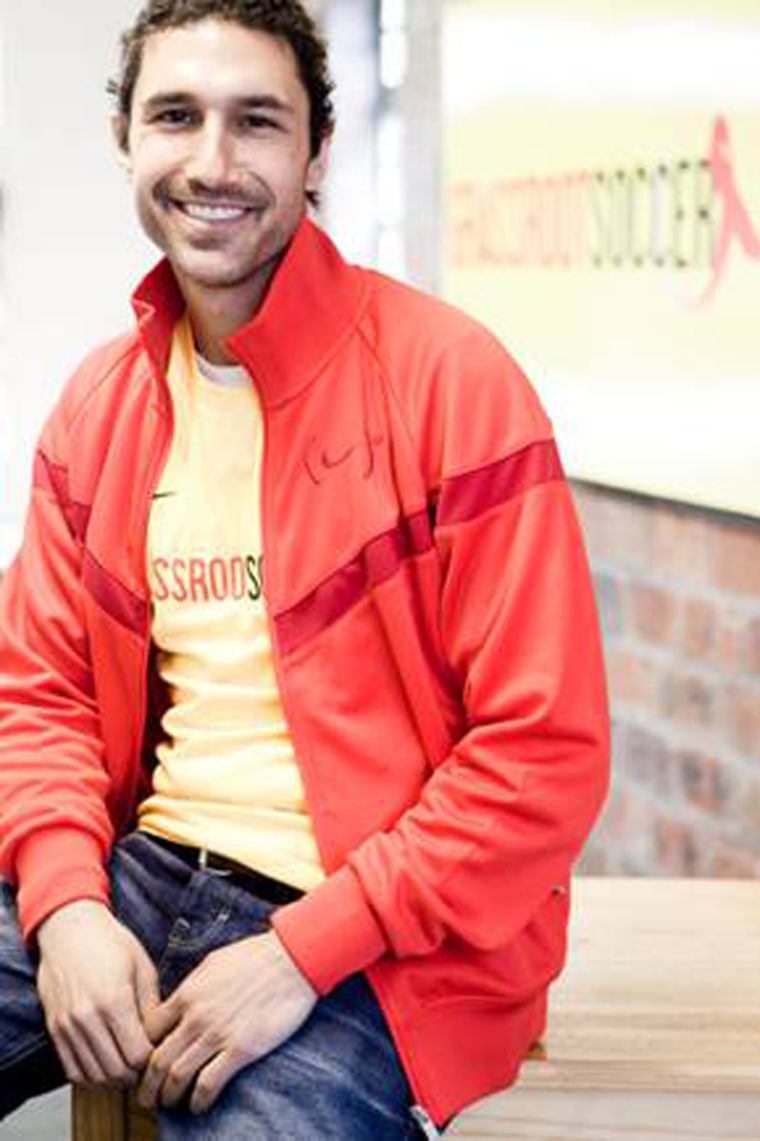 On that sense, I can kind of relate to some of the kids we work with who are nervous about going to get tested and don't want to know their diagnosis. They don't want to have a death sentence and they're afraid to go to the doctor. I can relate to them in that sense if I need to stretch the link between HIV and cancer. But it is more on a sense of what we teach our kids at Grassroot Soccer is to find a great support system, to have a positive attitude, to stay healthy, and you can extend your life. With my cancer diagnosis I followed the same rules. The same stuff we are teaching our kids here in Africa, I kind of follow for myself. I guess it was a good thing for me.
Right now, my health status is the cancer is in intermission. Every single day I wanted to stay alive long enough to get to South Africa for the World Cup so I could be here. That was my motivation to stay alive. I am just happy that I am here. Literally, we have been waiting for this moment for six years since it was announced the World Cup was going to be in Africa. We have been working toward this point for six years and I am happy I can be here and happy to be partners with (RED), which has brought so much great support.
Q: Do you have any new projects?
Zohn: I just published two children's books called "Soccer World South Africa," and "Soccer World Mexico," part of a series of six books. The next one coming out will probably be Spain.
I am also the host of a new television show called "Outside Today," which is a morning chat show that Outside Magazine created.
Interviewed by Bernadette Moussa.