/ Source: msnbc.com staff and news service reports
Thousands of skywatchers on Easter Island cheered as a total solar eclipse darkened South Pacific skies for four precious minutes on Sunday.
Easter Island, famed for the monumental "moai" statues built thousands of years ago by the Polynesian Rapa Nui culture, served as ground zero for the event, which was streamed across the world via the Internet.
The eclipse could be seen in person only along a narrow slice of the Southern Hemisphere. The spectacle began at sunrise, 1,200 miles (2,000 kilometers) northeast of New Zealand. The moon's shadow swept across the South Pacific, darkening skies over the Cook Islands, Easter Island and parts of southern Chile and Argentina.

The time of greatest eclipse occurred over open water, lasting 5 minutes and 20 seconds.

Williams College astronomer Jay Pasachoff traveled to remote Easter Island with a small group of students to observe his 51st eclipse. They set up telescopes to image the sun's glowing corona — the usually invisible outer atmosphere of the sun — which appears as a pearly white crown during an eclipse.

"I am sad that so few people will be able to view this year's eclipse since it doesn't pass over major cities," Pasachoff said in an e-mail sent before the event.

A solar eclipse occurs when the moon passes between the sun and Earth. The moon blocks the light from the sun and casts a shadow on Earth.

Last year's total solar eclipse — the longest one of the 21st century — fell over a wide swath of Asia, but clouds and drizzle in some places prevented some revelers from getting the full experience.
On Easter Island, Sunday's eclipse could be seen through thin clouds during most of its total phase, judging by the webcast coverage. Thicker clouds partly obscured the very end of totality, when the edge of the sun's disk began to reappear as a "diamond ring."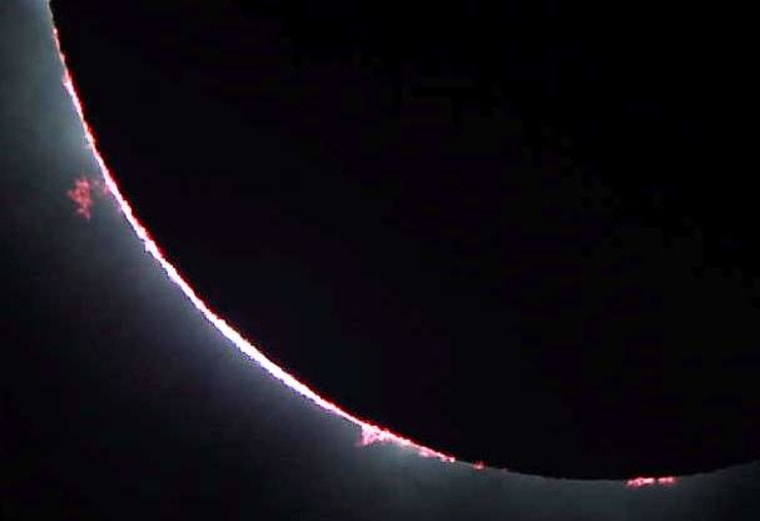 A partial solar eclipse was visible from a wider swath of South America, reaching as far north as Peru and Brazil.
Skywatchers can observe a solar eclipse safely while the moon totally obscures the sun. But scientists recommend that people wear special viewing glasses during the partial phase of a solar eclipse and avoid looking directly at the sun, if even just a tiny sliver of the solar disk is visible.

The next total solar eclipse will occur in November 2012 and will be visible from northern Australia and the South Pacific.
This report includes information from The Associated Press and msnbc.com.