/ Source: NBC News and news services
An al-Qaida-linked Somali militant group claimed responsibility Monday for twin bombings in Uganda that killed 74 people watching the World Cup final on TV, saying the militants would carry out attacks "against our enemy" wherever they are.
The blasts came two days after a commander with the Somali group, al-Shabab, called for militants to attack sites in Uganda and Burundi, two nations that contribute troops to the African Union peacekeeping force in Somalia.
Al-Shabab, whose ranks are swelled by militant veterans of the conflicts in Afghanistan and Iraq, has long threatened to attack outside of Somalia's borders, but the bombings late Sunday are the first time the group has done so.
"We will carry out attacks against our enemy wherever they are," said Sheik Ali Mohamud Rage, a militant spokesman in Mogadishu. "No one will deter us from performing our Islamic duty."
Ugandan officials had said earlier that they suspected the Somali group was involved. One of the targets was an Ethiopian restaurant — a nation despised by the al-Shabab militants.
The attacks on two soft targets filled with civilians raised concerns about the capabilities and motives of al-Shabab, which the U.S. State Department has declared a terrorist organization.
The blasts went off as people watched the game between Spain and the Netherlands late Sunday.
"We were watching soccer here and then when there were three minutes to the end of the match an explosion came ... and it was so loud," witness Juma Seiko told Reuters.
Several Americans from a Pennsylvania church group were wounded in the restaurant attack, including Kris Sledge, 18, of Selinsgrove, Pennsylvania.
"I remember blacking out, hearing people screaming and running," Sledge said from the hospital. His right leg was wrapped and he had burns on his face. "I love the place here but I'm wondering why this happened and who did this ... At this point we're just glad to be alive."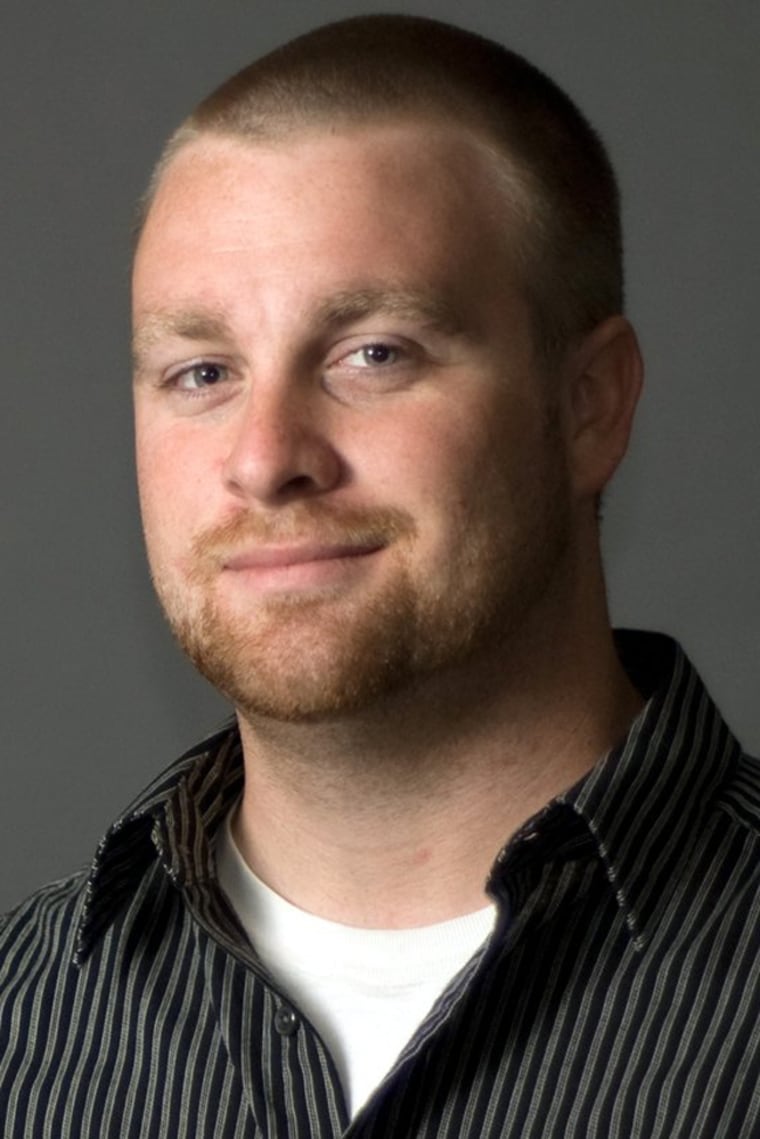 Joann Lockard, a spokeswoman for the U.S. Embassy in Kampala, confirmed one American was killed.
San Diego-based group Invisible Children, which helps child soldiers, identified the dead American as former aid worker Nate Henn.
At the time of the blasts, Henn was in Uganda visiting his aunt, NBC News reported. Henn had previously volunteered in Uganda, NBC said.
"He sacrificed his comfort to live in the humble service of God and of a better world," the group said.
The FBI sent agents based at the U.S. Embassy in Nairobi, Kenya to assist in the investigation and look into the circumstances of the death of the American citizen, a State Department official in Washington said. The official spoke on condition of anonymity because he was not authorized to discuss the probe. Interpol said in a statement that it was dispatching a team to Uganda.
'Whatever makes them cry, makes us happy'
In Mogadishu, Somalia, Sheik Yusuf Sheik Issa, an al-Shabab commander, told The Associated Press early Monday that he was happy with the attacks in Uganda.
"Uganda is one of our enemies. Whatever makes them cry, makes us happy. May Allah's anger be upon those who are against us," Sheik said.
In addition to Uganda's troops in Mogadishu, Uganda also hosts Somali soldiers trained in U.S. and European-backed programs.
Ethiopia, which fought two wars with Somalia, is a longtime enemy of al-Shabab and other Somali militants who accuse their neighbor of meddling in Somali affairs. Ethiopia had troops in Somalia between December 2006 and January 2009 to back Somalia's fragile government against the Islamic insurgency.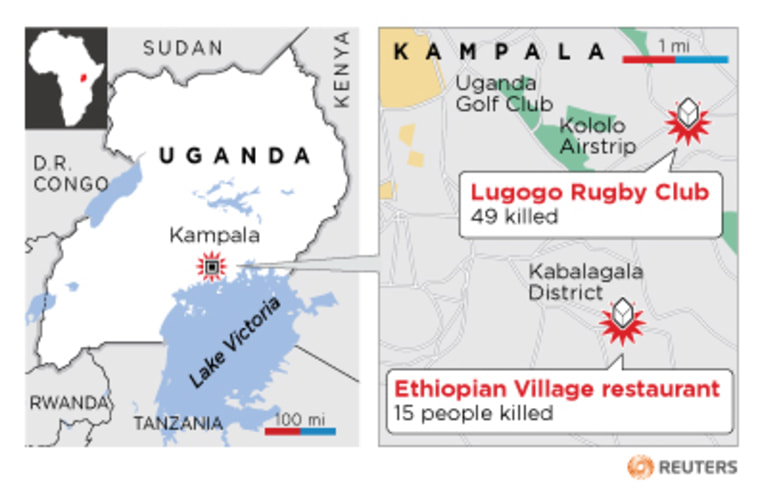 In Washington, President Barack Obama spoke with Ugandan President Yoweri Museveni on Monday to express his condolences for the loss of life in the bombings. Obama offered to provide any support or assistance needed in Uganda, said White House spokesman Robert Gibbs.
Gibbs said that while the FBI is assisting in the ongoing investigation, the U.S. believes that there is "no clearer signal of the hateful motives of terrorists than was sent yesterday."
U.S. Secretary of State Hillary Rodham Clinton joined Obama in offering condolences and added, "The United States stands with Uganda. We have a long-standing, close friendship with the people and government of Uganda and will work with them to bring the perpetrators of this crime to justice."
Ugandan President Museveni toured the blast sites Monday and said that the terrorists behind the bombings should fight soldiers, not "people who are just enjoying themselves."
"We shall go for them wherever they are coming from," Museveni said. "We will look for them and get them as we always do."
Kulayigye, the Ugandan army spokesman, said it was too early to speculate about any military response to the attacks.
Uganda still plans to host the African Union summit in late July. More than 50 heads of state or government are expected to attend.
Sunday's terror attacks are not the first to hit East Africa. U.S. Embassies in Nairobi, Kenya, and Dar es Salaam, Tanzania, were the targets of deadly twin bombings by al-Qaida in 1998, killing 224 people including 12 Americans. An Israeli airliner and hotel in Mombasa, Kenya, were targeted by terrorists in 2002.
The United States worries that Somalia could be a terrorist breeding ground, particularly since Osama bin Laden has declared his support for Islamic radicals there.