/ Source: The Associated Press
Adventurer Eric Larsen savored every stride of his exhausting excursions to the North and South Poles.
That is, when he wasn't fretting about snow blindness, cracks in the ice, a shortage of food, tent fires, hypothermia, frostbite and severe whiteouts.
Not to mention those hungry polar bears he worried might mistake him for a seal while he skied and snowshoed over snow drifts in the Arctic.
He avoided the bears and pretty much all of his other concerns to successfully navigate the first two legs of his quest.
All that's looming now is an encounter with Mount Everest beginning in late August. Summit the famed peak and he believes he'll become the first to trek to the top, bottom and summit of the world in a 365-day span.
"I haven't allowed myself to think about how close I am," said the 39-year-old Larsen, who embarked on his adventure by departing for the South Pole on Nov. 16 and hopes to scale Everest by mid-October. "It's a trick I learned from polar travel — focus only on the moment."
For Larsen, the mission isn't so much about glory as raising awareness of global warming and the effects it's having on melting ice caps.
That includes educating people through any social media possible.
So after each 11-hour day of clomping over harsh terrain — pulling a sled loaded with 125 pounds of food, fuel and supplies — Larsen still logged on to his solar-charged computer and recorded his thoughts.
He blogged, posted pictures and narrated podcasts via his www.savethepoles.com, just to open a window into his world of ice. Msnbc.com posted his previous blogs and plans to do so with the Everest leg.
"We get people to connect with these places, which many think are blank wastelands," Larsen said.
He may have even had the first live tweet from the North Pole, typing into his mobile device upon arrival, "Standing on top of the world. Getting to the North Pole is the same as stopping Global Warming. Begin with one step."
The South Pole leg
Larsen's odyssey began as a hired guide leading a small outfit to the South Pole. He had hoped to fund his own crew, but given the tight economy, this was the only way to launch the first leg, which he estimated would've cost $200,000.
The trip took 48 days and covered roughly 750 miles with temperatures consistently hovering around minus 15. The intense headwinds were the biggest hindrance, incessantly howling at 25 mph and kicking up dangerous whiteouts.
"Traveling through the Antarctic is a combination of the hardest thing I ever did and watching paint dry," Larsen said. "It's not action-packed."
On Jan. 2, his group reached the South Pole, too wiped out to really celebrate. They snapped photos, gobbled down a quick breakfast and went to bed.
After that, Larsen returned home to unwind, throwing in a quick vacation to Mexico to lay on the beach before beginning his next stage.
"Just wanted to soak up the sun," said Larsen, who splits time between Boulder and Grand Marais, Minn., when he's not off on expeditions. "I didn't realize how worn out I was."
The North Pole leg
To conquer the North Pole, Larsen enlisted the help of Darcy St. Laurent, a search-and-rescue technician for the Canadian Air Force, and Antony Jinman, a British explorer.
They arrived in the area of northern Ellesmere Island on March 2 for a jaunt that was supposed to cover 490 miles but actually wound up being closer to 550.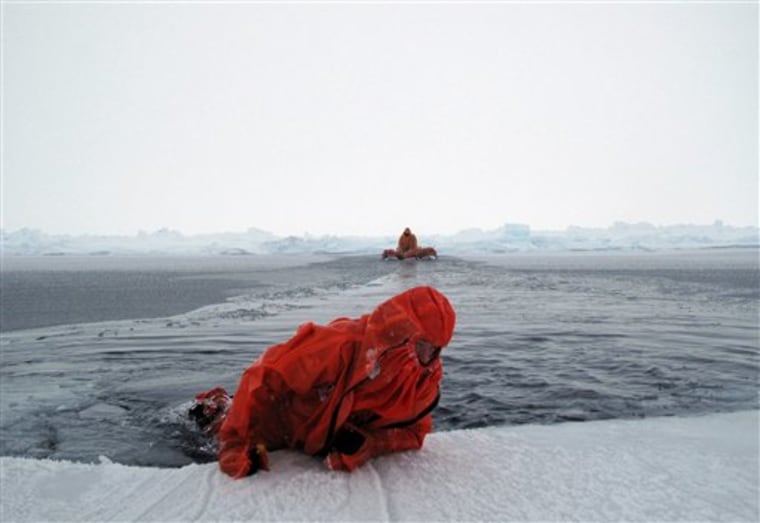 Unlike the South Pole, which is on a continent, the North Pole is reached by crossing the frozen Arctic Ocean. They often lost up to two miles a day because of the movement of the ice.
Frustrating, for sure.
The temperatures turned out to be cooler in the Arctic, too, with the mercury regularly plunging to 30 below zero.
Sometimes, they had to hop on floating chunks of ice in order to reach larger drifts.
And sometimes, they would even step into the bone-chilling water while skiing across the top of the ice.
Breaking through the ice — even bundled up in numerous base layers — meant having to abruptly stop and build camp to avoid hypothermia or frostbite.
"Those are dangerous mistakes," Larsen said.
For all the worries over weather and fretting over frostbite, there were the awe-inspiring moments, when all the grinding work took a back seat.
Like when the trio heard a melodic humming rising up from below them as chunks of ice underneath the ocean collided.
A sound they won't soon forget.
"It was like a symphony," St. Laurent explained. "We just sat there and listened to this incredibly rhythmic music. With open water nearby, it was like you were at a cottage by the lake.
"Of course, it was a lot colder."
The team reached its target on April 22 — Earth Day.
Again, another muted celebration. They were just too cold, too wiped out.
"Getting to the North Pole is 10 times more difficult than the South," said Larsen, who spent around $155,000 to reach the destination. "The weather conditions were so sporadic - we would have snowstorms and then it would suddenly clear. But the icescape - it was just so beautiful."
Prep time
To prepare for his Everest excursion, Larsen has been climbing peaks such as Mount Rainier and going on five-mile hikes with a 50-pound pack strapped to his back.
His partner for this portion of the journey was going to be Aron Ralston, the adventurer renowned for amputating his right arm with a dull blade in 2003 after it was pinned by a half-ton boulder at the bottom of a canyon in Utah.
However, Ralston couldn't make the trek because he's getting ready to promote a movie based on his ordeal.
Instead, Larsen will enlist the help of local Sherpa guides.
In addition to training, Larsen also is giving presentations to corporations, trying to raise last-minute funding for a trip to Everest he estimates will cost nearly $100,000.
"I have a very meager life with terrible health insurance and no amenities whatsoever," Larsen said, grinning. "But I've gotten to go on these expeditions, tell cool stories and connect people with these places.
"That's a real privilege."