/ Source: NBC, msnbc.com and news services
The United States paid the Iranian nuclear scientist who returned to his homeland $5 million for the information he provided, U.S. officials told NBC news Thursday, but he cannot access the money because it is in a frozen account.
"We've got the information and the money," one official said. "Not a bad deal."
Shahram Amiri, who claims he was abducted and abused by the CIA more than a year ago, arrived in Tehran before dawn on Thursday and was embraced by his family — including his tearful 7-year-old son.
Speaking to journalists after a flight via Qatar, Amiri repeated his earlier claims that he was snatched while in the Saudi holy city of Medina and carried off to the United States. He also repeated his assertion that he was a "simple researcher" and could not provide the U.S. with confidential information about Iran's nuclear program.
But U.S. officials told NBC that the $5 million given to Amiri was "packaged based on the value of the information he provided."
Amiri had been in touch with his family in Iran recently and was becoming concerned about their safety, NBC reported. U.S. officials said Amiri concocted the kidnapping story so that he could return home.
"The only way to get back was to lie about what he did and how he got here," an official told NBC.
But now that Amiri has returned to Iran, some U.S. officials believe he is in danger.
"He's taken a big chance" in returning to Iran, one official told NBC.
Several former American intelligence officers said Thursday that Iranian intelligence officials would be expected to debrief Amiri to try to learn every last detail about the exchanges that took place between him and his CIA handlers — a process that could take weeks or even months.
The former officers, who spoke on condition of anonymity because of the sensitive nature of those exchanges, said Iranian intelligence would try to exploit any information to hunt for existing American spies.
'Brain drain' program
Within hours of the former defector's arrival in Tehran, Iranian officials were touting his claim he had been abducted by U.S. agents, while a U.S. State Department official parried with a call forthree long-imprisoned American hikers to be released and treated similarly to Amiri, who they said was allowed to return to his homeland.
U.S. officials have insisted that Amiri was neither kidnapped nor coerced into leaving Iran and that he made the decision to come to the U.S. without his family. The U.S. official added that Amiri decided to return to Iran to see his family again.
The money paid Amiri came as part of a secret "brain drain" program aimed at inducing Iranian scientists and others with information on the country's nuclear program to defect, according to a former U.S. intelligence official familiar with the workings of the program. The program that recruited Amiri and an unspecified number of other defectors was started several years ago and remains active, the former official said.
Amiri ran a radiation detection program in Iran and wasn't involved in the actual building of nuclear weapons, the former official said. American officials had hoped Amiri could lead the CIA to more important figures in Iran's nuclear program, the former official said.
The former official requested anonymity to discuss the program because of its sensitive nature.
In Tehran, Iranian lawmaker Amir Taherkhani boasted that Amiri's return "shows the strength of the Islamic republic." Another prominent parliament member, Alaeddin Boroujerdi, called the alleged kidnapping a "terrorist act."
It remains unclear how Iranian authorities will ultimately deal with Amiri — and the U.S. claims he cooperated with American authorities — despite his hero-style welcome. Foreign Minister Manouchehr Mottaki called Amiri a "dear compatriot" and said Iran was keenly interested in learning more about the reasons for his alleged abduction.
Diplomatic dance
Amiri's pre-dawn arrival in Tehran capped a stunning tumble of events over the past month that included leaked videos with mixed messages, Amiri surfacing at a diplomatic compound in Washington and the White House finally acknowledging his presence in the country.
The U.S. says he was a willing defector who changed his mind and decided to board a plane home from Washington. Amiri has told a very different tale, claiming he was snatched while on a pilgrimage in Saudi Arabia and bundled off to the United States to be harshly interrogated and offered millions of dollars by the CIA to speak against Iran.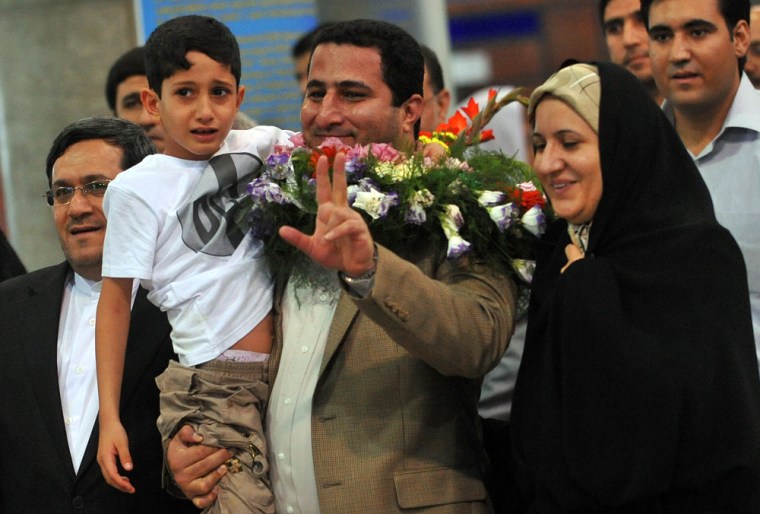 Amiri was embraced by his family — including his tearful 7-year-old son — and greeted by a top envoy from Iran's Foreign Ministry. The 32-year-old Amiri smiled and gave the V-for-victory sign.
Speaking to journalists after a flight via Qatar, Amiri repeated his earlier claims that he was snatched while in the Saudi holy city of Medina and carried off to the United States.
The first months were full of intense pressures, he claimed. "I was under the harshest mental and physical torture," he said at the Tehran airport, with his young son sitting on his lap.
He also claimed that Israeli agents were present during the interrogations and that CIA officers offered him $50 million to remain in America. He gave no further details to back up the claims or shed any new light on his time in the United States, but promised to reveal more later.
"I have some documents proving that I've not been free in the United States and have always been under the control of armed agents of U.S. intelligence services," Amiri told reporters.
Previously he claimed the CIA "pressured me to help with their propaganda against Iran," he said, including offering him up to $10 million to talk to U.S. media and claim to have documents on a laptop against Iran. He said he refused to take the money.
"I am a simple researcher who was working in the university," he said. "I'm not involved in any confidential jobs. I had no classified information."
No escape?
Amiri refused to say how — if under guard — he could have escaped U.S. agents to release videos in which he alleges that he had been snatched by American and Saudi kidnap teams while on a pilgrimage in Saudi Arabia. He said that to disclose such information now could harm national security, and said he would explain everything later.
His case was often raised by Iranian officials in the past year, but Washington offered no public response. It took a higher profile after Iranian authorities decided to pursue charges against the three Americans who were arrested in July 2009 while hiking along the border with Iraq.
"I don't know that we can say why he left Iran, why he chose to return," State Department spokesman P.J. Crowley said Thursday. "I don't think that there's going to be any particular propaganda value in this. In fact, it points out the dichotomy. We allow people to come here, go home. We have our own citizens who have traveled to the region and are now in Iranian custody."
Crowley added that Amiri's "return to Iran I think should underscore that we expect the same kind of treatment for our citizens." He was referring both to the imprisoned hikers and to Robert Levinson, a former FBI agent who disappeared in Iran in 2007. U.S. officials have repeatedly pressed Iran for movement in both cases.
Iran's deputy foreign minister, Hassan Qashqavi, said there would be "no link" between Amiri's return and the case of the three Americans, whose families say they were hiking in northern Iraq and that if they crossed the border, they did so inadvertently.
The nuclear factor
Amiri was generally a footnote in the international showdown over Iran's nuclear ambitions until last month. Iranian state TV aired a video he purportedly made from an Internet cafe in Tucson, Arizona, to claim he was taken captive by U.S. and Saudi "terror and kidnap teams."
The video was shortly followed by another, professionally produced clip in which he said he was happily studying for a doctorate in the United States. In a third, shaky piece of video, Amiri claimed to have escaped from U.S. agents in Virginia and insisted the second video was "a complete lie."
U.S. officials never acknowledged he was on American soil until Tuesday, hours after he turned up at the Iranian interests section at the Pakistani Embassy in Washington asking to be sent home. Secretary of State Hillary Rodham Clinton said Amiri had been in the United States "of his own free will and he is free to go."
U.S. officials would say little about the circumstances of what they assert was a willing defection by Amiri and what went wrong. But there were suggestions that threats to his family in Iran pushed Amiri to first make the claims he was kidnapped.
Amiri, however, claimed his family faced no problems.
"My family was completely free and they were under financial support of the Iranian government," he said.