/ Source: The Associated Press
Nine thrill-seeking runners were injured, three by goring, in a dangerous last running of the bulls at Spain's San Fermin festival, officials said Wednesday. It was the bloodiest run of this year's festival.
Bulls tossed people on the slippery cobblestone streets of Pamplona, where a red bull at the tail of the pack fell and became separated from the rest, leaving it disoriented and irritated by the large crowds, and causing panic among runners.
The injured include a 30-year-old Irish citizen, a 26-year-old from Auckland, New Zealand and seven Spaniards from four different regions, the regional government of Navarra, in northern Spain, said in a statement.
The eighth and final running of this year's festival took four minutes and 23 seconds, a relatively long time because the last bull separated from the pack and turned back and charged at least three times, forcing runners to scatter. Bulls are at their most dangerous when the pack splits up.
A 23-year-old man from Gijon in the northern Spanish province of Asturias was in serious condition in the hospital with two goring wounds, one in the thorax and one in the thigh, the Navarra government said. A 19-year-old from Madrid was gored in the armpit and was undergoing surgery Wednesday morning. A 24-year-old man from the central city of Burgos suffered a broken wrist and was not in serious condition.
Every morning of the festival at 8 a.m., six bulls race through the narrow, medieval streets of Pamplona accompanied by an equal number of large steers — each wearing a clanking cowbell — tasked with keeping the pack tight and galloping at an even pace.
The run covers 930 yards from a holding pen on the edge of town to the central bull ring where the bulls face matadors and almost certain death in afternoon bullfights.
The final bull, a massive red-colored beast called Gavioto from the renowned Jandilla ranch, was finally coaxed into a pen at the bullring, the final destination. But once inside the ring, Gavioto tossed a man in the air, partially removing his trousers with the tip of his right horn.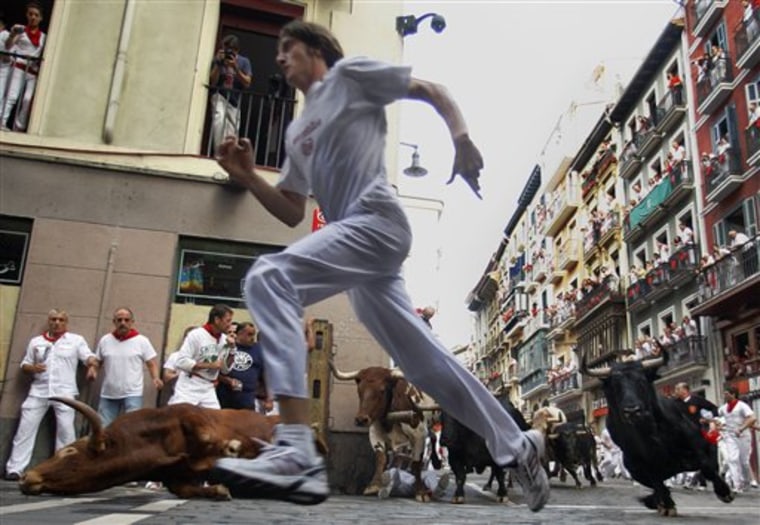 Renowned bullfighter Julian Lopez Escobar, known professionally as "El Juli," was discharged from hospital Tuesday after being gored in the scrotum during a bullfight. He has recovered enough to headline the final and most important fight of this year's festival, the government of Navarra said.
The runs are the highlight of a nine-day festival, which also features all-night partying and attracts tens of thousands of people, many from overseas.
Several people were treated by Spanish Red Cross crews on the street Wednesday after the run for bruises and cuts sustained in falls.