/ Source: The Associated Press
BP's oil spill notoriety is reviving unwelcome attention from Congress on another issue: whether the oil company sought the release of convicted Lockerbie bomber Abdel Baset al-Megrahi to help get a $900 million exploration agreement with Libya off the ground.
Soon after al-Megrahi's release last year, BP acknowledged that it urged the British government to sign a prisoner transfer agreement with Libya, but stressed it didn't specify his case. It reiterated that stance this week when four U.S. Democratic senators asked the State Department to investigate whether there was a quid pro quo for the Lockerbie bomber's release.
"The evidence here may be circumstantial but if I were a prosecutor, I'd love to take this case to a jury," said New York Sen. Charles Schumer, one of the four lawmakers. While the State Department was noncommittal, the Senate Foreign Relations Committee announced this week it would hold a hearing on the case this month.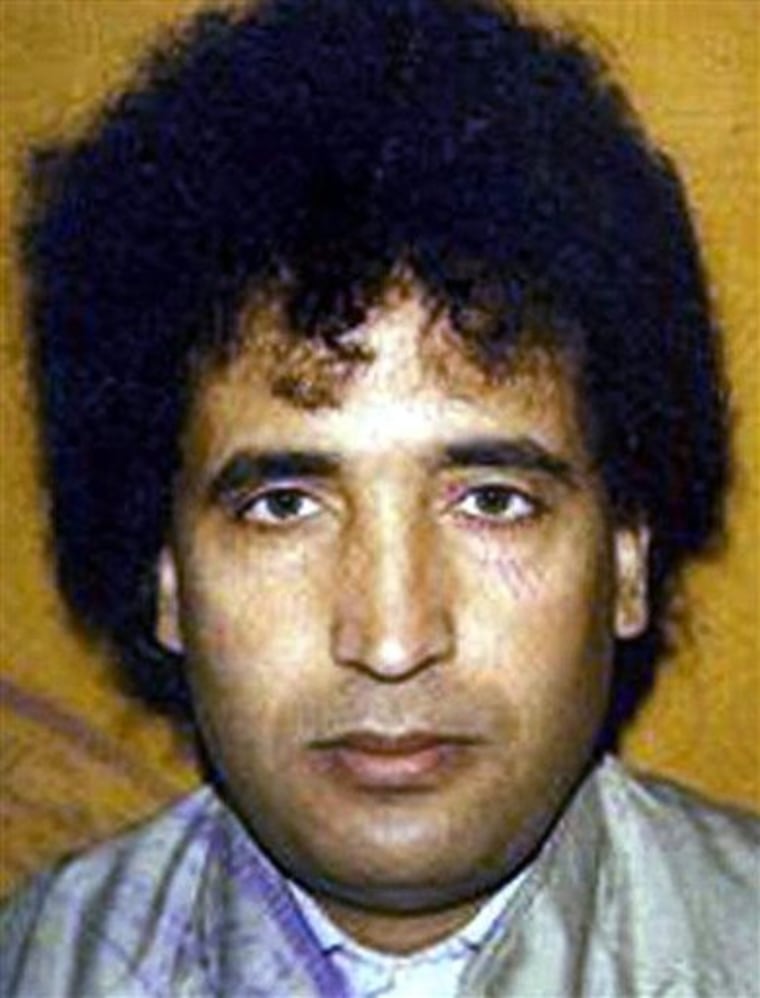 Al-Megrahi served eight years of a life sentence for the Dec. 21, 1988, bombing of Pan Am Flight 103 over Lockerbie, Scotland, killing all 259 people on board, most of them Americans, and 11 people on the ground. Last August, Scotland's government released the cancer-stricken man on compassionate grounds and he returned to Libya.
As outrage swirled on both sides of the Atlantic, then-British Prime Minister Gordon Brown denied giving any assurances to Libya's leaders that the bomber would be freed in exchange for oil contracts.
BP denies specifics
BP acknowledged in a statement at the time that it "did bring to the attention of the U.K. government in late 2007 our concerns about the slow progress in concluding a prisoner transfer agreement with Libya. Like many others, we were aware that delay might have negative consequences for U.K. commercial interests, including ratification of BP's exploration agreement."
"We were not talking about the al-Megrahi case because we were fully aware that this was solely a matter for the Scottish Executive and not the U.K. authorities," BP said.
Kenny MacAskill, the Scottish Justice Secretary who freed al-Megrahi, said Friday he had no contact with BP as he decided the Libyan's fate. "We had no communication from the oil company and we had no support or assistance from the British Government," he said.
Clinton discusses issue
Secretary of State Hillary Rodham Clinton discussed the matter Friday with British Foreign Secretary William Hague and informed him of congressional interest in al-Megrahi's release and a possible BP connection.
"Foreign Secretary Hague offered to communicate directly with the Hill and the secretary agreed that was a good idea," said State Department spokesman P.J. Crowley. "She said that this was an important issue in the Congress and recognizing that fact, the foreign secretary made a good faith offer to provide perspective on the decision to release Megrahi, which they both agreed was an error."
In Washington on Thursday, the British Ambassador to the U.S., Sir Nigel Sheinwald, said that "the new British Government is clear that Megrahi's release was a mistake."
"Whilst we disagreed with the decision to release Megrahi, we have to respect the independence of the process," he added.
Deal signed in 2007
In May 2007, BP inked the exploration deal with the Libya Investment Corp., with Britain's then-Prime Minister Tony Blair on hand to hail the deal as a sign of improved relations between the two countries.
"A few years back, Britain and Libya could never have had this relationship," Blair said following a two-hour meeting with Libyan leader Moammar Gadhafi in a tent. "This is a change of benefit to Libya and Britain and the wider region."
That same month, Britain and Libya signed a memorandum of understanding that they would negotiate agreements on extradition, mutual legal assistance, civil and commercial law as well as prisoner transfer. The prisoner exchange agreement was signed on Nov. 17, 2008, and ratified by Britain's Parliament last year.
British officials have always insisted that the prisoner transfer deal was part of broader diplomatic effort aimed at drawing Libya away from its support for terrorist groups and dismantling the North African nation's worrisome nuclear program. They've also insisted that the prisoner-swap was not specifically aimed at al-Megrahi.
BP role unclear
Whether or not BP's lobbying played a decisive role in the prison transfer negotiations isn't clear from the dozen or so pages of government correspondence released last year.
In July 2007, Britain's justice secretary, Jack Straw, was discussing how to make sure al-Megrahi stayed behind bars. Around the time BP stepped in, Straw wrote to his Scottish counterpart, MacAskill, to say that he had not been able to secure an exclusion for al-Megrahi. Then in a letter to Scottish First Minister Alex Salmond in February 2008, Straw elaborated, saying he had not even tried to seek an exclusion for al-Megrahi.
"Libya is one of only two countries to have ever voluntarily and transparently dismantled its weapons of mass destruction program," Straw wrote. "Having sponsored terrorist attacks in the past, it is now an important partner in the fight against terrorism. I do not believe it is necessary, or sensible, to risk damaging our wide ranging and beneficial relationship with Libya by inserting a specific exclusion into the PTA (prisoner transfer agreement.)"
British officials have since pointed out that, whatever the merits of the prisoner transfer deal, Scottish officials were the ones ultimately responsible for the Libyan's release. So it fell to MacAskill to either approve or deny a request to return al-Megrahi to Libya under the prison transfer agreement. In the end, MacAskill bypassed the prisoner transfer agreement, deciding to release the cancer-stricken al-Megrahi, the only man convicted in the Lockerbie bombing, on compassionate grounds.
"We rejected the prisoner transfer agreement because of the legitimate grievances and doubts that the American community and families had," MacAskill said Friday. "We granted compassionate release following the laws and values that we hold here in Scotland."
Doctor says comments misconstrued
Doctors advising MacAskill gave al-Megrahi three months to live in August 2009. Earlier this month, Professor Karol Sikora, who examined al-Megrahi for the Libyan government, was quoted in the Sunday Times of London saying the Libyan could live another 10 years.
But Sikora told The Associated Press on Friday his comments had been misconstrued.
"When asked by a Sunday Times reporter if it was possible that Mr. Megrahi could live another 10 years my response was, 'Yes it's possible, but highly unlikely,'" Sikora said. "This answer was twisted into a statement, repeatedly used in the media, that I now thought he would live another 10 years. This is absolutely untrue."
Gadhafi's son, Seif al-Islam Gadhafi, said last year in comments aired on the Libyan television station he owns that al-Megrahi's release was a constant discussion point during trade talks — stretching back to Blair's government.
"In fact, in all the trade, oil and gas deals which I have supervised, you were there on the table," Gadhafi's son told al-Megrahi. "When British interests came to Libya, I used to put you on the table."
Blair, who resigned in 2007, told CNN last year that while the Libyans did raise the issue of al-Megrahi, he told them he did not have the power to release the bomber.
Schumer and Sen. Kirsten Gillibrand of New York, along with New Jersey Sens. Frank Lautenberg and Robert Menendez, are trying to tie the Lockerbie issue to the Gulf oil spill, arguing that evidence suggests the company put profit ahead of people.
"The question we now have to answer is, was this corporation willing to trade justice in the murder of 270 innocent people for oil profits?" they asked. Answering that question, they said, "will help us understand if BP might use blood money to pay claims for damage in the Gulf of Mexico."
In a letter to company chairman Carl-Henric Svanberg and CEO Tony Hayward, the senators demanded records of any BP communications with Libya, Britain, Scotland and others concerning al-Megrahi and the prisoner transfer agreement.
A 2007 article in "BP Magazine" showed that the company was trying to put the best light on Libya.
"When you talk to people outside about Libya, Lockerbie is often the first thing they think of — terrorism," BP Libya's business support manager, Ian McGregor, says in the piece. "In actual fact, it's probably one of the safest places I've been to with BP."
The story makes one claim it would probably not emphasize today, saying that BP "brings new expertise to Libya, namely deepwater exploration — gained in the Gulf of Mexico and off the coasts of Angola and Egypt.