/ Source: msnbc.com news services
One of China's biggest ports shut Monday after an pipeline explosion triggered a major offshore oil spill. Armed with absorbers and dispersants, more than 500 fishing boats were deployed Monday to help contain the slick.
The aftermath of the weekend fire could add to pressure for stricter environmental standards in China, already reeling from a toxic copper mine leak in the south of the country that burst into headlines last week amid accusations of a cover-up.
The fire began on Friday while a crude oil tanker was being off-loaded in Dalian.
Nobody was hurt, but hundreds of firefighters battled flames for more than 15 hours, and state media said about 1,650 tons of oil had spilled into the sea. Oil was seen over an area covering 71 square miles, with 19 of those described as "severe."
The clean-up operation may take five days, officials said.
An official from the Dalian environmental protection bureau said Sunday the oil contamination was being cleared up and had had no direct impact on the city itself. However, he said it was unclear how much oil had leaked from the pipelines.
Industry sources are divided on how long the port will stay shut, with some estimating between seven and more than 10 days, but officials could not give a timeframe.
"The port was sealed right after the explosion. We have a one-week contingency plan, but are hoping that the oil spill can be cleaned up as soon as possible," an oil executive told Reuters.
The incident drew the attention of top Chinese officials, including President Hu Jintao, Premier Wen Jiabao and security chief Zhou Yongkang, who all issued statements and instructions during the blaze.
But port officials did not show up at a news conference on Monday morning, a city government official said.
Workers are using skimmers and dispersants to break up the oil slick and stop it spreading, the official China Daily said. The pollution is concentrated about five miles off Dayao Bay.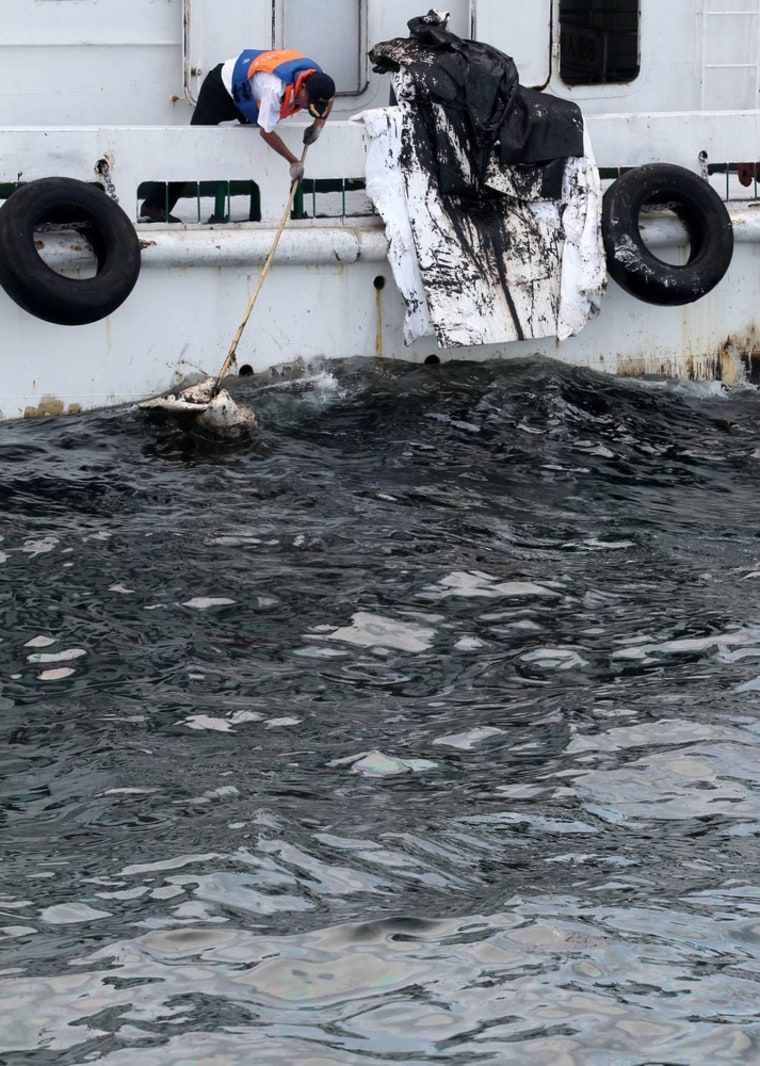 "By Sunday evening, about 7,000 meters of floating booms had been set up and at least 20 oil skimmers were working to clean the spill," the newspaper quoted local officials as saying.
While the main oil facilities at the port were not damaged, a Dalian-based shipping agent told Reuters that 80-90 percent of all the berths of Dalian port, which includes Xingang, were shut, including for iron ore and grain cargoes.
Analysts played down comparisons with BP's spill in the Gulf of Mexico and said China National Petroleum Corp could easily cover the damage costs.
"It's not going to be a major cost in the big scheme of things. It's going to be in the tens of millions of dollars, not tens of billions of dollars," said David Johnson at RBS, who estimated the cost at $50 million.
"The question is, who owns the oil in the tanker and whether the oil is insured. But some of them will have to pay the clean-up costs. The question is, who's going to be liable? It's like the BP story — whose fault is it?"