/ Source: The Associated Press
When a breeze brushes through the field just below Vollis Simpson's machine shop, you can hear the sounds of metal clanging against metal and of Ferris wheel-like contraptions turning.
But the cacophony of sound from the 29 whirligigs that Simpson built over a period of 10 years has ebbed: The buggy rider's whip no longer moves, the horse's legs don't trot and his ears don't flap. The two men sawing on another whirligig don't move back and forth. The guitar player no longer strums and has slowed the pat of his foot. Tree limbs grow through a Ferris wheel lined inside with hundreds of stainless steel milkshake cups that still shimmer in the sun despite their decades of exposure.
The works have fallen victim to the 91-year-old's health problems that have left him unable to climb as high as 50 feet to keep the mechanisms greased, and the red, white and blue paint that dominates his work shiny and new.
"I'm not able to look after it now," Simpson said on a hot summer morning, sitting in a lawn chair in the shade of the field about 50 miles east of Raleigh. "I can't climb. If I could climb, I wouldn't let it go. My knees are wore out."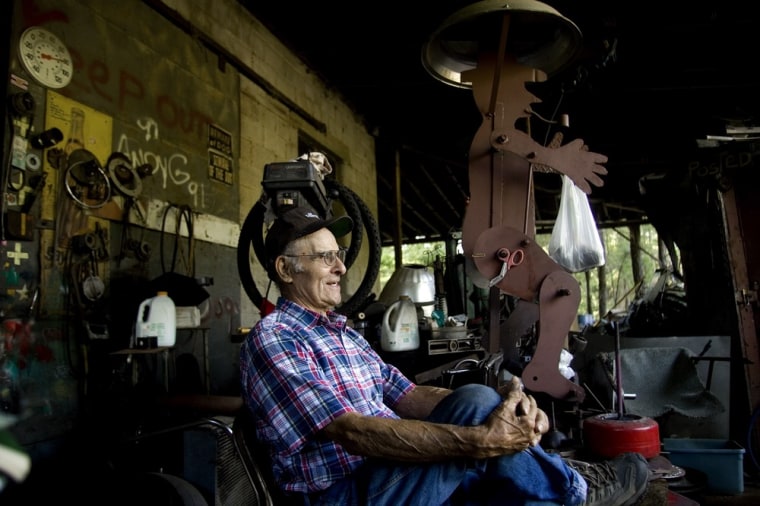 Simpson is letting go of the 29 masterpiece whirligigs that have stood in this field in eastern North Carolina since the early 1980s. The city of Wilson, with the help of the North Carolina Arts Council, hopes to buy, move and conserve the whirligigs, relocating them to a 2-acre park in downtown Wilson by November 2012.
Organizers say they're already receiving private pledges, and the arts council has provided a $10,000 grant.
The whirligigs are the product of metal, reflectors and ball bearings tossed with imagination. Some resemble windmills or Ferris wheels; one has a canopy and looks like a really groovy ride at a county fair. They sit atop poles that soar 30 feet to 50 feet in the air, with propellers that — in their heyday — kept all the parts spinning and moving even in the slightest breeze.
They've been sold to buyers as disparate as a shopping center in Albuquerque, the American Visionary Art Museum in Baltimore and the American Folk Art Museum in New York City. A North Carolina dentist placed one outside a window so children could watch the parts twirl and dance while he cleaned teeth and filled cavities.
The whirligigs — some weighing as much as 3 tons with hundreds of moving parts — fall into the category of folk art or outsider art, works created by someone without a formal background in art.
"He is one of the most truly creative and most visionary artists that we have in the whole country," says Rebecca Hoffberger, founder and director of the American Visionary Art Museum. "What I love best is that he's always done what pleases him. That faithfulness to that pursuit has had huge benefits for school children and art cognoscenti alike."
The job of recording the details of Simpson's whirligigs — where he got the parts, how they operate, what color they're supposed to be — has fallen to folklorist Jefferson Currie.
The artist's stories usually involve the not-so-bright visitors or his recent health problems — heart surgery one year, followed by a welding blaze that burned Simpson and required surgery.
Simpson has a hard time saying how he came up with the idea for whirligigs. He hated to see the discards of his work and others go to the trash heap, so he found something to do with the remnants. "I got caught with a lot of material, and I worked it out," is how Simpson explains it, as if everyone would see a pile of metal and envision a whirligig.
He built his first whirligig while overseas during World War II, but it was stolen. He came home, married Jean Simpson, 82, the mother of their three children, and the person who keeps his books. His wife of 63 years is the only person with a list of where the largest whirligigs are located. He farmed and moved houses before opening a machine shop, a name that belies the work he did, including building farm equipment.
He started on his first whirligig at home in the early 1980s, and spent about 10 years building the other 28. Neighbors and passers-by "thought I was crazy to start with," he says. "People would drive by here every day to see what I was working on — old, crazy man."
His wife never thought he had lost his mind. She said she thought the whirligigs were a good pastime but not something that would bring him fame.
Now that the works are to be moved, Simpson offers advice to whoever takes on the task: "All they need is somebody with some common sense who ain't afraid of work."