Three months after the Deepwater Horizon accident unleashed a flood of oil, the image of sweaty workers fanning out along the Gulf of Mexico to pick up tar balls and scoop up blackened sand has become a familiar one.
But very little of that cleaning is occurring in the Gulf's delicate coastal marshes, which make up more than twice as much damaged shoreline as the oiled sand beaches.
There could be good scientific basis for the inactivity. Among the approaches advocated by experts for cleaning the fragile marshes is doing nothing and letting nature take care of the oil.
But interviews with experts and companies involved in responding to oil spills raise questions about whether the hands-off approach is being dictated by wise strategy or is merely the result of chaos in decision making.
"I don't know what the problem is. It seems to me we know what to do, and if there was a more organized effort we'd be in better shape," said Russ Chianelli, a chemistry, environmental science and engineering professor at the University of Texas at El Paso.
Chianelli, who was a lead scientist on the Exxon Valdez cleanup effort said that he has seen "a tremendous amount of infighting going on," in his discussions with decision-makers over the critical marshlands.
The stakes are high. The wetlands are a key nursery for shrimp, crabs and oysters, which are critical to the Gulf food chain and to the commercial fishing industry. And oil contamination threatens to accelerate the loss of marshland, which was alarmingly rapid even before the oil spill.
Thumbs down to microbial stew
One scientist who has been trying to contribute to cleaning the marsh is Ralph Portier, an environmental professor at Louisiana State University and a native Louisianan who has fished the bayou since he was a boy. Porter has been proposing a form of bioremediation — employing oil-eating microbes — since shortly after the oil rig exploded.
When we first met Portier, he was ready to roll. The academic and his business partner had cranked up a bioreactor on the barrier island of Grand Isle and produced a 30,000-gallon stew of native oil-eating microbes and nutrients to be sprayed on the marsh. The product, called Pristine II, is on a list of government-approved biological and chemical agents that can be used to help clean up oil and other contaminants in the environment.
Bioremediation is just one tool — a relatively noninvasive one — that could be employed for de-oiling the marsh. Like others, it is not foolproof or useful in every situation. In some cases, flushing the marshy islands with water is optimal. Cutting or burning the oiled grass works in some instances, but can cause other damage. And there are washing agents, similar to dispersants, that can break up oil, but many are deemed too toxic to employ in the marsh. Finally there is "natural attenuation" — allowing nature to slowly work on the oil, instead of intervening and risking further damage.
Portier had support from the state to demonstrate his approach, which he said he has used successfully in other oil spills and contaminated sites. He had filed his protocol with the joint command that combines decision-makers from federal and state governments agencies, the Coast Guard and BP.
He has worked on other spills and contamination sites and had reason to think that testing, at least, would be allowed.
"Testing is commonly done — the oil spill is a testing ground," says Rick Kurtz, an expert on coastal oil spill policy who teaches political science at Central Michigan University. "It is common to designate test plots and try out new treatments on test plots." After that, the idea is to weigh cost, effectiveness and other environmental impacts.
But on July 15, almost three months after the explosion aboard the Deepwater Horizon drilling rig, Portier received his response: "No."
"It came in a memorandum from (the federal government)," he said. "They believe there is no need to do this work — that biological processes are under way, and there are appropriate nutrients and microbes in the marsh areas (to break down the oil)."
Mike Utsler, the BP official at the top of the joint command operation in Houma, La., confirmed the strategy was to leave the marshes alone, at least until after the well is permanently capped and the cleanup is done.
"Much as the public wants us to get into the wetlands and get after it, our scientists say it's not the right thing to do," he said.
Cleanup in the marsh is limited to catching free-floating oil, according to Jacqui Michel, deputy director of SCAT — the Shoreline Cleanup and Assessment Technique unit of the joint command.
That entails allowing the tides to wash some oil out of the marshes to be caught in sponge-like boom that has been placed around oiled areas.
"Then we wait and we hope that in the winter, when there are winter waves, oil will be flushed out, and we can collect the sorbent (boom)."
Where's the data?
What frustrates some scientists is that proponents of the hands-off approach haven't produced evidence that natural processes are breaking down the oil.
"We don't have the data," says Portier. "I would love to see that it is going to take care of itself. … Is the oil actually degrading as they describe? If not, what would be some alternative strategies?"
"I know that there's a tremendous survey of where the oil is and where it isn't," says Chianelli, but he says that doesn't seem adequate for deciding on an approach. "What I'm talking about is doing the chemistry of the water where the oiled areas are. That tells you how you can help the (oil-eating) organisms."
Scarcity of trials
And while SCAT is aggressively screening different methods of scrapers and sand cleaners on the beaches — tools that would be too damaging in the marsh — scientists and companies with ideas on helping the marsh are struggling to get a hearing.
Right now, they are conducting no field trials using chemicals to aid cleanup in the marsh. Michel says the furor caused by BP's large-scale use of the dispersant Corexit in the open water has made key agencies balk at trying any chemical solutions on the shoreline.
That shuts out companies trying to gain attention for new chemical formulations that they say would be effective and far less toxic.
There are signs of dissent or confusion about testing. On a recent press outing to view of the oiled marshes near Cocodrie, La., the Coast Guard representative on board touted a product called Biomatrix — a peat moss that is supposed to surround and break down oil particles. It was being tossed in handfuls from a boat at the edge of an oily patch of marsh.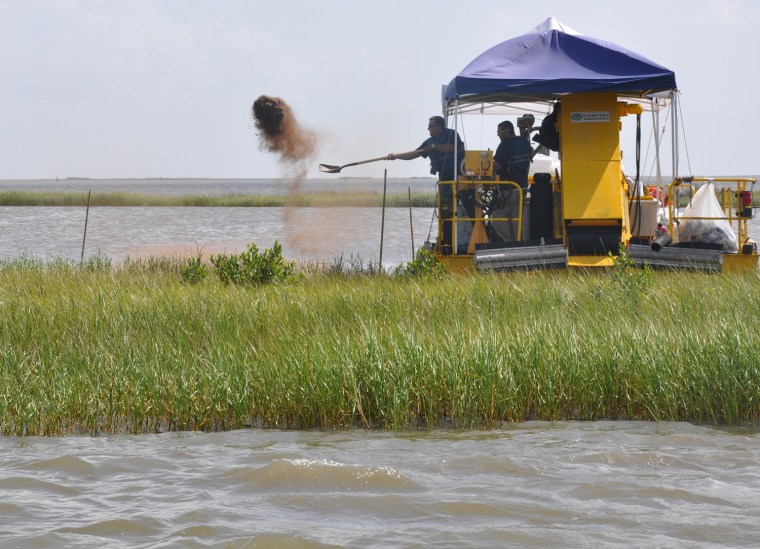 Asked about that, Michel said there had been a small-scale trial of absorbent natural materials like this on Queen Bess Island, but this was apparently a "rogue test," and was not being applied in the right way.
But there may be challenges to the "natural attenuation."
SCAT is expected to take on researchers from Lawrence Berkeley National Laboratory and LSU researcher Irving Mendelssohn, with indirect funding from BP, according to Michel.
She said the data would measure microbes and how fast the oil is being broken down—information that will be helpful as they screen products for testing.
Reached by phone, Mendelssohn said a plan had not been formulated.
So, the research could fill in some gaps, but not for weeks or months.
Portier may still have a shot at getting a trial off the ground. He's been included on a newly formed "strike team" to screen alternative approaches.
Michel remains unconvinced that his approach will work — she says she thinks the microbial mix will just get washed away before having an effect — but concedes that "there is a push for some sort of bioremediation.
At this point, Portier is skeptical: "We will see where that goes," he says.
Meantime, he has a more immediate challenge: dismantle and move his bioreactors away from the Gulf as Tropical Storm Bonnie threatens.