"Tron" fans, don't let App Store goodies like "Light Riders," "Beam Bikes" and "Fart-A-Tron" fool you. There is, as of yet, only one official "Tron" game to be had and it is called … well ... "Tron."
If you like tank battle games, you're in luck because this is a good one. As the game opens, you'll select a color-coded faction to join and then launch into various maze-like arenas to duke it out with enemies and sort your way through puzzles.
The touch controls that steer your tank and select and fire your weapons are accurate and easy to use. The graphics are superb in that bright "Tron" neon way we've been in love with ever since the original "Tron" film launched in 1982. And the music and sound-design are top-notch. Meanwhile, the game supports both single player and multiplayer modes, the multiplayer mode matching you up with one, three or five other online players at a time.
The "Tron" iPhone game is free. (Disney is using it to promote the upcoming film "Tron Legacy.") How's that for a deal? But wait, dear "Tron" fans, wait. There's more!
Although this iPhone game only includes the "Tank Arcade" action, Disney Interactive said it will release additional content and gameplay within the app in the months to come. Light cycle racing, disc battles ... the geek corner of my mind is squealing in anticipation.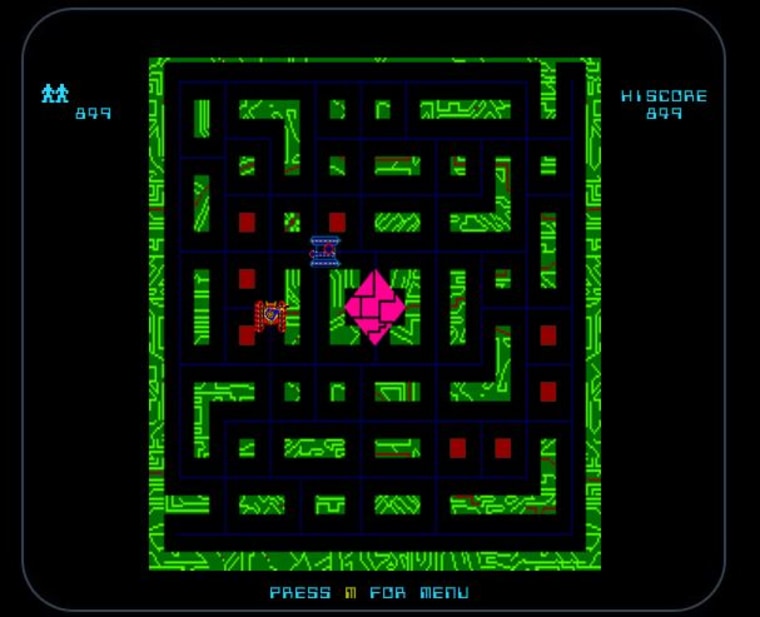 Return of the original
Disney also has made the classic "Tron" arcade game available for free online. Try it out for yourself .
No quarters will be required this time around as you try your hand at the multiple "Tron"-themed mini games that made up the original arcade game — light cycle racing, battling your way into the Input/Output tower, gunning your way into the Master Control Program cone. But just check out the old tank battle levels if you want a look at how gaming has changed over the years.
Personally, the old "Tron" game is not quite as much fun as I remember it. Though, I guess it's fair to say that, in the 28 years since it launched in arcades, my expectations of games have changed just a wee bit.
You can find Winda Benedetti channeling her inner geek