Apple today introduced new and faster iMacs, with the option of using the company's new Magic Trackpad for the same multi-touch gestures on the computer as the iPhone, iPod Touch and iPad have.
Also unveiled was a 27-inch LED Cinema Display with 2,560-by-1,440 resolution and 60 percent more "screen real estate" than Apple's previous 24-inch LED Cinema Display, the company said. The new display costs $999 and will be available in September. This is the first refresh of the iMac and LED Cinema Display lineup since last fall.
The new iMacs and Magic Trackpad are available immediately. The Magic Trackpad, with a glass and aluminum design, will be sold separately for $69, and can work with other Apple computers that are Bluetooth-enabled and running Mac OS X, version 10.6.4.
The device, Apple said, is similar to the trackpad on the MacBook Pro — "but bigger" at 5.17 inches long by 5.12 inches wide. With it, users can pinch, zoom and swipe to maneuver information on the screen.
The Magic Trackpad runs on two AA batteries, and can be configured for single-button or two-button commands, as well as supporting physical clicking and tapping-to-click gestures. Every iMac comes with Apple's Magic Mouse, a wireless mouse that also runs on Bluetooth.
Pricing for the new iMacs starts at $1,199, with versions available that use dual-core Intel Core i3 and Core i5, and quad-core Core i5 and Core i7 processors.
Two of the new iMacs have 21.5-inch screens; the third a 27-inch screen, with pricing on that model starting at $1,699.
The displays are also using the same IPS (In-Plane Switching) technology that Apple has employed on the iPad. IPS technology allows for a wider viewing angle of the display.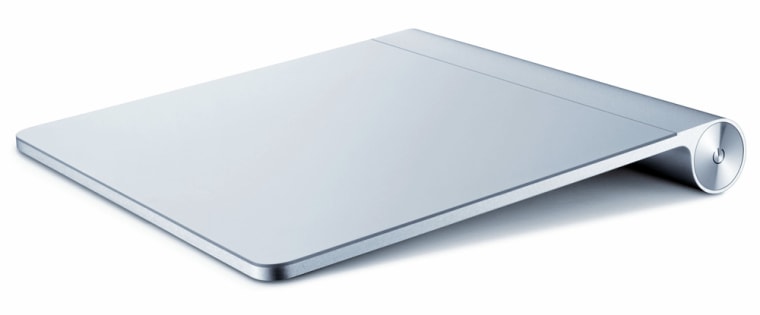 Apple said its desktop computers are leaders "in green design. The iMac meets stringent Energy Star 5.0 requirements," and has LED-backlit displays that "are mercury-free and made with arsenic-free glass. iMac uses PVC-free components and cables, contains no brominated flame retardants, uses highly recyclable materials and features material-efficient system and packaging designs."
The company also introduced the $29 Apple Battery Charger for the Magic Trackpad, Magic Mouse and Apple's wireless keyboard. The battery charges comes with six AA NiMH batteries that are "ready to use right out of the box," Apple said. "The reusable batteries are exceptional at holding a charge and last for up to 10 years."