Bye bye Michael Jackson zombie. Hello … disco zombie?
The estate of Michael Jackson has stirred up a hubbub over a moonwalking zombie that appears in the hit game "Plants vs. Zombies."
Game developer PopCap Games says it is removing the famed "dancing zombie" from the PC and iPhone versions of the game after the late King of Pop's people contacted the company about the undead character's familiar features.
In "Plants vs. Zombies," players pit an army of vegetation against wave after wave of reanimated corpses. The game features different zombie characters who each have different, uh, skills and therefore must be fended off in unique ways.
With his red attire and black Jheri curl, the offending zombie even performed an in-game dance with a troupe of back-up dancer zombies — a la Jackson's "Thriller" music video.
PopCap spokesman Garth Chouteau released the following statement about the rotten situation:
"The Estate of Michael Jackson objected to our use of the 'dancing zombie' in 'Plants vs. Zombies' based on its view that the zombie too closely resembled Michael Jackson."After receiving this objection, PopCap made a business decision to retire the original 'dancing zombie' and replace it with a different 'dancing zombie' character for future builds of 'Plants vs. Zombies' on all platforms. The phase-out and replacement process is underway."
Yes indeed, "Plants vs. Zombies" players need not worry. The dancing will go on.
PopCap is simply replacing the offending zombie with a zombie from a different decade — one with an orange afro, white bell-bottoms and platform shoes. Chouteau said the replacement zombie will boogie on with its own crew of back-up dancers. Whew!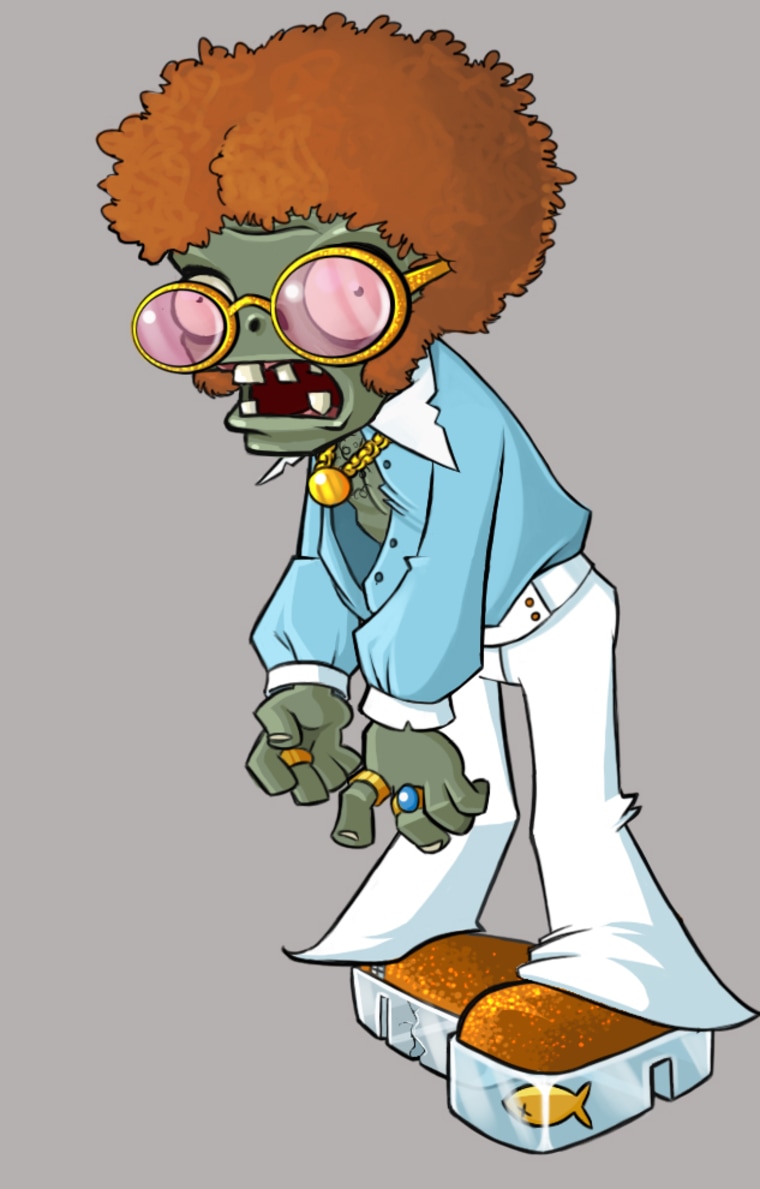 As it turns out, the Michael Jackson zombie isn't going quietly.
When PopCap released the update today to remove the King of Pop zombie from the iPhone game, some iPhone 4 owners discovered that the game was crashing. Chouteau said PopCap is aware of the bug, which only affects some iPhone 4 owners, and that a fix is coming in the next 24 to 48 hours. (You actually don't have to update the app, but if you do, for any new features, the undead Jackson will vanish.)
Of course, the real question is: How do zombies everywhere feel about having their favorite pop sensation removed from their favorite tower-defense game? Citizen Gamer spoke to several distraught walking dead as they slowly shuffled after her. They all said the same thing:
"Braaaaaaaaainnns."
You can find the Winda Benedetti zombie talking about brains and games .