/ Source: NBC, msnbc.com and news services
A passenger jet that officials suspect veered off course in monsoon rains and thick clouds crashed into hills overlooking Pakistan's capital Wednesday, killing all 152 people on board and scattering body parts and twisted metal far and wide.
The head of Pakistan's civil defense body told NBC News that, contrary to earlier reports, no one travelling aboard the Airblue flight from Karachi to Islamabad had survived.
Initial reports suggested that up to five survivors had been pulled from the wreckage after the plane smashed into a heavily wooded hillside during a rainstorm.
"Dead bodies are lying all around," Bin Yameen, a senior Islamabad police official, told Reuters.
U.S. Embassy spokesman Richard Snelsire confirmed that at least two American citizens were on board, but he declined to provide any further information on their identities.
In the U.S., Paulette Kirksey said that her godmother, Rosie Ahmed of Gadsden, Alabama, and her husband, Saleem Ahmed, were among those on the plane. Rose Ahmed was in Pakistan to make arrangements for him to move to the United States, Kirksey said. She said Rosie Ahmed was in her late 50s.
The plane left the southern city of Karachi at 7:45 a.m. for a two-hour flight to Islamabad and was trying to land when it lost contact with the control tower, said Pervez George, a civil aviation official. Airblue is a private airline based in Karachi, Pakistan's largest city.
The aircraft, an Airbus A321, crashed some 15 kilometers from the airport, scorching a wide stretch of the Margalla Hills, including a section behind Faisal Mosque, one of Islamabad's most prominent landmarks. Twisted metal wreckage hung from trees and lay scattered across the ground. Smoke rose from the scene as helicopters hovered.
Local TV footage showed twisted metal wreckage hanging from trees and scattered across the ground on a bed of broken branches.

Rescuers said they had to dig through the debris with their bare hands, with flames and thick smoke hampering their work. There are no roads near the crash site, limiting access to rescue workers.
NBC News reported that muddy paths through the thickly wooded and foggy area were making it difficult for doctors and paramedics to reach the site by foot.
The cause of the crash was not immediately clear, but Defense Minister Chaudhry Ahmed Mukhtar said the government does not suspect terrorism.
The crash site covered a large area on both sides of the hills, including a section behind Faisal Mosque, one of Islamabad's most prominent landmarks, and not far from the Daman-e-Koh resort.
'The weather is just too bad for flying'At Islamabad's international airport, passengers in the departure lounge scanned the television screens for news.
"I'm not surprised something like this has happened," Ahmed Fairuz, a passenger awaiting departure, told Reuters. "The weather is just too bad for flying."
There had been heavy monsoon rains in the area for at least a couple of days.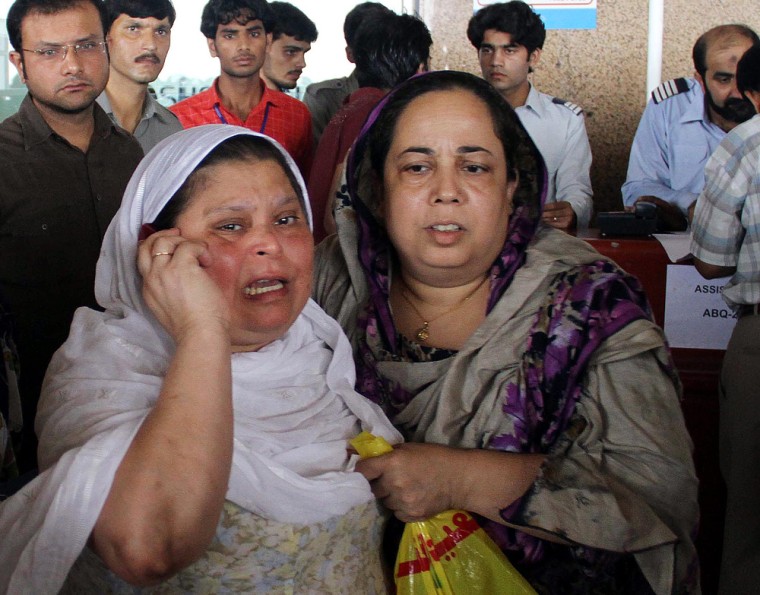 Hundreds of friends and relatives of those on board the flight swarmed ticket counters desperately seeking information at Islamabad's airport. A large cluster of people also surrounded the list of passengers on the flight, which was posted near the Airblue ticket counter.
"Nobody is guiding anyone. People are running from one counter to another," said Arshad Mahmood, whose brother, Maulana Nawab Ulhasan, a prayer leader in a town near Islamabad, was on the flight.
"I'm praying for his survival, but I think there is little hope," Mahmood said.
Arshad Ali said his cousin, Raza Ali, was supposed to be on the flight but missed it in Karachi on his way from Canada.
"We are happy he missed the flight, but things here are in shambles at the airport," Ali added. "For God's sake, take care of the worried people, the relatives of those who were on the unfortunate plane. They have no information and are just running here and there."
'We saw it going down'
Saqlain Altaf told Pakistan's ARY news channel that he was on a family outing in the hills when he saw the plane looking unsteady in the air. "The plane had lost balance, and then we saw it going down," he said, adding that he heard the crash.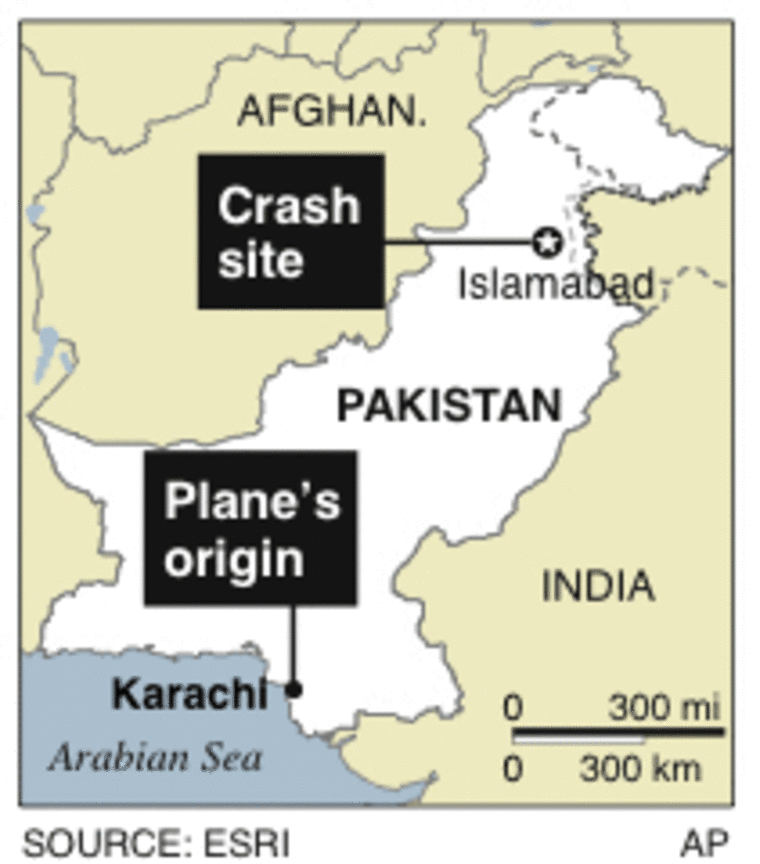 Aviation official George said 146 passengers were on the flight along with six crew members.
The Pakistan Airline Pilot Association said the plane may have strayed off course, possibly because of the poor weather. Several officials noted the plane seemed to be an unusual distance from the airport, which was some 9 1/2 miles away.
"It should not have gone so far," said Air Vice Marshal Riazul Haq, deputy chief of the Civil Aviation Authority. "We want to find out why it did."
"The pilot was given directions to land either on runway I or II," Interior Minister Rehman Malik told reporters. "The plane was at 2,600 feet before landing but suddenly it went to 3,000, which was unexplained."
"If the visibility to the runway was so poor then it should have been diverted."
Raheel Ahmed, a spokesman for the airline, said the plane had no known technical issues, and the pilots did not send any emergency signals.
Airbus said it would provide technical assistance to Pakistani authorities responsible for the investigation. The aircraft was initially delivered in 2000, and was leased to Airblue in January 2006. It accumulated about 34,000 flight hours during some 13,500 flights, it said.
The last major plane crash in Pakistan was in July 2006 when a Fokker F-27 twin-engine aircraft operated by Pakistan International Airlines slammed into a wheat field on the outskirts of the central Pakistani city of Multan, killing all 45 people on board.
Airblue flies within Pakistan as well as internationally to the United Arab Emirates, Oman and the United Kingdom.
The only previous recorded accident for Airblue, a carrier that began flying in 2004, was a tail-strike in May 2008 at Quetta airport by one of the airline's Airbus 321 jets. There were no casualties and damage was minimal, according to the U.S.-based Aviation Safety Network.
The Airbus 320 family of medium-range jets, which includes the 321 model that crashed Wednesday, is one of the most popular in the world, with about 4,000 jets delivered since deliveries began in 1988.
Twenty-one of the aircraft have been lost in accidents since then, according to the Aviation Safety Network's database. The deadliest was a 2007 crash at landing in Sao Paolo by Brazil's TAM airline, in which all 187 people on board perished, along with 12 others on the ground.