/ Source: msnbc.com news services
Sixty years ago, Mary Jean Price had her heart set on Southwestern Missouri State College.
It was 1950 and Price was a high-achieving 18-year-old who was salutatorian of her class at Lincoln High School in Springfield, Mo. She should have been a shoo-in at what is now Missouri State University, according to current administrators who have reviewed her file.
But Price is black. And in the early 1950s in Springfield, African-American students who wanted to go to college had to travel three hours to Lincoln University, a historically black college in the state capital, Jefferson City. With her father's health on the decline, Price figured Lincoln was simply too far away.
So she waited to hear back from Missouri State. But as the days turned into weeks and months and still she hadn't heard from the school, Price decided to forgo college altogether — and with it the ambition she had since she was three of becoming a teacher.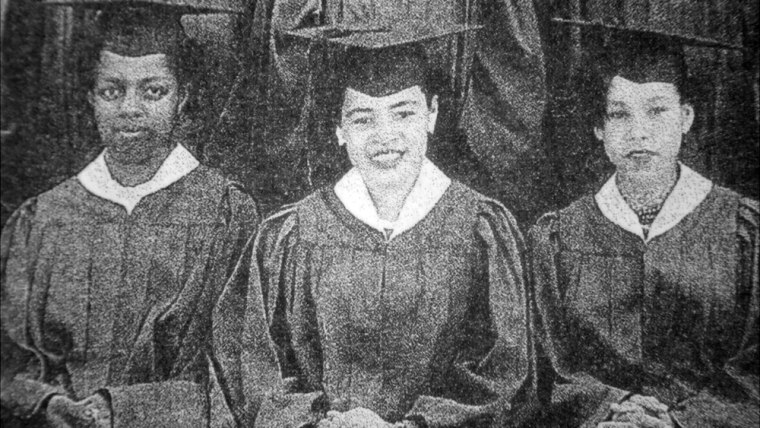 Price eventually found out about the news of her rejection through local newspapers.
"I worked as hard as I could in high school and my next step was college," Price said, recalling the set of circumstances that blocked her from getting a college degree. "I was angry, very angry. A student's a student. What difference does color make?"
Price married (becoming Mary Jean Walls), had children and looked on from a distance as the first black students eventually enrolled at Missouri State following the Supreme Court's landmark 1954 Brown v. Board of Education decision, which said that having "separate but equal" public schools in Missouri and 16 other states was unconstitutional.
She became an elevator operator, and later followed in her father's footsteps by becoming a custodian at a local science center.
But today, Missouri State's first black applicant walked down the aisle to receive the university's first-ever honorary bachelor's degree.
"If Mary Jean had applied for admission today and not in 1950... 60 years ago... she would not only have been admitted, she no doubt would have achieved the dream denied her of graduating from college," said Michael Nietzel, the current president of Missouri State University, at the ceremony.
Price said that although the pain from her failed 1950 application has never gone away completely, she appreciates Missouri State's recognition.
"It's wonderful; they didn't have to, they weren't responsible for what went on 60 years ago," said Price, who is now 78. "We've come this far and the struggles we went through helped us get to this point to be able to say people are people."
Digging through the archives
Price's son Terry Walls was among the first to dig through the Missouri State University archives to find evidence of his mother's rejection in 1950, said Earle Doman, vice president for student affairs and dean of students at the university.
Walls said his aunt told him back in the 1980s that his mother was the first black student to apply to the university, but he says he didn't realize the importance of that fact until the last few years. When he began taking classes at Missouri State this past January, Walls started thumbing through the school's archives to find evidence of his mom's rejection six decades ago.
Sure enough, in those files, he found a follow-up letter his mother had written to Missouri State in the fall of 1950, after not hearing from the university since her initial letter of application.
"It wasn't a real in-depth investigation," said Walls, who is 54 and currently studying criminology at the university. "The letter was in the very first manila folder that I came to and it was typed on onion-skin paper with the date Oct. 2, 1950, and it was still in print-fine condition like it was brand-new, and it was like it was ordained for me to find it."
Walls brought the letter to Wes Pratt, an academic mentor who teaches African American Studies at Missouri State and is second vice president of the NAACP in Springfield.
"At the time, the admissions director as well as the president, they were concerned about her applying as a Negro as a test case of the NAACP," Pratt said, referencing initiatives at the time by the NAACP to get rid of segregation policies in public schools. "They sort of overreacted to the situation, and they didn't want to be the first to deal with that."
Other documents in the school's archives portray the back-and-forth that occurred between J.W. Jones, president of Southwestern Missouri State College in 1950, and other school administrators and presidents in the state.
"What are you going to do if a Negro student presents himself for registration in the fall quarter?" asked Jones in one such correspondence cited by USA Today. Other materials from the archives cited by the newspaper describe exchanges in which the president and other administrators said it would be an "uncomfortable situation" for the college "to be made a guinea pig in this matter."
Price was reportedly told Lincoln University offered "comparable courses" in library science, the field in which she hoped to major. Her case disappeared into the depths of the school's archives.
Price recalls being shocked back in 1950 when she had to think about leaving the "comfort zone" of her high school. Her father had been a custodian at local school and Price hoped to study at Missouri State before teaching. When she was rejected from Missouri State, she said she considered going into the military so that the government would have to pay for her college tuition.
Her father had developed a heart condition, however, and doctors told Price that it would be a shock to his system if she were to leave home.
She said it has been her eight children — in addition to her 12 grandchildren and 14 great-grandchildren — that have kept her intellectually stimulated all these years.
"Look, I learn something new every day because of my children," Price said. "So I never did get bitter."
Price never said a word about her rejection to her children when they were growing up, Walls said.
"She just buried it, didn't want to talk about it, didn't even want to think about it," Walls said, adding that the process of talking about the rejection has been good for his mother. "It's been able to help her to talk about this, and mostly just be able to vent about something that has been hidden and buried."
Graduation day
During today's commencement ceremony, Doman walked Price up onto the stage, where she received her honorary diploma and shook hands with the president and board members of the school. There was no grand speech by Price — just understated "thank yous" as the would-be college graduate took center stage for the first time since her story first made headlines in Springfield some 60 years ago.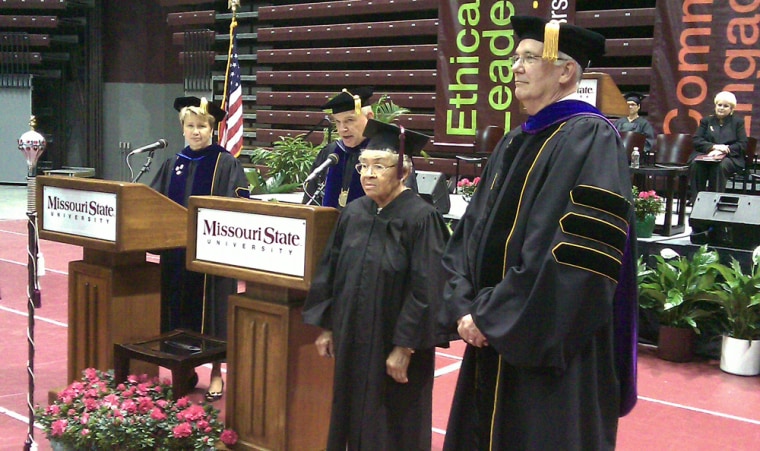 Around 600 of Missouri State's 21,000 students are now black, Doman said. The percentage, while small, is nevertheless representative of Springfield's overall black population, per capita, which is around 3 percent. Doman added that the university has been working in recent years to further promote diversity on campus.
The last time Doman saw Price, he said, he was wearing a Missouri State lapel pin. Price asked what it was, and he gave it to her. Price has been wearing the pin ever since, Doman said.
"I've heard her make comments, about how she was disappointed," Doman said. "But she has also said times are different now and she feels good about the direction the city's going. She's enjoying the spotlight."
NBC News' Mike Taibbi contributed to this report.