/ Source: The Associated Press
This strategic valley on the outskirts of Kandahar is on its third government boss in eight months. The first quit out of fear and frustration. The Taliban assassinated the second.
Now the militants send threatening letters to district chief Shah Mohammad Ahmadi and his team: Quit your job or else.
As a result, about 15 of the district's 20 or so senior staff positions have not been filled. Most of those who do take jobs are too afraid to work much. And a judge assigned to Arghandab earlier this summer has yet to show up — even though he's already drawing a salary of $800 a month.
The difficulty of finding and keeping government workers in areas like Arghandab is undermining the U.S. strategy of improving public services to win over the Afghan people — part of a carrot-and-stick approach that also involves thousands of NATO troops.
Establishing a functioning government is considered key to securing Arghandab, a lush farming valley that is a longtime haven for Taliban fighters. Breaking the insurgent grip here is vital to an even greater prize: nearby Kandahar, the major city of southern Afghanistan.
Last year, U.S. troops replaced the Canadians, who had tried for two years to subdue the Taliban here. One of the U.S. units — the 1st Battalion, 17th Infantry Regiment — lost 22 men before their one-year tour ended, most of them in the valley.
"It's hard to get people to fill these jobs. One, they think it's dangerous. Two, they think they're underpaid," said Chris Harich, a U.S. State Department official who works with the district government.
Those who do take the jobs often stay in their offices.
"They don't like to go out and say, 'Hey I'm the agriculture guy,' because they're afraid someone will say, 'Hey, we've got a nice rope for you here," Harich said.
It's a situation replicated across the southern provinces dominated by the Taliban. Executions of government officials are common so many don't take the jobs out of fear.
The campaign mirrors Viet Cong tactics in the early years of the Vietnam War, when government officials were assassinated — more than 400 in 1957 alone — to undermine the South Vietnamese government at the local level. In turn, more than 26,000 Viet Cong members were assassinated between 1968 and 1972 under a secret U.S. operation known as the Phoenix Program.
Such targeted killings have been particularly prevalent in and around Kandahar. In April, gunmen assassinated the deputy mayor of Kandahar city as he knelt for evening prayers in a mosque. In May, a provincial intelligence official survived an attempted assassination by gunmen on a motorbike — only because he was in a different car than the one targeted. In June, the previous Arghandab government head was killed by a remote-controlled bomb as he drove home from work, and an Arghandab wedding party was bombed in an apparent strike on police officers at the celebration.
The police counterterrorism official for Arghandab district — who spoke anonymously out of concern for his safety — said he can arrest people but can't prosecute them easily because of the missing judge. And he doesn't have the fellow investigators he's been promised: a counternarcotics specialist and an intelligence officer.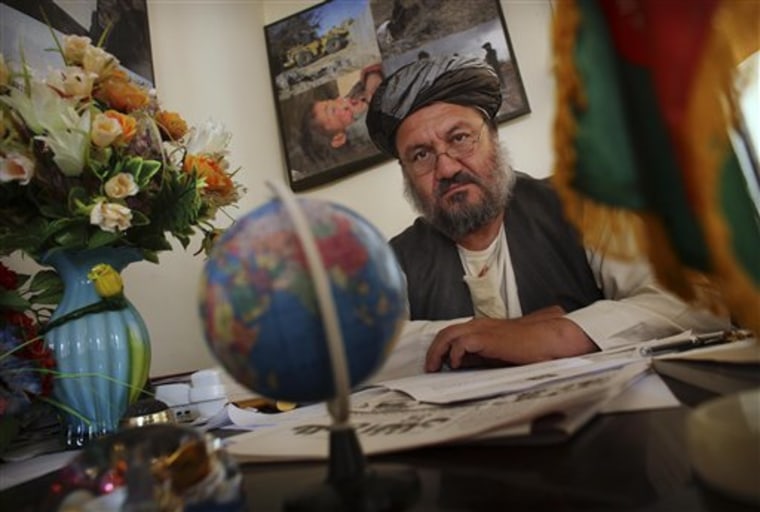 His family is pressuring him to quit.
"My wife cries when I leave for work," he said. "I tell my children when I leave my house each morning not to be scared if I die."
On a recent trip back from Kabul he was stopped at a Taliban checkpoint. He got off a quick call to his brother: Spread the word that if a stranger asks about him, don't reveal his real job — just say he sells real estate. It worked, and the Taliban let him go after calling a few numbers in his phone to confirm his story.
"People thought for a while that now the Americans are here and they'll keep us safe, but now we know they can't," the police official said.
It also means money is sometimes spent to little effect. Although the United States is spending more than $1 million on governance projects in Arghandab alone, individual projects have trouble getting off the ground because of a lack of Afghan staffing, Harich said.
Another $20 million or so is going into efforts to improve agriculture in the district, but there's only one Afghan government agriculture official to oversee the use of all those funds, said Kevin Melton, the representative for the U.S. aid agency.
There are two Arghandab residents whom the Afghan Ministry of Rural Rehabilitation and Development has trained as government extension workers to coordinate projects like canal and road building.
But the ministry has told the two — one in charge of the east of the district and one in charge of the west — that it's too dangerous for them to do any work.
"They're there physically but they're not actually provided the resources or the backing to do their jobs," Melton said.
But Ahmadi remains optimistic.
"Yes there are security challenges, but I still go on trips to local villages," said Ahmadi, an Arghandab native who was selected for the district chief job by local elders. He is trying to get more schools up and running and to prioritize education.
"This is my land. This is my home. And I am ready to work," Ahmadi said.
It's unclear if many others are willing to take the same risks.