For those of you who are somehow unaware of this important fact — it's Shark Week! That's right, it's that one week of the year that's a lot like Christmas ... only with sharks.
Meanwhile, with sharks swimming ashore on the East Coast ready to go all "Jaws" on yer arse, there is no better time to brush up on your shark knowledge and perhaps game your way to a better understanding of our razor-toothed friends.
With all of this in mind, Citizen Gamer (a shark lover if ever there was one), can't help but wonder: How did we ever properly celebrate the ocean's wiliest inhabitants before the advent of iPhones, iPods and the App Store? Yes, shark-related apps have invaded the App Store just in time for the Discovery Channel's beloved Shark Week (now celebrating its 23rd anniversary).
I can't say that any of these apps are, um, great. However, if you love these big fish and you want to kill some time on your iDevice, fire up iTunes and head on over.
To begin with, you'll notice that a little game called "Hungry Shark: Part 1" is floating around in the No. 1 position on the Free Apps list. This game puts you in control of a hungry shark (dur, hence the name). Tilt your iPhone to and fro to steer this toothy beast through the ocean waters. Make sure he gobbles up every fish and, yes, human you can find so he doesn't starve to death — being a shark is calorie-burning work, after all.
Tap the screen and you'll give your shark a nice boost so he can gobble up that Jet Skier skimming across the surface. Mmmm … tasty, tasty Jet Skier. But be sure to watch out for the explosives floating about. They'll give your shark a bad case of death.
While "Hungry Shark: Part 1" is free, if you'd like to continue your aquatic adventure, you can download "Hungry Shark: Part 2" for 99 cents.
For something a little more sedate, try "Tap Fish: Sharks." It's a free spinoff from the virtual fish-tank simulation game called "Tap Fish."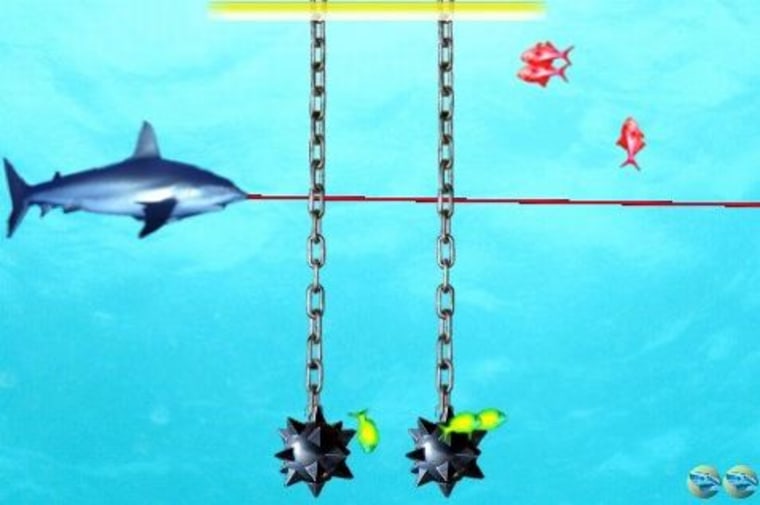 In addition to clownfish, blue tangs and the like, this game will let you raise and care for your very own virtual sharks (Tiger Shark and Whale Shark among them). You'll keep their tank nice and clean, give them plenty of love and, of course, make sure they're well fed. Alas, you will not be able to feed them humans. Which is sad, because THAT would have been fun. You can't even feed them Dory and Nemo. You feed them fish food. From a can.
If you happen to have $1.99 to burn and you've always yearned to see what would happen if you mounted a frickin' laser on a shark's head, there's the "Laser Shark" game. Guide your shark through the water, torching other fish with a burning-hot beam as you go. You might want to try "Laser Shark Lite" for free first to see if this game floats your boat.
There's also an underwater-themed tower-defense style game called "Shark Attack" that you can download for 99 cents or try out for free. And for additional sharky amusement, check out the games "Shark Survivor," "Shark Bite" and (I am not making this up) "Attack of the Mutant Zombie Laser Shark vs. the Angry Piranha (from Outer Space)." These games are free. 'Nuff said.
But let's say you're the kind of person who actually wants to learn something helpful about sharks during Shark Week. For you there is the "Shark Mate! Shark Identification" app ($1.99) and the "Jaws" app for iPad (99 cents). Both applications seek to impart important knowledge upon you, providing you with shark pictures and nuggets of shark wisdom. These apps are hardly comprehensive, but they will perhaps teach you a little something new about one of nature's most misunderstood beasts.
Folks, the good news is, while Shark Week will soon draw to a close, these applications will stick around for years to come. And that means we will all be prepared to follow the sage advice delivered by "30 Rock's" Tracy Morgan: "Live every week like it's Shark Week."
Look everyone! Winda Benedetti is wearing a frickin' laser beam attached to her head .