/ Source: The Associated Press
A driver caught stealing beer from the warehouse where he worked agreed to resign his job Tuesday and then as "cold as ice," one of his victims said, went on a shooting rampage, killing eight people and injuring two before committing suicide.
Omar Thornton, 34, pulled out a handgun after a meeting in which he was shown video evidence of the thefts and was offered the chance to quit or be fired.
"Then he went out on this rampage," company vice president Steve Hollander told The Associated Press. "He was cool and calm. He didn't yell. He was cold as ice. He didn't protest when we were meeting with him to show him the video of him stealing. He didn't contest it. He didn't complain. He didn't argue. He didn't admit or deny anything. He just agreed to resign. And then he just unexplainably pulled out his gun and started blasting."
Hollander said he thinks Thornton had guns stashed in his lunch box. The executive said two people standing right near him were shot in the head and killed, but he was only grazed in the jaw and the arm.
"He shot at me twice and hit me a couple times. By just the grace of God, I don't know how he missed me," he said.
About 50 to 70 people were in the Hartford Distributors warehouse about 10 miles east of Hartford during a shift change when the gunman opened fire around 7 a.m., said Brett Hollander, Steve Hollander's cousin and a member of the family that owns the distributorship.
"I was on the phone with 911 and then I saw him running outside of my office window, shooting his gun, carrying his lunch box, which must have had his weapons in it," Steve Hollander said. "It doesn't seem real to me now, it seems like I'm watching a movie."
The shooting was over in a matter of minutes. The victims were found all over the complex, and authorities said they didn't know if Thornton fired randomly or targeted specific co-workers.
After shooting his co-workers, Thornton called his mother, said Joanne Hannah, the mother of Thornton's girlfriend.
"He wanted to say goodbye and that he loved everybody," she said.
Thornton was alive when police got to the scene but killed himself before officers got to him, Manchester Police Chief Marc Montminy said. A police sharpshooter had approval to fire on Thornton when he killed himself, an official with knowledge of the scene told the AP on condition of anonymity because he was not authorized to discuss it.
Workers had flooded out of the building as three teams of police officers raced into it, Montminy told the town's board of directors Tuesday evening.
"Some were hiding in the woods and some were hiding under cars," he said.
State police found weapons in the suspect's car, Montminy said, without providing details.
Steve Hollander said Thornton killed "many good people today for absolutely no reason at all, people who've never said an unkind word to him. ... He was just shooting at anyone that was near him and just cruelty beyond cruelty."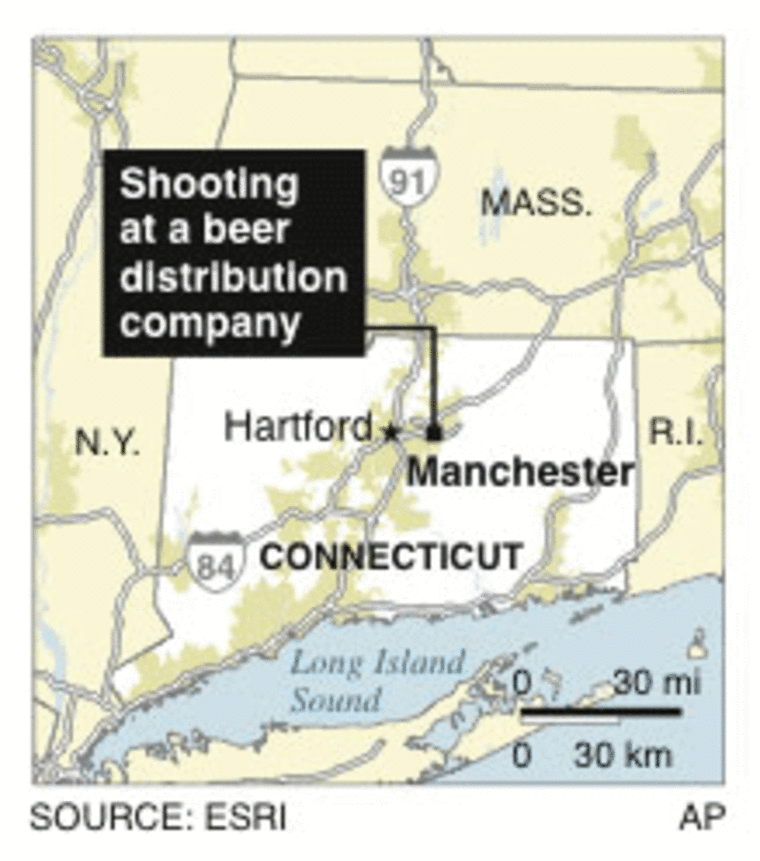 Hannah said her daughter, Kristi, had dated Thornton for the past eight years. Kristi Hannah did not return calls for comment.
"Everybody's got a breaking point," Joanne Hannah said.
"This is a disgruntled employee who shot a bunch of people," Teamsters official Christopher Roos said.
Thornton was not a problem employee and had not had any previous disciplinary issues, said Gregg Adler, a lawyer for the Teamsters Local 1035. He said he was not aware of how much beer Thornton was alleged to have stolen.
Kristi Hannah had been with him Monday night and had no indication he was planning anything violent, her mother said.
Joanne Hannah described Thornton as an easygoing guy who liked to play sports and video games. She said he had a pistol permit and had planned to teach her daughter how to use a gun.
Police declined to release the names of those killed.
Among the dead was Bryan Cirigliano, 51, of Newington, president of Teamsters 1035, according to the union. He had been Thornton's representative at Tuesday's disciplinary hearing, the union said.
Another victim was warehouse worker Doug Scruton, 56, who had worked there for nearly 30 years, said his wife, Mikal O'Brien. Anticipating his upcoming retirement, the couple had recently moved to a retirement home in Middleton, N.H., where he loved to visit the White Mountains and beaches. He stayed with a friend in Connecticut during the week.
"It was part of our plan for him to be able to retire in the place that he loved. But he's never going to be able to enjoy that now," she said. "He was just the sweetest, gentlest, kind soul, and I can't believe he's gone."
Bill Ackerman, a 51-year-old warehouseman, also was killed, said his girlfriend, Stephanie Laurin.
"I was like, 'Where's Billy, where's Billy?' and they said they hadn't seen him. And then one of his co-workers told me ... that he saw the shooter go to where Billy's room is that he works in," she said. "I was just praying to God that he was OK."
Ackerman, who enjoyed playing golf and rooting for the Boston Red Sox, had worked for the company for about 20 years, she said.
The Hartford Courant identified another victim as Victor James, 59, of Windsor.
Steve Hollander was treated at Hartford Hospital and released. Another person was being treated there, but the hospital would not comment on the patient's condition.
It was the nation's deadliest shooting since 13 people were killed at Fort Hood, Texas, in November. A military psychiatrist is charged with 13 counts of premeditated murder and 32 counts of attempted premeditated murder in that case.
In Connecticut, a state lottery worker gunned down four supervisors in 1998 before committing suicide, and six people were killed in 1974 in botched robbery at a bakery in New Britain. Two men were convicted of that crime.
On Tuesday, a few dozen relatives and friends of the victims gathered a few miles away at Manchester High School. Outside, people talked, hugged and cried. Police and fire vehicles surrounded the warehouse, on a tree-lined road in an industrial park just west of a shopping mall.
A fire broke out shortly after the shooting, but police didn't think it was set.
Thornton listed Hoffman's Gun Center & Indoor Range in Newington as one of his interests on his Facebook page. A company official declined to comment.
Thornton filed for bankruptcy protection a decade ago. His petition in 2000 listed $4,850 in assets, including a 1994 Chrysler Concorde, and more than $15,000 in liabilities — primarily debt on credit card and student loan payments. His debts were discharged in March 2001 and the case was closed the following month.
The Connecticut Commission on Human Rights and Opportunities said Hartford Distributors has never had any complaints filed against it.
The Hollander family is widely respected in Manchester, said state Rep. Ryan Barry, a lifelong resident. He said the family-owned Hartford Distributors sponsors local sports teams.
"Ten seconds before he started shooting, if you had asked me, does he look like he's going to react in any way? I would have said no, he seems calm," Steve Hollander said. "It makes no sense the people he killed. Why would somebody do such a thing? They were his co-workers, they never ... harmed him in any way."