/ Source: The Associated Press
The site of the world's worst atomic bomb attack echoed with the choirs of schoolchildren and the solemn ringing of bells Friday as Hiroshima marked its biggest memorial yet and the first to be attended by the U.S. and other major nuclear powers.
Washington's decision to send U.S. Ambassador John Roos to the 65th anniversary of the bombing was seen by many as potentially paving the way for President Barack Obama to visit Hiroshima — which would be unprecedented for a sitting U.S. leader.
Along with the U.S., Britain and France also made their first official appearance at the memorial, as well as U.N. Secretary-General Ban Ki-moon. Altogether, 74 nations were represented.
China, which sent a low-ranking official in 2008, was not participating. Officials said it did not give a reason.
Disarmament message
Hiroshima was careful to ensure that the memorial — while honoring the 140,000 who died on or soon after the attack on Aug. 6, 1945 — emphasized a look-forward approach, focusing not on whether the bombing was justified, a point which many Japanese dispute, but on averting a future nuclear attack.
Roos said the memorial was a chance to show resolve toward nuclear disarmament.
"For the sake of future generations, we must continue to work together to realize a world without nuclear weapons," he said in a statement.
Ban, who presented flowers at the Eternal Flame in Hiroshima's Peace Memorial Park, said this year's memorial will send a strong signal to the world that nuclear weapons must be destroyed.
"Life is short, but memory is long," Ban said. "For many of you, that day endures... as vivid as the white light that seared the sky, as dark as the black rains that followed."
Ban added that the time has come to move from "Ground Zero, to Global Zero" — a world without any nuclear arms.
Washington's decision to attend the anniversary has been welcomed by Japan's government, but has generated complex feelings among some Japanese who see the bombing as unjustified and want the United States to apologize.
"Americans think that the bombing was reasonable because it speeded up the end of the war. They try to see it in a positive way," Naomi Sawa, a 69-year-old former teacher, said after paying her respects to the dead. "But we were devastated."
About 140,000 people were killed or died within months when the American B-29 "Enola Gay" bombed Hiroshima on Aug. 6, 1945. Three days later, about 80,000 people died after the United States attacked Nagasaki.
The United States decided to drop the bombs on Hiroshima and Nagasaki because it believed that would speed up Japan's surrender and avoid the tough battles expected to take Japan's mainland. Fears of bloody battles were heightened by Japan's intense defenses of outlying islands — such as Iwo Jima and Okinawa.
Japan surrendered on Aug. 15, ending World War II.
Mayor praises U.S. participation
Concerns that attending the ceremony — an emotional event beginning with the offering of water to the dead and a moment of silence to soothe their souls — would reopen old wounds had kept the U.S. away until this year.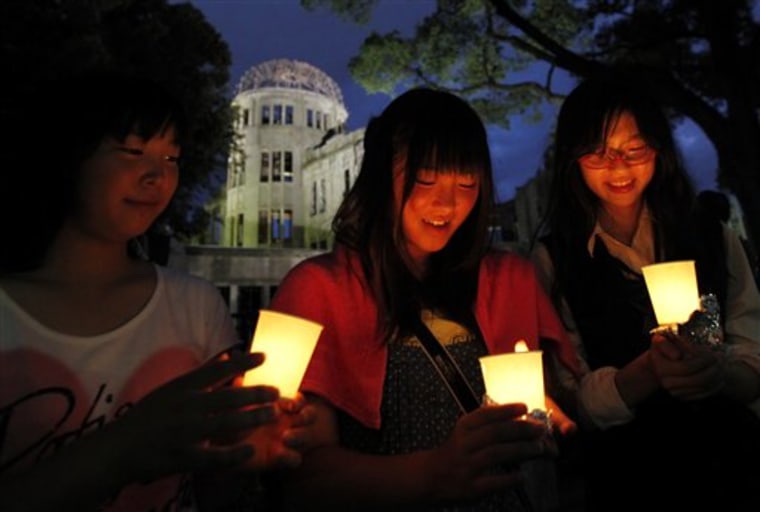 Former President Jimmy Carter visited Hiroshima's Peace Museum in 1984, years after he was out of office. The highest-ranking American to visit while in office is House Speaker Nancy Pelosi, who went in 2008. Roos also visited Hiroshima soon after assuming his post last year.
None went for the annual memorial, however.
U.S. Secretary of State Hillary Clinton told reporters in Washington on Thursday that Obama believed "it would be appropriate to recognize this anniversary" by sending Roos.
The State Department deemed the time was right to do so, and it was a chance to push Obama's goal of nuclear disarmament.
Hiroshima's mayor praised that position.
"We are encouraged that our voice is being heard," Mayor Tadatoshi Akiba said in a speech at the ceremony. "It is the wish of the survivors of the bombing that the voices of peace will be heard."
Akiba called on the Japanese government to take a leadership role in nuclear disarmament toward "turning a new page in human history."
"I offer my prayers to those who died — we will not make you be patient much longer."
Conflicting views of bombing
Hiroshima has invited Obama to visit the city, and he has expressed interest in doing so at some point while he is in office.
But such a visit would be highly controversial.
At Hiroshima's Peace Memorial Park, where Friday's ceremony was held, some visitors expressed concerns that Japan's view of the bombing — seen by many as excessive use of deadly force — conflicts with America's view.
Katsuko Nishibe, a 61-year-old peace activist, said she welcomed the decision to send Roos, but added that she thought it was dangerous to think that the bombing of Hiroshima was justified.
"I don't think it was necessary," she said. "We have a very different interpretation of history. But we can disagree about history and still agree that peace is what is important. That is the real lesson of Hiroshima."
The number of survivors able to attend the ceremony is steadily falling as more die of old age.
According to Japan's Kyodo news agency, the average age of the survivors is over 76 years, and the number of certified survivors has fallen to 227,565 from a peak of 370,000.