/ Source: msnbc.com and NBC News
Former Sen. Ted Stevens, R-Alaska, died in a single-engine plane crash in southwest Alaska that killed four other people, including one of his former congressional aides, officials said Tuesday. A former NASA chief was among the four survivors.
Stevens, 86, the longest-serving Republican senator in history, was among nine people on board when the 1957 DeHavilland DHC-3 Otter, crashed into a brush- and rock-covered mountainside Monday afternoon about 17 miles north of the southwest Alaska fishing town of Dillingham, federal officials said.
Also killed were Bill Phillips, a former Stevens' aide; Dana Tindall, 48, of Anchorage, senior vice president of Anchorage-based communications company GCI; Tindall's 16-year-old daughter, Corey; and the pilot, Theron "Terry" Smith, 62, of Eagle River, according to Alaska State Troopers.
Former NASA Administrator Sean O'Keefe and his teenage son Kevin survived the crash with broken bones and other injuries, said former NASA spokesman Glenn Mahone. Stevens and O'Keefe, now the CEO of defense contractor EADS North America, were longtime fishing buddies.
The other survivors were Phillips' 13-year-old son, Willy, and Jim Morhard of Alexandria, Va., a one-time Stevens' aide turned lobbyist.
The survivors spent Monday night on the mountain with several volunteers who discovered the wreckage and tended to the injured until rescuers arrived Tuesday morning.  They were taken to Providence Hospital in Anchorage, Alaska State Troopers said.
The plane, which was registered to GCI, was flying from a GCI company lodge on Nerka Lake to another fishing camp, the Federal Aviation Administration said. Stevens was with former members of his staff and their families, family friends said. Stevens' wife, Catherine, was not on the plane.
In a press conference Tuesday afternoon in Anchorage, National Transportation Safety Board Chairman Debbie Hersman said witnesses reported the party had lunch at the lodge at Nerka Lake, then departed in the red-and-white float plane about 3 to 3:15 p.m. local time to fly to the camp to fish for silver salmon. Hersman said the lodge called the camp about 6 p.m. to find out when the group would return for dinner and learned that the aircraft had not arrived.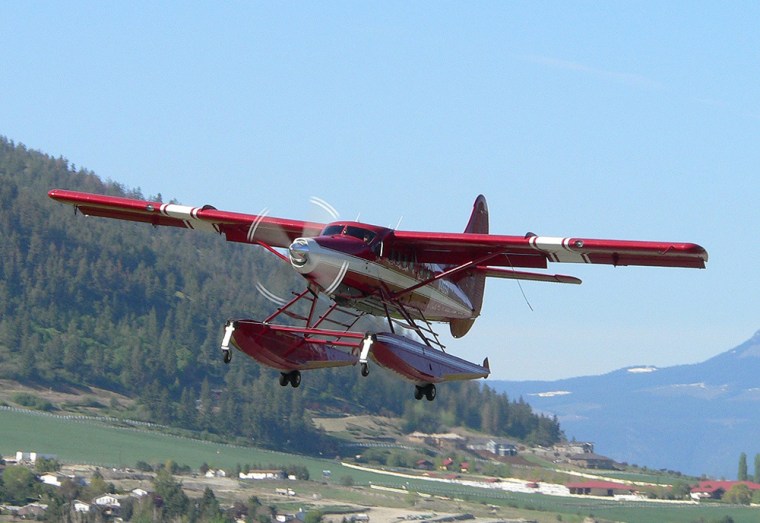 Aircraft from the lodge and elsewhere immediately began a search, and at 6:30 p.m. a helicopter found the crash scene about 15 minutes' flying time from the lodge on a 30-degree slope, Hersman said. Other aircraft dropped off a doctor and two EMTs above the crash scene before the weather closed in, and they hiked down to stay with the victims through the night.
Gen. Thomas Katkus, adjutant general of the Alaska Army National Guard, said it took almost 12 hours for other crews to reach the scene Tuesday morning because of bad weather.
Megan Peters, a spokeswoman for the state troopers, said that the bodies have been recovered and were being taken to Anchorage.
Investigators with the NTSB arrived late Tuesday at the crash site outside Dillingham, located on Bristol Bay about 325 miles southwest of Anchorage. The cause was not immediately known, but weather is one area investigators will examine.
Stevens' death stunned lawmakers and residents alike because of his pre-eminence in Alaska history: A decorated World War II pilot who survived a deadly 1978 plane crash, he was the longest-serving Republican senator in history and became the patron saint of Alaska politics as he brought billions of federal dollars home.
One failed effort — the infamous "Bridge to Nowhere" — became part of his legacy, as did corruption convictions that helped foil his 2008 campaign after 40 years in office. The case was later tossed out.
"He is one of the real giants," said Paul Brown, a consultant who was having lunch at an outdoor cafe in Anchorage. "He dedicated his life to this state."
President Barack Obama extended his condolences to "the entire Stevens family and to the families of those who perished alongside Senator Stevens in this terrible accident."
"Ted Stevens devoted his career to serving the people of Alaska and fighting for our men and women in uniform," the president said in a statement.
"I've got to tell you he will be deeply missed," said Alaska Gov. Sean Parnell, who added that Stevens "fought hard, and our future in Alaska is better off for his having served us." "He built Alaska, and he stood for Alaska, and he fought for Alaska," Parnell added.
Stevens was appointed in December 1968 and became the longest-serving Republican in Senate history. (The late Strom Thurmond was in the Senate longer than Stevens, but he spent a decade there as a Democrat before switching to the Republican party.)
He was named Alaskan of the Century in 1999 for having the greatest impact on the state in 100 years. He brought in "Stevens money" that literally helped keep the remote state solvent. The Anchorage airport is also named in his honor.
But one of his projects — infamously known as the "Bridge to Nowhere" — became a symbol of pork-barrel spending in Congress and a target of taxpayer groups who challenged an appropriation for hundreds of millions of dollars for bridge construction in Ketchikan.
Stevens was considered a forceful personality on Capitol Hill who was fiercely devoted to the financial interests of his state. But while "he had some kind of image as a kind of curmudgeon, he used his temper; he didn't lose it," said Mitch Rose, his former chief of staff. "He had a heart of gold."
Stevens lost his re-election bid in 2008 after he was convicted on corruption charges, but the case was later thrown out because of prosecutorial misconduct.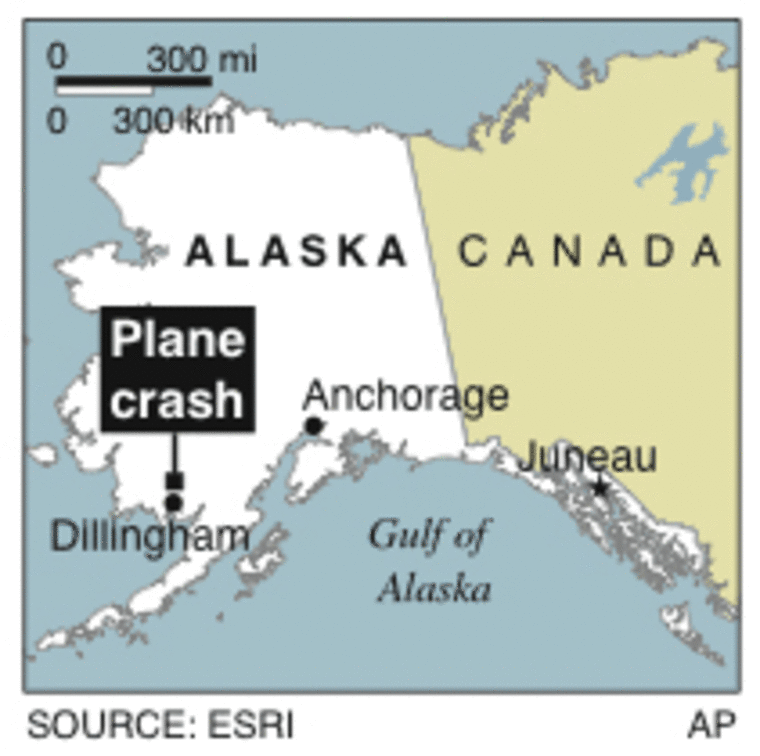 Alaska Republican Sen. Lisa Murkowski, a close political associate of Stevens, that she was suspending her re-election campaign. In a statement, she called Stevens a "a dear friend" and said, "The thought of losing Ted Stevens, a man who was known to business and community leaders, Native chiefs and everyday Alaskans as 'Uncle Ted,' is too difficult to fathom."
Former Gov. Sarah Palin, the 2008 Republican vice presidential nominee, called Stevens "a warrior and a true champion of Alaska."
"In our land of towering mountains and larger-than-life characters, none were larger than the man who in 2000 was voted 'Alaskan of the Century,'" Palin said in a statement.
Plane crashes in Alaska are somewhat common because of the treacherous weather and mountainous terrain. Many parts of the state are not accessible by roads, forcing people to travel by air to reach their destinations.
In a similar accident by another GCI-owned plane, an amphibious, float-equipped Havilland plane flipped after landing on Lake Nerka in 2002. The pilot drowned and a passenger was injured. The plane was landing on the lake in front of the lodge when the accident occurred.
Stevens was one of two survivors in a 1978 plane crash at Anchorage International Airport that killed his wife, Ann, and several others. In 1972, Nick Begich, who was Alaska's only congressman, was killed when his plane disappeared over Alaska with then-House Majority Leader Hale Boggs of Louisiana.
"Alaska has lost one of its greatest statesmen and a true pioneer of our state with the passing of Senator Ted Sevens," said Begich's son, Mark, a Democrat who narrowly defeated Stevens in 2008.
O'Keefe, 54, the chief executive of aerospace firm EADS North America and a former secretary of the Navy, was administrator of the National Aeronautics and Space Administration from 2001 to 2005. Previously, he was briefly deputy director of the White House Office of Management and Budget under President George W. Bush.