As dozens of U.S. billionaires pledge their fortunes to charity and the country struggles to shake off recession, philanthropy is a growing status symbol of the rich, experts say.
Being wealthy may no longer be about how many properties or fast cars a millionaire owns — it could be about how much money they are giving away — bringing hope to charities that Warren Buffett and Bill Gates' philanthropic push inspires others.
"It will be something that's very important to the wealthy — to be able to say: 'I give my money away as much as I spend it in all these other exciting ways,'" said Stacy Palmer, editor of the Chronicle of Philanthropy.
"Clearly pressure on the elite is high right now to say that they are giving money away and that will make it trendy," she said. "People who have enough money to give away but maybe haven't thought about that ... those folks will want to do what Warren Buffett and Bill Gates are doing."
Investor Buffett and Microsoft founder Gates are urging American billionaires to give away at least half their wealth during their lifetime or upon their death by signing the Giving Pledge, which so far has 40 members.
While experts in philanthropy say recognition is not a key motivation for people to give, some say it would not be a bad thing if philanthropy became a greater badge of honor among the rich.
"It would be naive to think that nobody cares about the attention because otherwise there wouldn't be any names on buildings," said Patrick Rooney, executive director of the Center on Philanthropy at Indiana University.
"But it would not be a terrible thing if philanthropy became a more important status symbol than the car you drive or the street address and how many square feet you live in or how many residences you own," he said.
Based on Forbes magazine's estimates of the wealth of the 40 members of the Giving Pledge, at least $150 billion could be given away. Gates and Buffett are the second and third richest people in the world, behind Mexican tycoon Carlos Slim, with fortunes of $53 billion and $47 billion respectively.
Giving by rich an expectation
The true measure of the wealthy should be their generosity, said Bradford Smith, president of the Foundation Center.
"If philanthropy is indeed becoming the new status symbol of the wealthy it will do a lot more to change the world than buying Gucci bags," he said.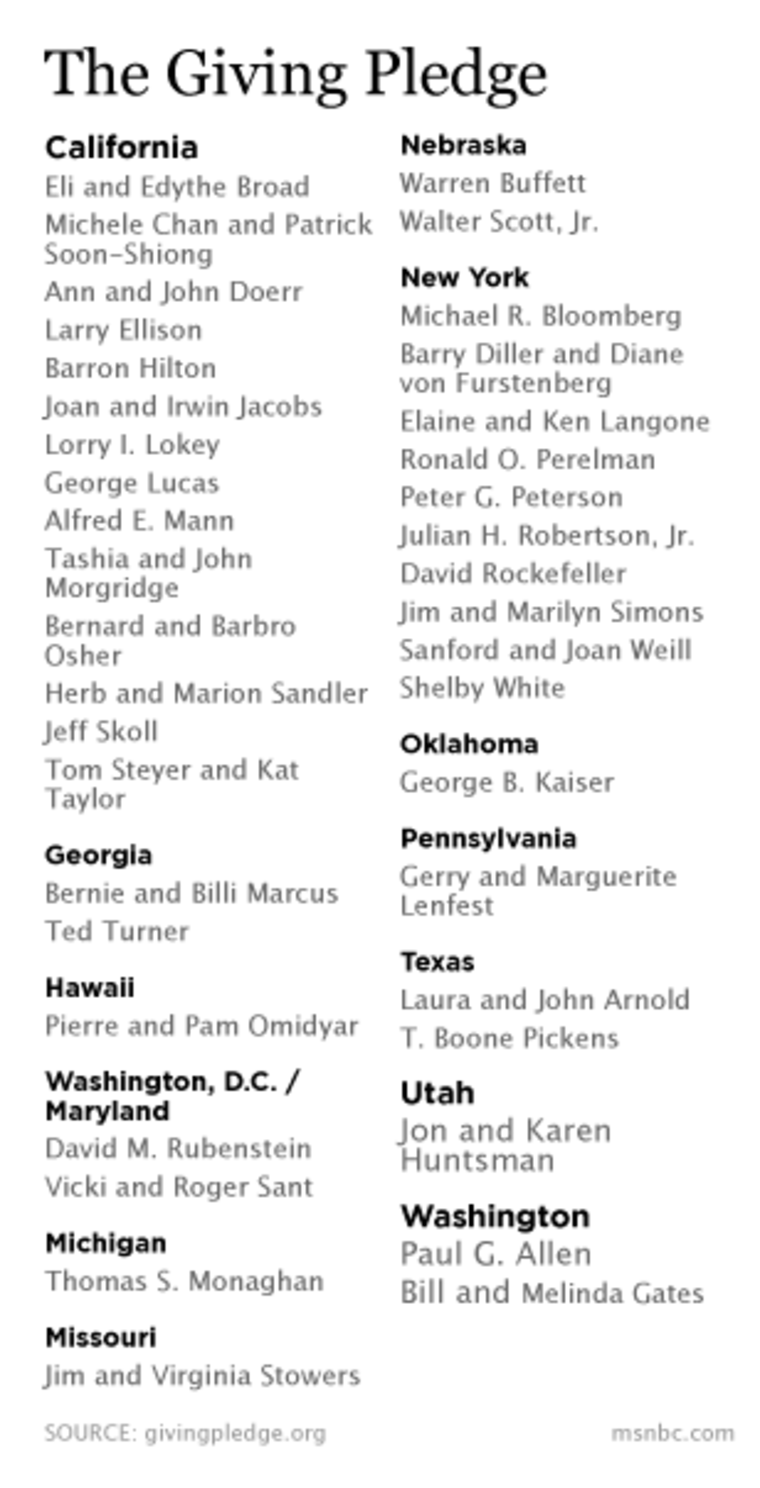 But Paul Schervish, director of the Center on Wealth and Philanthropy at Boston College, said it was important that philanthropy as a status symbol was just a reflection of giving and not a motivation.
"Philanthropy is becoming a regular part of the financial life of wealth holders in a substantial way," he said, adding that anything that is the right thing to do morally can become status symbols.
But, he cautioned, the risk is that if giving is seen as the purview of the rich then it may devalue charity endeavors of regular Americans.
Individual Americans gave more than $227 billion in 2009, according to a the Giving USA report by the Center on Philanthropy at Indiana University, down just 0.4 percent from the previous year despite the U.S. recession.
Melissa Berman, president and chief executive of Rockefeller Philanthropy Advisors, said there was a growing expectation on wealthy families to not only give their money away but be actively involved in their philanthropy.
The Giving Pledge "is going to have a tremendous impact and it's impact may be greater outside the United States ... because (China and India) are countries where there is less of a tradition of that kind of scale of philanthropy," she said.
Gates and Buffett and planning to travel to China in September and India in March to speak to wealthy families about the Giving Pledge in the hope that it will drive a similar growth in philanthropy there.
Wall Street Journal wealth columnist Robert Frank, author of "Richistan: A Journey Through the American Wealth Boom and the Lives of the New Rich," said the recession had helped spur America's rich to search for new status symbols.
"Yachts, private jets, seaside mansions are so 2007," Frank wrote recently. "But being wealthy enough and generous enough to get on the Giving Pledge list may quickly become the ultimate badge of status — both in the U.S. and abroad."