/ Source: The Associated Press
Greetings from Asbury Park!
If you're a Bruce Springsteen fan, have we got a trip for you.
Even if your reaction to that famous salutation is "Hi!" "Hey!" or "Huh?" the folks in Asbury Park will be equally happy to meet you.
This friendly seaside community, indelibly linked to Springsteen's 1973 debut album, "Greetings From Asbury Park, N.J." has plenty to offer — whether you're among the fans making pilgrimages, or just want to have fun, relax and enjoy the beach.
Just ask Jorunn Elnes of Rjukan, Norway — or the E Street Band's Clarence Clemons.
"It's the most beautiful beach and the most beautiful boardwalk," Clemons said in a recent AP interview.
He has the wholehearted agreement of Elnes, who took time off from her banking job to visit Asbury Park three times in the span of a year.
Jersey Shore author-historian Stan Goldstein says the boardwalk is the "best it's been in more than 30 years."
Goldstein remembers the giant Exxon sign that brought this fair city light and the now-razed Flamingo motel, whose name may have inspired the fictitious Flamingo Lane of Springsteen's song "Jungleland."
Clemons fondly recalls a carousel with handcrafted horses, and driving around an informal route known as "the circuit," referred to in Springsteen's "Night" and "4th of July, Asbury Park."
That was before Asbury Park became a city of ruins.
Race riots in 1970 "sucked all the life right out of Asbury Park," says Clemons. Its swan song "was really, really sad."
"For at least 20 years, it was a ghost town," says Goldstein.
Revitalization
The city has undergone a recent renaissance. Upscale development has snowballed. Goldstein says it's now like a family-friendly version of Miami's South Beach.
"It's all coming back now; that's exciting," says Clemons, though he impishly denounces the city's recent rejection of a topless beach proposal.
The pristine sand, trendy but relaxed bars and cafes, the Silverball pinball museum (1000 Ocean Ave.), and an adorable boardwalk water park for kids are hallmarks of the resurrection.
Elnes, who came to the U.S. to see parts of a Springsteen tour and the Light of Day benefit in Asbury Park, also loved the city's "small, nice shops," and she enjoyed "a very, very good hamburger at a restaurant near the Paramount Theatre," one of the boardwalk's stately anchors. (The Light of Day concerts, which Springsteen has performed in, raise money for Parkinson's disease research.)
But the city's role as a musical epicenter runs deeper than Bruce.
"It's like Liverpool," says Clemons. "Everybody went for the music. All the young musicians seemed to gravitate to Asbury Park."
There were a lot of major acts as far back as the 1960s: the Rolling Stones, Janis Joplin, Jimi Hendrix, Jim Morrison and the Doors.
"I treasure those times," says Goldstein. But "Asbury Park is a living history. There are more chapters to be written."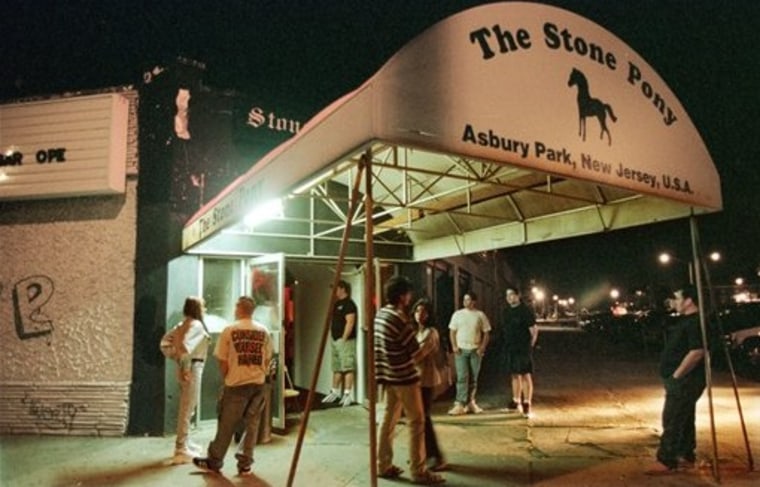 The nightlife
Springsteen recently appeared at the Stone Pony (913 Ocean Ave.) with Alejandro Escovedo. The Paramount and Convention Hall (both at 1300 Ocean Ave.) are also thriving.
Some clubs are a distant memory (albeit with photo ops).
The now-vacant FastLane (207 Fourth Ave.), incubated an impressive array of talent around the late '70s and early '80s.
The fledgling U2 appeared at the FastLane; Springsteen met the Ramones there.
One night in 1980, just a few dozen people were there when a cover band, Atlantic City Expressway, started playing "Promised Land." Suddenly, "Bruce jumps onstage," recalls Goldstein.
The band's frontman: high school senior Jon Bon Jovi.
The former Upstage Club (702 Cookman Ave.) is now in the hands of a music lover who wants to bring it to life again. Memorabilia is stuck, shrine-like, over its storefront glass. The oasis nurtured a long-haired, scrawny young Springsteen as well as E Streeters Steven Van Zandt, Danny Federici, Vini Lopez, David Sancious and Garry Tallent.
The former Student Prince (911 Kingsley St.) recently reopened as a gay bar named Swell.
Clemons' book, "Big Man," recounts how he dropped by the Student Prince during a break from his appearance at the old Wonder Bar. As he strode in and asked to play with Springsteen for the very first time, a Nor'Easter blew the door off.
"Something called me down there," he recalled in the interview. "I was looking for what I now know was Bruce."
There's a song, historical or photographic tie-in at every turn.
'The Boss'
For total immersion, make an appointment to see the public library's Springsteen Special Collection. It contains "more stuff on myself and the band than every place except my mother's basement," Springsteen once said.
Or just hit some favorite haunts:
The Palace, an indoor amusement park mentioned in Springsteen lyrics, is gone but not forgotten. Located at Kingsley Street, between Lake and Cookman avenues, its green exterior bore the words "Skooter" and "Tunnel of Love," and Tillie, a caricature of George C. Tilyou, who founded Steeplechase Park in Brooklyn's Coney Island. A photo sold in Asbury shops shows Tillie trussed up on a flatbed truck, looking as if he's in jail. Visitors can still get their Tillie fix; there's another on the still-lively Wonder Bar (Fifth and Ocean).
"The boys from the casino dance with their shirts open like Latin lovers along the shore, chasin' all them silly New York girls..." The casino's art-adorned passageway links Asbury's southern boardwalk to Ocean Grove. That's the hometown of Southside Johnny Lyon, who still whips fans into a frenzy with his Asbury Jukes.
Many visitors opt for Ocean Grove's Victorian B&Bs. Those who stay in Asbury might choose The Berkeley (1401 Ocean Ave.), where Johnny Cash maintained a suite, or the gay-friendly Empress (101 Asbury Ave).
"Rock & Roll Tour of the Jersey Shore," a book by Goldstein and Jean Mikle, describes a jillion sights all over the area, including Springsteen's original hometown, Freehold, roughly 18 miles inland.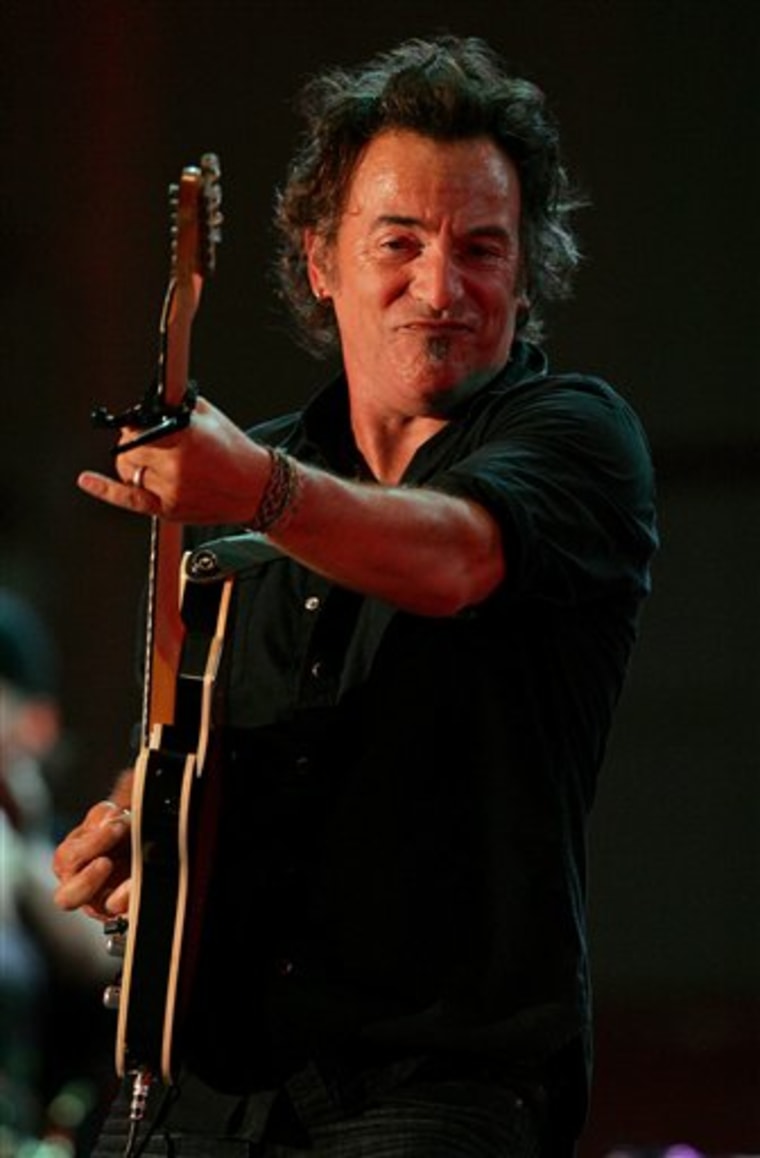 Tourists also flock about six miles south to Belmar, posing for photos at a worn, white cement street marker for "E St." Sancious, the original keyboard player, lived in the neighborhood when the E Street Band got its name.
Even without a confirmed sighting in the area, Springsteen is omnipresent. (He definitely drops by, though maybe not quite as often as eager-to-please locals might claim.)
A Virginia license plate spotted along Ocean Avenue summed up the scene (and its cottage industry): "BRUUUCE!"
The aura permeates "every corner of the town: walking down Kingsley, the casino, the Stone Pony, Madam Marie's, the Convention Hall," says Elnes. "Wow!"
Springsteen, with and without E Street, has performed many times at the Convention Hall and its smaller sibling, the Paramount.
The theaters — connected by a charming, indoor retail and restaurant promenade — are just steps away from the cute shack where a relative of the late Madam Marie holds court. ("Well the cops finally busted Madam Marie for tellin' fortunes better than they do," as Bruce's lyrics put it.)
These days, the cops tolerate fortunetelling, but not racing in the street. Drivers who observe the speed limit, though, are welcome to jam "the circuit" with their chromed invaders.
Creep up Ocean Avenue; hang a left at the top; make another left and ride down Kingsley. Crank up "Something in the Night" and sing along.
We figure you'll get a drink now. (And some food. The choices abound.)
Sweet tooth? Try to prevent yourself from diving headfirst into the irresistible offerings at Il Pavone Gelateria and Caffe (531 Cookman Ave.)
Or score a beachfront table at Langosta Lounge (1000 Ocean Ave.) and dig into a big bowl of sweet potato fries with curried mayo.
A blend of tourists, residents and artists lends just the right amount of local color.
A fit young police officer, devouring grilled chicken and salad at Pop's Garage (also 1000 Ocean Ave.), banters with a pastel-haired waitress, both seemingly oblivious to the crystal-blue ocean and brilliant sun.
Beach season officially ends on Labor Day.
But gorgeous autumn days, says Goldstein, are "the big secret of the Jersey Shore."