/ Source: The Associated Press
Carola Narvaez breathed in the Atacama Desert's cold dawn air and slowly began to exhale the story of how her family survived a devastating earthquake and worked to rebuild their lives — only for her husband to end up trapped deep inside a Chilean mine.
A tale of two disasters, Narvaez's account embodies the challenges still faced by the poor in Chile despite two decades as Latin America's economic darling. It is a story of incredible misfortune, unwavering faith and a love she said has only been strengthened by adversity.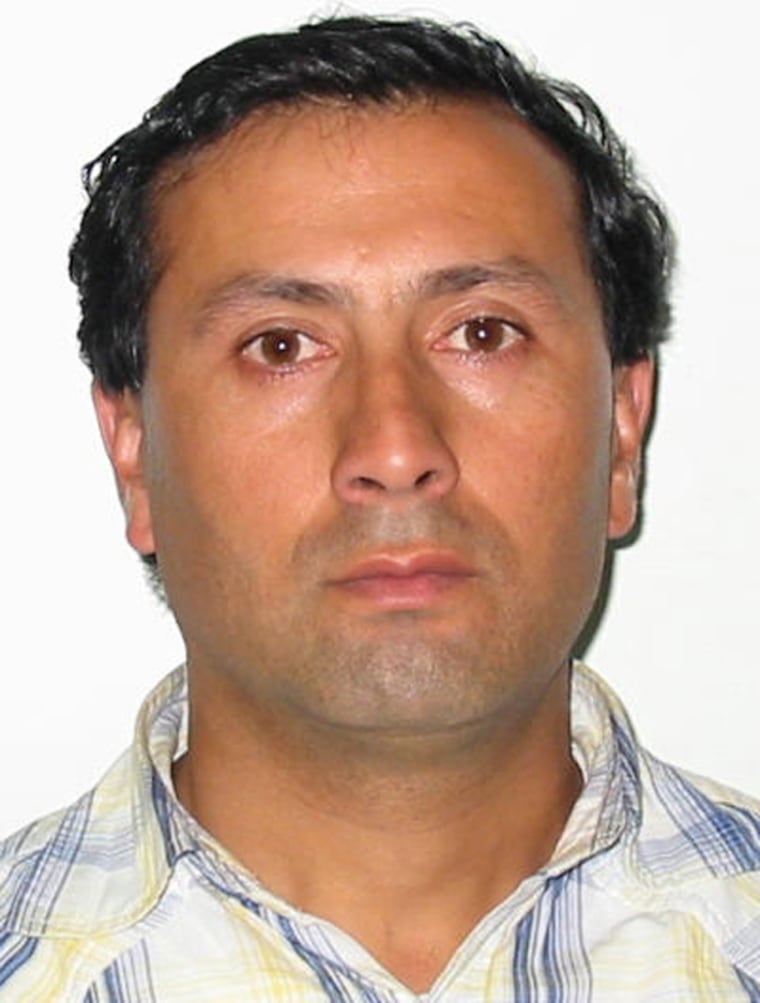 Narvaez's husband, Raul Bustos, is a heavy-machinery mechanic whose skills have always been in demand. For years he has made a living repairing the equipment that rips copper, the lifeblood of Chile's economy, out of the earth, or helping build massive ships in ports along the nation's 4,000-mile coastline.
Six months ago Friday, the family was living in the port city of Talcahuano, 300 miles south of the capital, where Raul was working for Chilean shipbuilder Asmar.
Like most Chileans, the couple were sound asleep when one of the most powerful earthquakes registered in a century struck the central coast Feb. 27.
What the earthquake did not knock down, the tsunami it triggered washed away. While the family's home survived, ships in Asmar's yards were pushed into the street and the builder's operations destroyed.
Having to support his wife and two small children, Bustos looked to northern Chile, where mines dot the barren lunar landscape. Two months later he found his way to the San Jose mine, one of hundreds of midsize operations digging into the rocky, red earth in search of copper, gold and other minerals. Narvaez stayed behind with their children, 5-year-old Maria Paz and 3-year-old Vicente.
But when word arrived of the Aug. 5 collapse at the mine, Narvaez left the kids with her parents and rushed to the mine site, where she has camped out since.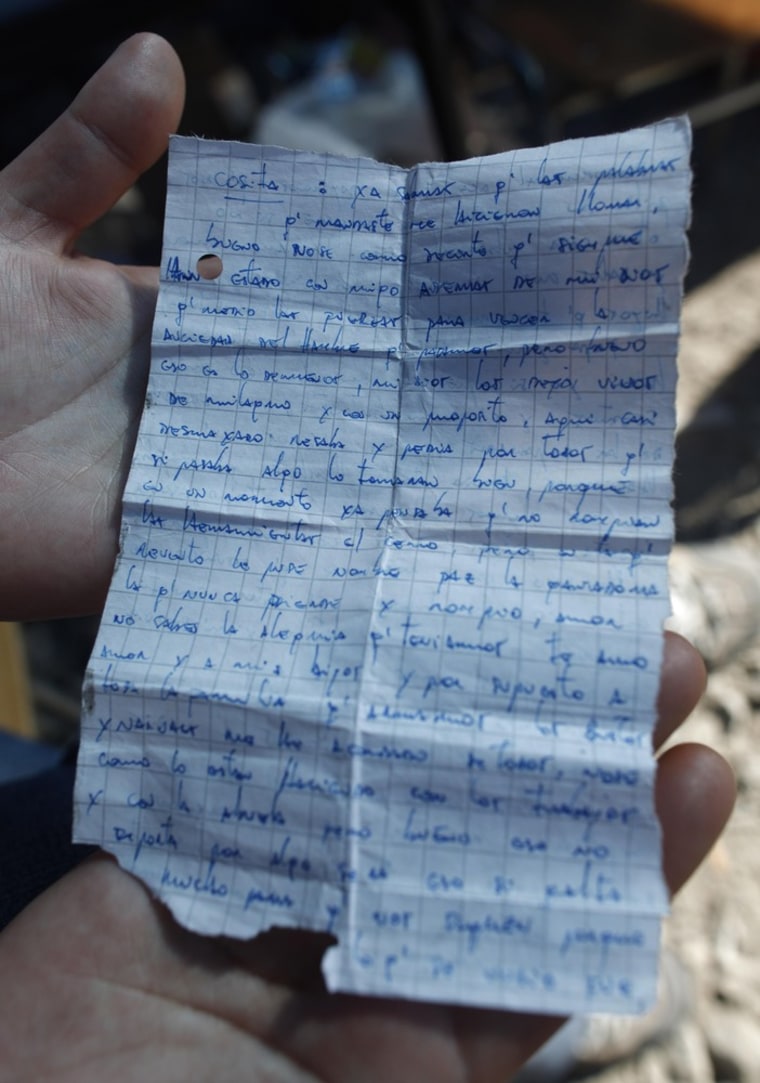 "In the earthquake we just had to keep on living. We had our lives," Narvaez said as she sat in a tent camp just outside the gates leading to the copper and gold mine where Raul is buried 2,200 feet underground. "This is the same. It is producing much anguish, isolation, fear. But we're alive. My husband is alive down in that mine, and we will have another happy ending."
Bustos and the 32 other miners — the most experienced of whom make about $1,000 a month — were trapped Aug. 5 by a massive collapse of the main access shaft, which corkscrews more than four miles into the mountain. They were cut off from the outside world for 17 days until Sunday, when rescuers successfully sank a narrow bore-hole down to their shelter after seven failed attempts. Two additional bore-holes were later drilled.
Narvaez said Friday her hopes were further bolstered after seeing her husband on a 45-minute video the miners made with a small camera sent to them via one of the bore-holes.
Also, the notes that she has passed back and forth with her husband have helped.
In a strong voice, she read one of them aloud.
"My little thing, you should know the words you sent me made me cry," her husband wrote on a piece of smudged, lined paper, referring to an earlier note she sent him. "They have always been with me, along with my God who gave me strength to overcome anxiety."
In the note, Bustos tells his wife that he nicknamed the first drill that finally reached the miners after the couple's daughter, Maria Paz, because it was "the winner, who never loses, and it broke through."
Relatives of the trapped miners repeat the same answer when asked what drove their men to toil underground in a small mine that does not have the same safety regulations as larger operations.
"There is plenty of work outside of mining in the Atacama, mostly in agriculture," said Lila Ramirez, whose 63-year-old husband, Mario Gomez, is also trapped in the mine. "But a man wants to work in the mine because it is a way to improve the economic situation of a home, to create a life of dignity."
Chile's average annual per-capita growth rate of 4.1 percent over the past two decades makes it the most successful of all Latin American nations, according to the World Bank. Per-capita incomes have doubled and the nation is perched on the edge of joining the ranks of the world's developed nations.
Yet 14 percent, or 2.3 million, of Chile's 16 million people still live below the poverty line, according to Bank statistics. Several million more are scraping by just above it.
Some of them risk their lives in the mines of the Atacama Desert — home to great mineral wealth that makes up 40 percent of Chile's export income — and where hard, dangerous labor gives them a chance at a better life.
Other regions of Chile have made strides in fighting poverty.
But even as Atacama has experienced "dynamic growth," according to a recent report from the U.N. Economic Commission for Latin America and the Caribbean, it has not reduced poverty levels.
Warming her hands around an open-air fire, Narvaez, 36, an administrator in a health-care company, said poverty certainly was not looming for her family.
But a desire to climb Chile's socioeconomic ladder drove her husband to start working in the San Jose mine just weeks after the tsunami washed away his other job. Since April, he has alternated seven-day shifts in the mine with weeklong stretches at home with family back in Talcahuano, 700 miles away.
"Mining is one of the best-paid jobs a man can get in Chile," Narvaez said. "But it means your husband is moving around, is often away and only comes back home for short periods."
Narvaez has become close friends with Cristy Coronado, the wife of trapped miner Juan Aguilar. Coronado traveled 900 miles north from the couple's hometown in Los Lagos to a tent camp outside the San Jose mine.
Aguilar had been working at San Jose for a year — since before the earthquake.
"It is common in Chile for husbands to live far away from their wives in search of work, traveling back and forth, away from us for stretches of time," Coronado said. "It is a fact of life for those wanting to make more money."
Narvaez acknowledged that overcoming two disasters in six months was tough, but expressed optimism that rescuers will be able to free the men. Nor does she feel cursed.
"If it were bad luck, then there would be a bad ending," she said. "Neither of these disasters will have a bad ending."
Religious faith and love have helped her endure a year full of trials.
"Faith is what allows us to feel alive but it is love that keeps us here waiting," she said, motioning around at the tents where the trapped miners' relatives are staying. "If not, there would not be a single person in this camp. Love, more than faith, is what motivates me."