/ Source: msnbc.com news services
President Bashar Assad on Tuesday began the first visit to Turkey by a Syrian head of state, hoping to improve ties strengthened by the two countries' opposition to the war in Iraq.
With the United States trying to put together a post-Saddam Hussein government in Iraq, Turkey and Syria are worried Kurds in northern Iraq could aspire to independence, a move they fear would engulf Kurds on their soil. Both countries border Iraq.
Israel, meanwhile, is hoping Turkey could act as a conduit between Israel and Syria, which technically are at war. Israel has given Turkey messages to pass to Assad, Israeli spokeswoman Sharon Bar-Li Saar said.
Turkish President Ahmet Necdet Sezer said discussions would deal with Israel and Iraq.
Time to cooperate
"Both Turkey and Syria are located in troubled geography," Sezer said before meeting Assad. "Time shouldn't be lost to replace the existing environment of animosity, mistrust, and lack of stability that is dominating in the region with an environment of peace, stability, and prosperity."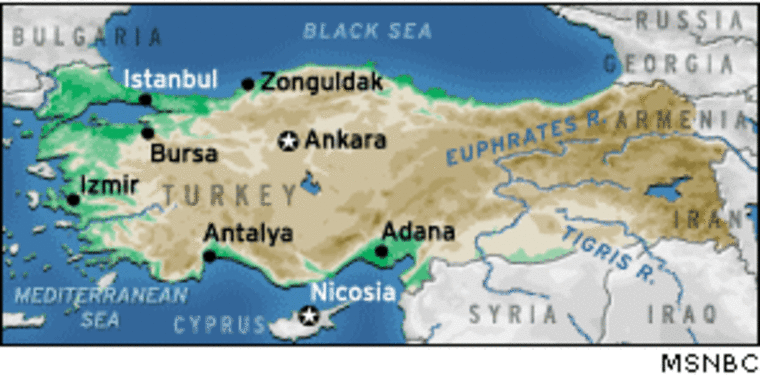 Assad echoed Sezer's intentions a joint news conference, "My visit coincides with a period when Syrian-Turkish relations are reaching a peak. But if we consider the region as a whole, our region is going through a bad period....We have moved together from an atmosphere of distrust to one of trust. We must create stability from a regional atmosphere of instability."
Washington: Kurds to remain part of Iraq
Secretary of State Colin Powell said in Washington that the United States believes Iraqis should work out the problem but maintains that Iraq must remain "one, single integrated country."
"Clearly, the Kurds wish, in some way, to preserve their historic identity and to link it in some way to geography," Powell said. "But I think it's absolutely clear that that part of Iraq must remain part of Iraq."
Turkey, NATO's only Muslim member, enjoys close ties with Israel, a partnership backed by Washington.
"Assad's visit represents a turning point in regional politics," said analyst Imad Fawzi al-Shueibi.
Improved relations
Relations between Turkey and Syria have been steadily improving since the late 1990s, when Turkey threatened military action against Syria over its hosting and supporting of Turkish Kurdish rebels. The threat forced Damascus to expel Kurdish rebel leader Abdullah Ocalan, who is now imprisoned in Turkey.
Despite lingering disputes over Syria's claims to Turkey's Hatay province, which has a large Arab population, and the sharing of water from the Euphrates River, the two countries have in the past three years signed military and security agreements and the volume of trade between the two countries has reached some $1 billion.
Also, the war in Iraq, which both Syria and Turkey opposed, has brought the two nations closer — a development that is likely to concern Washington. Turkey refused to let its territory be used by American forces during the war.
"The presence of U.S. troops in Iraq is one of the factors that have led to improved relations," al-Shueibi said.

Assad's visit is expected to result in two agreements: one to protect and encourage mutual investments, and the other to avoid double taxation.
However, the Syrian president said he did not want to confine relations to the borders of the two countries.
"We should look at a regional and, perhaps in the future, at an international level," Assad said in the interview with CNN-Turk conducted last week and aired Monday