/ Source: msnbc.com news services
Suspected drug hitmen killed the mayor of a small town in northern Mexico on Sunday in a region where two car bombs exploded last week and the bodies of 72 murdered migrant workers were found.
Gunmen in SUVs shot and killed Mayor Marco Antonio Leal as he drove through his rural municipality of Hidalgo near the Gulf of Mexico in Tamaulipas state, the local attorney general's office said. Leal's 4-year-old daughter was slightly wounded in the attack, a spokesman said.
Some cartels have been known to carry out targeted shootings that kill the intended victim, but not children riding in the same vehicle. Leal's daughter was reportedly shot in the leg.
It was not immediately clear why Leal was targeted. But Tamaulipas has become one of Mexico's bloodiest flashpoints since the start of the year as rival hitmen from the Gulf cartel and its former armed wing, the Zetas, fight over smuggling routes into the United States.
Leal Garcia's rural town, Hidalgo, has about 25,000 inhabitants. It lies southwest of a part of Tamaulipas where a massacre survivor said Zetas gunmen killed 72 Central and South American migrants last week.
Hidalgo is also near the border with Nuevo Leon state, where the mayor of another town, Santiago, was found murdered on Aug. 18. Local police allied with a drug gang are suspected in that killing.
"This cowardly crime, and the reprehensible violent acts that occurred recently in this state, strengthen the commitment of the Mexican government to continue fighting the criminal gangs that seek to intimidate the families of Tamaulipas," President Felipe Calderon's office said in a statement.
Drug cartel involvement
Calderon's reference to "criminal gangs" and the nature of the Leal Garcia slaying suggested drug cartel involvement. Local media reported he was killed as he left his ranch.
Tamaulipas state security officials did not answer phone calls seeking comment, according to The Associated Press.
In a sign of escalating drug war violence, two car bombs exploded in Tamaulipas' state capital, Ciudad Victoria, on Friday, three days after marines found the bodies of 72 migrants gunned down at a ranch in the state.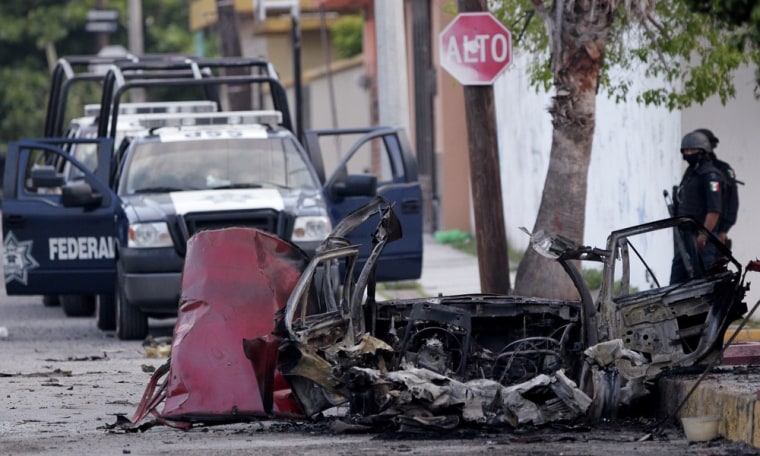 The blasts, the second and third modest bombs planted in a vehicle this month in Ciudad Victoria and the fourth in Mexico since July, caused no casualties but damaged buildings.
Hitmen threw three grenades in the center of the manufacturing city of Reynosa, also in Tamaulipas and across from McAllen, Texas on Saturday, injuring 15 people, Reynosa city hall said.
The Reynosa city government said on its Twitter site that "an explosive device" detonated downtown near the La Quebradita bar on Saturday, and advised residents to stay out of the area. Cross-border traffic was not affected.
Migrant massacre
The slaughter of the migrants was discovered last Tuesday in San Fernando, a town near Reynosa.  Mexican newspaper El Universal reported that the body of a local official investigating the massacre was found along a highway two days after he went missing.
The Central and South Americans were apparently killed after they refused to work for the gang. Drug gangs have branched out into human trafficking for extortion and to recruit members.
Thirty-five had been identified by Sunday: 16 Hondurans, 13 Salvadorans, five Guatemalans and a Brazilian. Documents belonging to another Brazilian man were found at the scene of the killings, but his body has not been identified. The lone survivor, an Ecuadorean, escaped and reported the slaughter to the Mexican military.
Federal authorities said Saturday they will take over the investigation into the massacre because evidence suggests drug traffickers were responsible.
Calderon has blamed the surge in violence in Tamaulipas on the split between the Gulf and Zetas gang but has vowed to crush the cartels.
Political assassinationsLeal, a member of the opposition Institutional Revolutionary Party, or PRI, spent Sunday morning in a meeting with other Tamaulipas PRI mayors and the governor-elect, also a member of the PRI, which has long been dominant in the state.
Calderon is a conservative from the ruling National Action Party, or PAN.
Gunmen threw grenades at the town hall earlier this year and Hidalgo's former mayor, also from the PRI, narrowly survived an assassination attempt this month.  Gunmen murdered a popular candidate for Tamaulipas governor in June in Mexico's worst political killing in 16 years.  
Drug gangs killed a mayor from Calderon's party near the wealthy industrial city of Monterrey in neighboring Nuevo Leon state this month, as attacks on public officials grow.
More than 28,000 people have died in drug violence since Calderon launched his war on drugs in late 2006, prompting fears that bloodshed could undermine tourism and investment as Mexico slowly recovers from its worst recession since 1932.