/ Source: The Associated Press
In a country of dense rain forests with few paved roads, boarding an overcrowded boat on a treacherous river is simply a way of life. This weekend, journeys on the dangerous waterways stole the lives of up to 270 people.
Since barely anyone can afford to fly, travelers in Congo ride on boats and barges not intended for people, sleeping at night next to sacks of maize and piles of timber amid the stench of fish. There is no such thing as maximum occupancy: Boat operators try to make as much money as they can, frequently overloading the vessels with passengers and cargo.
"You get scared with the traveling conditions, but you put it in prayer for God to help you reach your destination," said Emery Makumeno, a Congolese journalist who has traveled by boat.
The Congo River is the only real highway in the vast Central African nation. Barges traverse the river like floating villages crowded with up to 2,000 people, mainly traders and their goods, from bags of sorghum to barrels of palm oil.
It can take weeks to get from the river's source in the south to Kinshasa, the capital, meandering in a scythe-like arc. The river is nearly 3,000 miles (4,800 kilometers) long and about 10 miles (16 kilometers) wide at some points.
While it is a source of life, the river has also been the bearer of conflict, slavery and tragedy — as shown by the deadly accidents on two of its tributaries over the weekend.
Survivors of a boat that capsized on the Kasai River in southern Congo on Saturday night after a fire broke out said nearby fishermen refused to help drowning passengers, instead looting the goods from the burning vessel and beating people with oars in the dark.
Romaine Mishondo said the vessel was so crowded it reminded her of "a whole market in the village full of people." The boat had stopped to pick up even more people just 10 minutes before the blaze began, she said.
About 200 people are feared dead.
Francois Madila, an official from the navigation department in the province, said police arrested two crew members and are investigating the capsizing, which took place near Congo's border with Angola. Madila said the sailors have not said how many people were aboard and that the passenger list appeared to have disappeared in the fire.
As people jumped overboard, nearby fishermen ignored the passengers' pleas for help.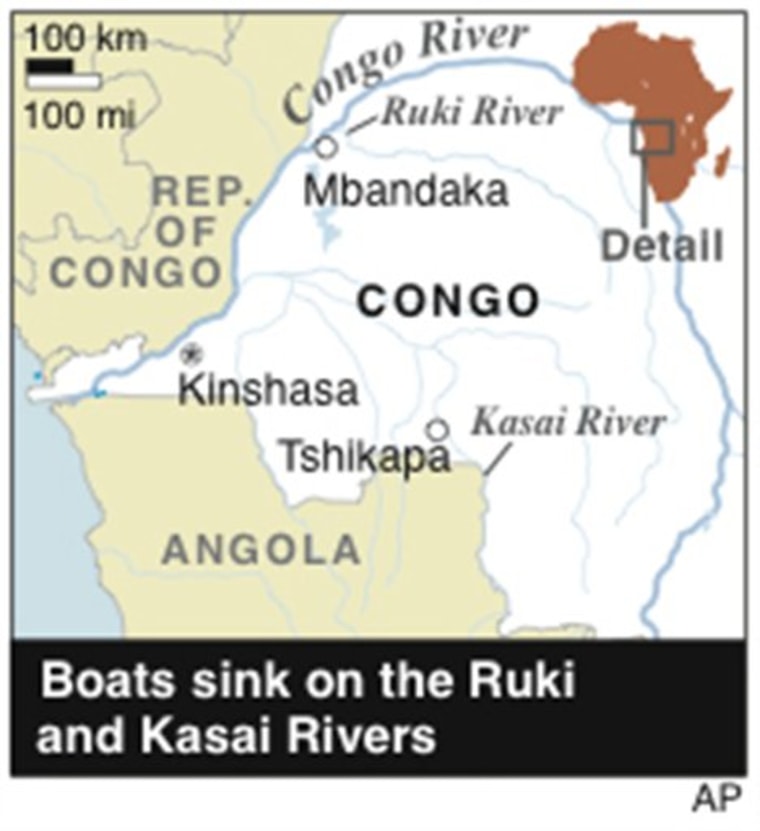 "Fishermen attacked the boat and started beating passengers with paddles as they were (trying) to loot goods," she said. "The fishermen refused to save passengers, instead taking goods into their (boats). ... I survived because I hung onto a jerry can until another vessel passed by the scene and rescued us."
Fabrice Muamba, who said he was on the boat when it caught fire, said he thought only 15 people aboard were able to swim to safety. Many Congolese travel by boat even though they do not know how to swim.
Boat owner Mwamba Mwati Nguma Leonard said a survivor and an employee called to tell him that the vessel caught fire when workers spilled fuel and ignited the engine.
Also on Saturday, a boat on the Ruki River in northwest Equateur Province hit a rock and capsized, provincial spokeswoman Ebale Engumba said Sunday. More than 70 people are believed dead among 100 estimated passengers. She said officials are investigating why the boat was traveling in the darkness without a light.
The boats traversing Congo's rivers are often in poor repair. Robert Mbwinga, chairman of Congo's National Navigation Department, said rules regulating boats are difficult to enforce in a country with crippling poverty and high unemployment.
Vessel owners may hire people simply because they are relatives needing jobs, even if they have no training. Low salaries for navigation department agents are also a problem as they are susceptible to bribery.
"When a vessel arrives to a dock, and the agents are supposed to check whether the vessel meets required conditions under the regulations, the vessels' managers bribe them not to inspect," Mbwinga said.
In July, officials said at least 80 people died when a boat carrying about 200 passengers to Kinshasa capsized after hitting a rock.
In May, dozens died when an overloaded canoe capsized in eastern Congo. And in November 2009, at least 90 people were killed after a logging boat sank on a lake. The timber-carrying vessel was not supposed to have passengers.
Celestin Lutumba, who sells fuel and secondhand clothes, has traveled on the Kasai River for five years. He would like to see the government build more roads so people can avoid substandard boats, but won't hesitate to board an unsafe vessel.
"I may fear dying ... but since I consider myself a dead person because of the poor life I am having, I cannot stay," Lutumba said. "Otherwise I will become a thief."
___
Associated Press writers Michelle Faul and Krista Larson in Johannesburg contributed to this report.