/ Source: msnbc.com staff and news service reports
The government turned up the pressure Tuesday on the head of a small Florida church who plans to burn copies of the Quran on Sept. 11, warning him that doing so could endanger U.S. troops and Americans everywhere.
But the Rev. Terry Jones insisted he would go ahead with his plans, despite criticism from the top U.S. general in Afghanistan, the White House and the State Department, as well as a host of religious leaders.
Jones, who is known for posting signs proclaiming that Islam is the devil's religion, says the Constitution gives him the right to publicly set fire to the book that Muslims consider the word of God.
Gen. David Petraeus warned Tuesday in an e-mail to The Associated Press that "images of the burning of a Quran would undoubtedly be used by extremists in Afghanistan — and around the world — to inflame public opinion and incite violence." It was a rare example of a military commander taking a position on a domestic political matter.
Jones responded that he is also concerned but is "wondering, 'When do we stop?'" He refused to cancel the protest set for Saturday at his Dove World Outreach Center, a church that espouses an anti-Islam philosophy.
"How much do we back down? How many times do we back down?" Jones told the AP. "Instead of us backing down, maybe it's to time to stand up. Maybe it's time to send a message to radical Islam that we will not tolerate their behavior."
Still, Jones said he will pray about his decision.
A Facebook group has been set up called 'International Burn A Koran Day' and is linked to from the church's website. As of Tuesday morning, it had 8,539 members.
A member of the church, Fran Ingram, told msnbc.com that they had a "stack of about 150" Qurans, which she said had been sent from across the world. "We are expecting to burn about 200 at least," she said.
"I think we should go ahead personally," Ingram added. "That's what I think. I stand with the pastors. We need to go ahead with it."
However, asked about how she would feel if the church decided to abandon the event, she told msnbc.com: "I would be in agreement ... not like a puppet on a string ... I believe in the word of God. We are hearing what God wants us to do."
She said "a few of the pastors" would burn the Qurans on a field outside the church, while she and other members of the congregation remained inside. "They are going to take the risk," Ingram said.
Jones, who runs the small, evangelical Christian church with an anti-Islam philosophy, says he has received more than 100 death threats and has started wearing a .40-caliber pistol strapped to his hip.
On Monday, Petraeus said the Quran-burning event would be exploited by the Taliban.  The White House also spoke out against the plan as "un-American" and said it would put American diplomats and travelers at risk.
"It could endanger troops and it could endanger the overall effort," he said. "It is precisely the kind of action the Taliban uses and could cause significant problems. Not just here, but everywhere in the world, we are engaged with the Islamic community."
Lt. Gen. William Caldwell, commander of the NATO Training Mission in Afghanistan, told CNN the news of event was already provoking popular anger in Afghanistan.
"It's their Holy Book, so when somebody says that they're going to destroy that and cause a desecration to something that's very sacred to them, it's already stirred up a lot of discussion and concern amongst the people," he said.
"We very much feel that this could jeopardize the safety of our men and women that are serving over here," Caldwell added.
NATO Secretary-General Anders Fogh Rasmussen told reporters in Washington Tuesday that he "strongly condemned" the church's plan.
"I think such actions are in a strong contradiction with all of the values we stand for and fight for," he said.
"Of course, there is a risk it may also have a negative impact on the security for our troops," Rasmussen added.
In New York City, Mayor Michael Bloomberg said the minister's plan to burn the Muslim holy book on Sept. 11 is "distasteful" but added the minister has a right to do it. "We can't say that we're going to apply the First Amendment to only those cases where we are in agreement," he said.
'Death to America'
In Kabul, several hundred demonstrators, mostly students from religious schools who gathered outside Kabul's Milad ul-Nabi mosque on Monday, rallied to protest against the church's plan.
"We call on America to stop desecrating our Holy Quran," student Wahidullah Nori told Reuters. Some in the crowd chanted "Death to America."
The U.S. Embassy in Kabul said the "United States government in no way condones such acts of disrespect against the religion of Islam, and is deeply concerned about deliberate attempts to offend members of religious or ethnic groups".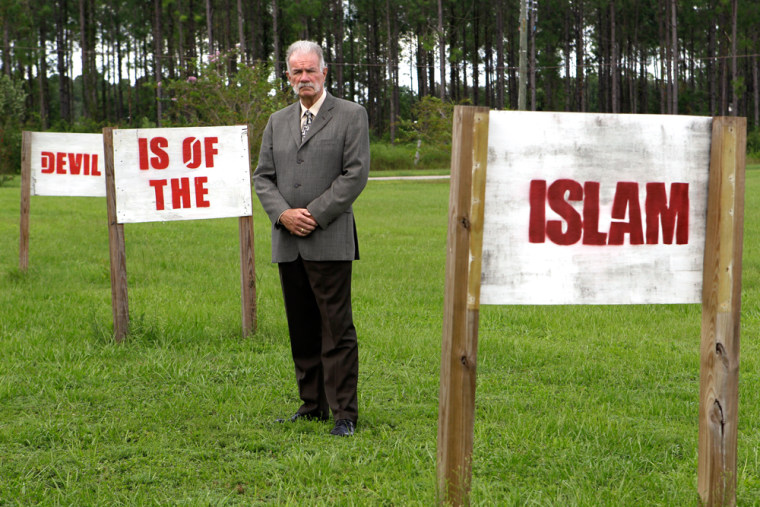 "Americans from all religious and ethnic backgrounds reject this offensive initiative by this small group in Florida, a great number of American voices are protesting the hurtful statements made by this organization," it said in a statement.
Muslims consider the Quran to be the word of God and insist it be treated with the utmost respect, along with any printed material containing its verses or the name of Allah or the Prophet Muhammad. Any intentional damage or show of disrespect to the Quran is deeply offensive.
In this progressive north Florida town of 125,000 anchored by the sprawling University of Florida campus, the lanky preacher with the bushy white mustache is mostly seen as a fringe character who doesn't deserve the attention he's getting.
Still, at least two dozen Christian churches, Jewish temples and Muslim organizations in Gainesville have mobilized to plan inclusive events — some will read from the Quran at their own weekend services — to counter what Jones is doing. A student group is organizing a protest across the street from the church Saturday.
The Vatican newspaper on Tuesday published an article in which Catholic bishops, including Archbishop Lawrence John Saldanha of Lahore, Pakistan, criticized Jones' plan.
"No one burns the Quran," read the headline in Tuesday's L'Osservatore Romano.
At the State Department, spokesman P.J. Crowley said the administration hoped Americans would stand up and reject the the church's plan, calling it "un-American" and "inconsistent" with American values.
"We think that these are provocative acts," Crowley said. "They are disrespectful, they're intolerant, they're divisive. ... We would like to see more Americans stand up and say that this is inconsistent with our American values; in fact, these actions themselves are un-American."
The fire department has denied Jones a required burn permit for Sept. 11, but he has vowed to go ahead with his event. He said lawyers have told him his right to burn the Quran is protected by the First Amendment whether he's got permission from the city or not.
The Dove World Outreach Church describes itself as "New Testament, Charismatic, Non-Denominational."
The church's website says it seeks to "expose Islam" as a "violent and oppressive religion." It displays a sign reading "Islam is of the Devil."
The website's front page has a blog by Ingram entitled "Ten Reasons to Burn a Koran."
'We do not hate any people'
"We are using this act [burning the Quran] to warn about the teaching and ideology of Islam, which we do hate as it is hateful. We do not hate any people, however. We love, as God loves, all the people in the world," Ingram wrote in the article, dated Sept. 2.
The dispute comes at a time of already heated debate over a proposal to build a cultural center and mosque two blocks away from the site in New York of the September 11 attacks on the World Trade Center.
Opponents of the building plan say it is insensitive to families of the victims of the attacks by al-Qaida.
U.S.-backed Afghan forces toppled the Taliban government in Afghanistan soon after those attacks for harboring al-Qaida leaders, including Osama bin Laden.
Demonstrations and riots triggered by reported desecration of the Quran are not infrequent in Afghanistan and other Muslim countries. The most violent protests came after cartoons depicting the Prophet Muhammad in a Danish newspaper in 2006.
Last January, Afghan troops shot and killed eight demonstrators and wounded 13 in southern Helmand province in a riot triggered by a report that foreign troops had desecrated the Quran during a raid. A spokesman for NATO forces denied the report.
Since the controversy over the book burning arose, the finances of Dove World Outreach Center have come under scrutiny.
CBS News reported on Tuesday that the church spends most of its money on administrative expenses and that Jones operates a furniture business out of the church building.  CBS found that according to the church's 2006 tax return, program services accounted for 30.5 percent of expenses while administrative costs made up 69.5 percent.