/ Source: msnbc.com and NBC News
The top U.S. commander in Afghanistan told NBC News on Wednesday that a Florida church's plan to burn the Quran this weekend would fuel anti-U.S. hatred rivaling the backlash against the infamous photographs of U.S. abuses at Iraq's Abu Ghraib prison.
In an interview airing later Wednesday on "NBC Nightly News," Gen. David Petraeus warned that video of the demonstration would be a propaganda gift for anti-U.S. "extremists."
"We're concerned that the images from the burning of a Quran would be used in the same way that extremists used images from Abu Ghraib — that they would in a sense be indelible," Petraeus told NBC's Brian Williams. "They would be used by those who wish us ill, to incite violence and to enflame public opinion against us and against our mission here in Afghanistan, as well as our missions undoubtedly around the world."
The minister organizing the book burning, the Rev. Terry Jones, pastor of Dove World Outreach Center in Gainesville, Fla., said he was taking account of widespread criticism from Petraeus and many others, but he insisted that he would not be dissuaded.
"Our burning of the Quran is to call attention to the fact that something is wrong," Jones said at a news conference shortly after msnbc TV aired Petraeus' comments Wednesday. "We have no intention of canceling."
Later Wednesday, Jones told reporters that the provider for his church's website had cut off his access to the site.
"We feel it's definitely an indirect attack on our freedom of speech, putting unnecessary pressure upon us," he said.
But two sites associated with the church, http://www.doveworld.org/ and http://www.islamisofthedevil.com/ were still online Wednesday afternoon.
Earlier, Jones cited letters from U.S. military personnel in Afghanistan urging him to go ahead with the demonstration Saturday on the ninth anniversary of the Islamist terrorist attacks that killed more than 3,000 people in New York, Washington and Pennsylvania.
"That is the element we are targeting — radical Muslims," he said.
But Petraeus insisted that the demonstration would "add fuel to already smoldering flames that are out there."
It is highly unusual for a uniformed officer to express a public opinion on any political matter, and Petraeus said he would not "get into a debate about First Amendment rights — I'll leave that to others."
But he said he was speaking out because "what I'm paid to do is to lead a coalition of nearly 150,000 soldiers, sailors, airmen, marines and to partner with thousands of civilians from all of the coalition countries."
"I believe I have an obligation to provide an assessment of the likely effects [of] an action in the United States by a fellow American citizen on the safety of those that I'm privileged to lead and those with whom I'm privileged to work," he said.
"Such an act would jeopardize the safety of our soldiers and our civilians, even of our Afghan partners, because it's the police and soldiers of the Afghan forces who would have to confront the kind of demonstrations that we're afraid would erupt in the wake of such an action," Petraeus said.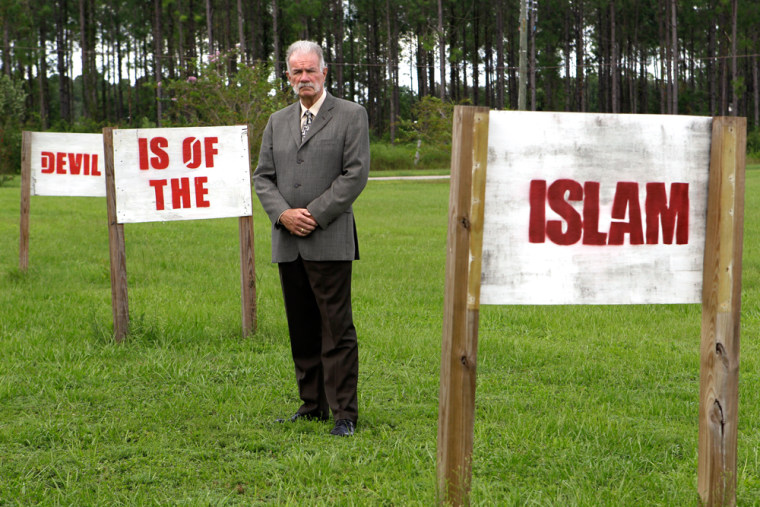 Defense Secretary Robert Gates has yet to comment on the planned demonstration, but a spokesman for the Defense Department told NBC News on Wednesday that Gates "strongly endorses" Petraeus' position.
The State Department has ordered U.S. embassies around the world to assess their security ahead of the planned burning amid fears it could spark anti-American violence. U.S. diplomatic posts have been instructed to convene "emergency action committees" to determine the potential for protests.
Church members stand fast
Jones' supporters have been mailing copies of the holy text to his church of about 50 followers to be incinerated in a bonfire Saturday. A member of the church, Fran Ingram, told msnbc.com that members had a "stack of about 150" Qurans from across the world. "We are expecting to burn about 200 at least," she said.
However, asked how she would feel if the church decided to abandon the event, she told msnbc.com: "I would be in agreement ... not like a puppet on a string. ... I believe in the word of God. We are hearing what God wants us to do."
Jones left that option open in his remarks to NBC News, saying that "If God told us to do it, then I guess he could tell us to do something different."
Jones said he was concerned about a reaction like that forecast by Petraeus, but he said he was "wondering, 'When do we stop?'"
"How much do we back down? How many times do we back down?" Jones asked. "Instead of us backing down, maybe it's time to stand up. Maybe it's time to send a message to radical Islam that we will not tolerate their behavior."
Widespread opposition
Plans for the demonstration have drawn opposition across the political spectrum, and Jones, 58, said he had received more than 100 death threats and had started wearing a .40-caliber pistol strapped to his hip.
The Vatican denounced the plan Wednesday as "outrageous and grave."
David Axelrod, a senior adviser to President Barack Obama, said on CNN: "The reverend may have the right to do what he's doing but it's not right. It's not consistent with our values. ... I hope that his conscience and his good sense will take hold."
Staffan de Mistura, head of the U.N. Mission in Afghanistan, expressed concern and outrage "in the strongest possible terms," adding, "If such an abhorrent act were to be implemented, it would only contribute to fueling the arguments of those who are indeed against peace and reconciliation in Afghanistan."
In Afghanistan, Jones' planned burning continued to provoke outrage.
"It is the duty of Muslims to react," said Mohammad Mukhtar, a cleric and candidate for the Afghan parliament in the Sept. 18 election. "When their holy book Quran gets burned in public, then there is nothing left. If this happens, I think the first and most important reaction will be that wherever Americans are seen, they will be killed. No matter where they will be in the world they will be killed."
Jones' Dove Outreach Center is independent of any denomination. It follows the Pentecostal tradition, which teaches that the Holy Spirit can manifest itself in the modern day. Pentecostals often view themselves as engaged in spiritual warfare against satanic forces.
Jones gained some local notoriety last year when he posted signs in front of his church declaring "Islam is of the Devil." But his Quran-burning idea attracted wider attention, drawing rebukes from Muslim nations and at home as an emotional debate was taking shape over the proposed Islamic center near the World Trade Center site in New York.
His actions likely would be protected by the First Amendment's right to free speech. The U.S. Supreme Court has made it clear that speech deemed offensive to many people, even the majority of people, cannot be suppressed by the government unless it is clearly directed to intimidate someone or amounts to an incitement to violence, legal experts said.
Local religious leaders in Gainesville, a college town of 125,000 anchored by the sprawling University of Florida campus, also criticized Jones. At least two dozen Christian churches, Jewish temples and Muslim organizations have mobilized to plan inclusive events, and some will read from the Quran at their own weekend services. A student group is organizing a protest across the street from the church Saturday.