The Eiffel Tower. The Taj Mahal. Big Ben. The world's most impressive monuments tower over us, their sheer size and majesty inspiring awe and wonder. A select few have been so captivated by these soaring monoliths that they have decided to make them their own, imitation being the sincerest form of flattery, and all. The result? A world of wee landmarks that both tip their hat to and give us a new perspective on some of the globe's most iconic sites. From a Lego Mount Rushmore to a tiny homage to Graceland, these mini monuments prove that the best (or at least some rather amusing) things really do come in small packages.
Graceland Too, Holly Springs, Miss.
While you can still visit the King's castle outside Memphis, Tenn., those wishing to pay homage to Elvis could also head to Holly Springs, Miss. Here, megafan Paul McLeod welcomes visitors at literally any time of day to Graceland Too, a ramshackle miniature version of Presley's mansion. Inside, you'll find 185,000 square inches of carpet, which, according to McLeod, comes from the original Graceland; 35,000 records; 25,000 CDs; and endless newspaper clippings, candy wrappers, photos, figurines, clocks, phones, and other kitsch keepsakes all dedicated to the King of Rock 'n' Roll. Mini Graceland even has a mini Elvis in the form of McLeod's son, Elvis Aaron Presley McLeod. Unfortunately, he has now left the building (for New York City). But there are plenty of other mini likenesses of Presley left to get Elvis fans all shook up.

200 E. Gholson Avenue
Holly Springs, Mississippi
Mini Mini Land, Jeju Island, South Korea
One of the few large attractions at South Korea's Mini Mini Land is a sculpture of a gangly Gulliver tied down by an army of Lilliputians. This might suggest the inspiration behind the 116 monuments here that have been shrunk down to between one fifteenth and one thirtieth of their original size. But then there are also full-scale sculptures of a pirate, SpongeBob SquarePants, and various dinosaurs. So there's probably no point in trying to make sense of any of it — better instead to pose in front of the miniature Niagara Falls, which feeds into a pond housing the Statue of Liberty and the Golden Gate Bridge. Also on this Korean resort island? A sex theme park, museums dedicated to chocolate and teddy bears, and giant piano keyboards you can jump on. There's even an exhibition in which dead bugs are used to create dioramas of famous historical events. Just goes to show that a little island can have some big — and bizarre — ambitions.

Jeju Island, South Korea
Tel: 82 64 782 7720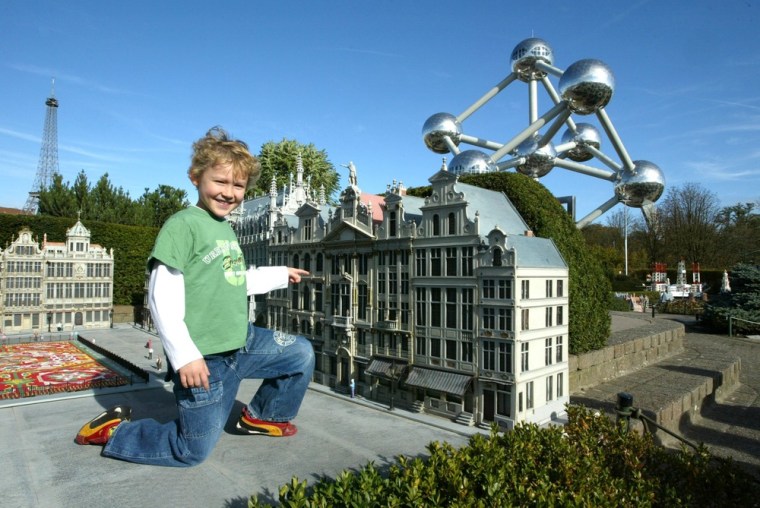 Mini Europe, Brussels, Belgium
What's a group of fiercely independent countries to do to unite its members? In the case of the European Union, build a theme park. Mini Europe, in Brussels, the de facto capital of the E.U., contains more than 300 of the continent's most famous landmarks, most paid for by the country they represent. That's all well and good, but what's truly impressive about Mini Europe is that these monuments don't just sit around waiting for their paint to peel — they get down to business. Mini Mount Vesuvius actually erupts, little Big Ben chimes away, and teeny gondolas negotiate the waterways of baby Venice. Mini Europe is really a monument to peace and stability, because countries that play together stay together.

Bruparck
Brussels, Belgium
Tel: 32 2 474 1313
Legoland, Carlsbad, Calif.
Most of us at one point or another tried our hand at creating our own mini universes courtesy of the colorful realm of Lego. So, Legoland in Carlsbad, Calif., is like a six-year-old's dream come true. At the heart of the theme park is Miniland, a reproduction of seven areas of the United States constructed with the help of 20 million pieces of Lego. More than 2,000 miniature figures crowd the racetrack at the tiny Daytona Speedway, where the winning Lego driver gets sprayed from a Lego Champagne bottle. Then check out the Vegas strip, complete with a fun-size wedding chapel, monorail, and the iconic pirate battle outside the Treasure Island Casino. But it's not all glitz and glamour; there are also Lego New England farms, a solar-powered mini Mississippi River boat, and a scale model of Central Park with Lego people doing tai chi, sunbathing, and playing catch. There's also a nod to the future with a model Freedom Tower, the building that is currently being constructed at Ground Zero. On the flip side are the areas of Legoland that make you feel mini, with full-size jungles, pirate ships, and castles that look like your childhood Lego creations come to life.

1 Legoland Drive
Carlsbad, California
Tel: 760 918 5346
Mini Siam, Pattaya, Thailand
If you're feeling a little guilty because you skipped over the temples in Bangkok in favor of hitting Thailand's famous beaches, never fear! Mini Siam, in the coastal city of Pattaya, has created a cheat sheet of the country's most famous buildings. From the majestic Temple of the Emerald Buddha to the crumbling Khmer temples of Phimai, you can Cliffs Notes your way through the cultural landmarks and still make it back to the beach in time to work on that tan. As a bonus, you'll also get to walk through Mini Europe. Here you'll be greeted by two of Snow White's dwarves, standing roughly as high as the nearby fun-size Arc de Triomphe. Also in Europe? Egypt's Abu Simbel looming over England's Tower Bridge next to the Sydney Opera House in a pond fed by Singapore's famous Merlion statue. Yeah, we don't get it, either. But when you use the cultural Cliffs Notes, you don't always get the full story.

387 Moo 6 Sukhumvit Road
Pattaya, Thailand
Tel: 66 38 727333
Epcot's World Showcase, Orlando, Fla.
Just in case you didn't believe the infectious refrain of "It's a Small World After All," the folks at Disney decided to actually build a small world. The 11 nation-themed pavilions of Epcot's World Showcase span 1.3 miles along a lagoon and feature architecture inspired by countries including Mexico, Norway, China, and Morocco. But Epcot's World Showcase is no mere collection of monument-al knockoffs. Here, the countries come to life in themed restaurants, rides, movies, and performances by actual citizens. And unlike it's teetotaling neighbor the Magic Kingdom, the World Showcase actually serves booze. That's something people of all nationalities can toast to.

Walt Disney World Resort
Lake Buena Vista, Orlando, Florida
Tel: 407 824 4321
Bekonscot, Beaconsfield, England
Kids these days build virtual villages online. In the 1920s and '30s, they did it in real life, in this case in the large garden of wealthy British accountant Roland Callingham. He originally created an empire of mini buildings in his backyard in the town of Beaconsfield (a half-hour's train journey from London) to entertain the politicians and aristocrats who attended his popular countryside garden parties. Then the local schoolchildren got involved, helping to construct a complex of miniature villages complete with 10 scale miles of train lines, a lake with sailing boats (and a whale!), more than 200 buildings, 3,000 inhabitants, and 1,000 animals. The fun has an educational slant, too — the park has a frozen-in-time vibe, giving visitors a slice of life in 1930s England. Riding a mini train amid pint-size Arts and Crafts homes and country farmhouses feels like The Sims' world come to life, where your tiny titans can trade virtual reality for the real (miniature) thing.


Warwick Road
Beaconsfield, England
Tel: 44 1494 672919