/ Source: NBC, msnbc.com and news services
The Florida pastor whose plan to burn Qurans on Sept. 11 generated worldwide outrage among Muslims and pressure by the U.S. government to relent said late Thursday that he might not call off the protest after all.
Pastor Terry Jones told NBC News that "we are a little back to square one" after a supposed deal involving a proposed Islamic cultural center in New York evaporated.
At a press conference Thursday afternoon, Jones had said he was canceling the Quran burning because a Muslim imam had assured him that the proposed Islamic center could be moved away from the World Trade Center site in return.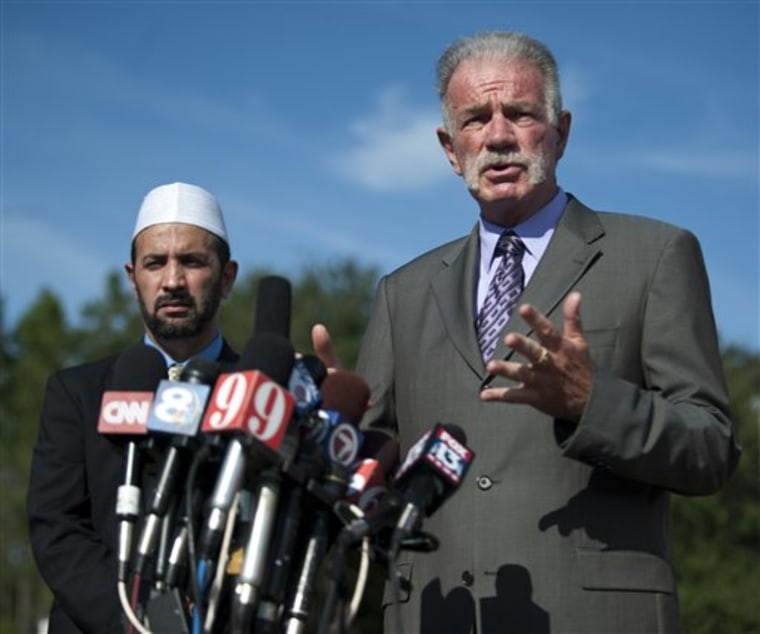 But the imam proposing to build the Islamic center near the World Trade Center denied that a deal had been struck to move the project.
"I am glad that Pastor Jones has decided not to burn any Qurans," Imam Feisal Abdul Rauf said in a statement. "However, I have not spoken to Pastor Jones or Imam Musri (of Florida). I am surprised by their announcement. We are not going to toy with our religion or any other. Nor are we going to barter. We are here to extend our hands to build peace and harmony."
After that statement, Jones said the Quran burning had only been suspended.
"Given what we are now hearing, we are forced to rethink our decision," Jones said. "So as of right now, we are not canceling the event, but we are suspending it."
Jones wouldn't say if the church would burn Qurans but said "I'm praying" to decide what to do next.
At Jones' first press conference, he appeared with Imam Muhammad Musri of the Islamic Society of Central Florida and said that Musri had told him that the mosque would be moved.
"We are canceling the event because we have agreed, I take him at his word, he has agreed to move the Ground Zero mosque," Jones said. "I verified that three or four times with witnesses. I trust that man who gave me that. I believe he is a man of integrity, a man of his word, I do not believe that he lied to me."
Musri thanked Jones and his church members "for making the decision today to defuse the situation and bring to a positive end what has become the world over a spectacle that no one would benefit from except extremists and terrorists."
But later on "Countdown with Keith Olbermann," Musri said that Jones was wrong about what he had said about the mosque. He said what he offered was a meeting among Jones, the New York imam and himself to talk about moving the mosque if Jones agreed to cancel the Quran burning.
Musri said that he had told Jones that with the ending of the Ramadan holiday, Muslims around the world would be praying at mosques and radical clerics might exploit the Quran burning to foment hatred against Americans. Musri said he told Jones that "time was of the essence" if he was going to cancel the burning.
"I told him clearly I am not in any way connected to the event in New York. I have no control over it. I cannot promise you that it will be moved. But my position is for it to be relocated to a more ideal somewhere we can avoid the controversy that's going on on that site."
Musri said he told Jones he was willing to go to New York to advocate for such a move and that Jones clearly understood there was no deal.
But after the statements by the New York imam and Musri, Jones said they "clearly, clearly lied to us" about moving the mosque.

Jones had been under pressure from the U.S. government to cancel the protest. President Barack Obama, Defense Secretary Robert Gates, Gen. David Petraeus and others had warned that the protest could bring attacks against U.S. troops in Afghanistan and elsewhere.
Earlier Thursday, Obama implored Jones to call off his Quran-burning "stunt," telling ABC's "Good Morning America" in an interview aired Thursday that he hopes Jones listens to "those better angels."
"And as a very practical matter, I just want him to understand that this stunt that he is talking about pulling could greatly endanger our young men and women who are in uniform," Obama said.
Jones, leader of a small Pentecostal church with about 30 members in Gainesville, had been planning to burn copies of the Islamic holy book on Saturday, the ninth anniversary of the Sept. 11 attacks.
"Look, this is a recruitment bonanza for al-Qaida," Obama said of the planned burning. "You could have serious violence in places like Pakistan and Afghanistan." The president also said Jones' plan, if carried out, could serve as an incentive for terrorist-minded individuals "to blow themselves up" to kill others.
Jones had said that a call from the Pentagon, State Department or White House might make him reconsider his plan.
On Thursday, Jones said Pentagon chief Robert Gates had called him to urge he back off.
Pentagon Press Secretary Geoff Morrell confirmed the call took place.
"They had a very brief conversation during which he expressed to the pastor his grave concern that going forward would put lives at risk, especially in Iraq and Afghanistan. And he urged him not to proceed with it," Morrell said.
The decision for Gates to make the call was a "collective" one, according to Morrell, but he did not elaborate.
"If that phone call could potentially save the life of one man or woman in uniform then it is a call worth placing," he said.
Obama has gotten caught up in the burgeoning controversy surrounding the practice of Islam in America, saying at one point that he believed that Muslims had a right to build a mosque near the site of the Sept. 11 terror attacks in New York City.
The State Department is cautioning Americans worldwide that there is a "high potential" for violent anti-American demonstrations if the church goes through with its plans. Officials noted that demonstrations have already been reported in Afghanistan and Indonesia and they urged Americans abroad to avoid areas where protesters might gather.