/ Source: The Associated Press
North Carolina is known for basketball, beaches and barbecue. But wine doesn't necessarily come to mind when thinking about the Tar Heel State.
Yet North Carolina is home to over 90 wineries and has three American Viticultural Areas (AVAs) — Yadkin Valley, Swan Creek and Haw River Valley. For an AVA designation, 85 percent of the grapes have to be grown in the region and there must be a distinctive combination of soil and climate. This results in an identifiable regional wine character, also known as an appellation or district.
The number of wineries in North Carolina has more than quadrupled since 2001. Currently, the state ranks seventh in wine production in the United States. The growing industry has two focuses — native muscadine grapes and European-style vinifera grapes.
While North Carolina winemaking may seem to be in its infancy now, it's actually more of a rebirth. The state's first commercial winery opened in 1835. At the turn of the 20th century, 25 wineries were in operation, making it one of the most productive states in the U.S. But Prohibition effectively shut the industry down and land was turned over to lucrative and legal crops, like tobacco.
Several of the vineyards of Swan Creek, located in the northwest part of the state, in fact, are located on the sites of former tobacco farms. There are five wineries in this area within about 16 miles of each other and all are as distinctive as the varieties of grapes they grow. They are family owned and operated and small in terms of wine production. The largest single winery is Raffaldini Vineyards, which produces 5,000 to 6,000 cases per year. All specialize in European-style grape varieties.
The area is an easy hour drive from Charlotte, straight up Interstate 77. Once you get off the highway, a wine trail meanders on two-lane roads through lush, rolling farmland of the Yadkin Valley between the Brushy Mountains and the foothills of the Blue Ridge Mountains. These ranges provide a sandy, loamy, soil for grape cultivation. In fall, you'll be surrounded by dramatic mountain scenes and vibrant autumn colors in this heavily forested region.
Fall foliage, Southern charm abound in Asheville, N.C.
First stop on your tour of Swan Creek should be Laurel Gray Vineyards, in the town of Hamptonville (where four of the five wineries on the trail are located). The winery is owned by Benny and Kim Myers and named after their son and daughter. The first grapes were planted here in 2001 on land that has been in the Myers family for 10 generations. Laurel Gray was honored with the 2009 Winegrowers of Excellence in North Carolina award and grows chardonnay, cabernet sauvignon, merlot, cabernet franc, viognier, syrah and pinot gris grapes. The winery produces 1,500 to 1,800 cases of wine per year. Like most boutique wineries, its wine and other products can only be purchased on a trip to the vineyard.
Laurel Gray's charming tasting room is located in a converted 1930s milking parlor and is surrounded by English rose gardens. There's a relaxing front porch and patio for leisurely sipping with a view of the vineyards and mountains in the distance. Don't miss the honeysuckle aromas of the viognier or the intense smokiness of the estate reserve cabernet sauvignon.
Your next stop will be the grand and majestic Raffaldini Vineyards, located in Ronda. A Tuscan-style villa suddenly and incongruously springs up from the rural hills and valleys of Wilkes County. This terracotta and stucco structure was inspired by the villas in Mantua, Italy, where the Raffaldini family has lived since 1348. When the family came to the United States in the 1950s, they wanted to preserve their home winemaking tradition, and visited 60 spots around the country before choosing the current location in 2001. Raffaldini was recently named one of the top 10 hot small brands of 2009 by Wine Business Monthly, a trade publication.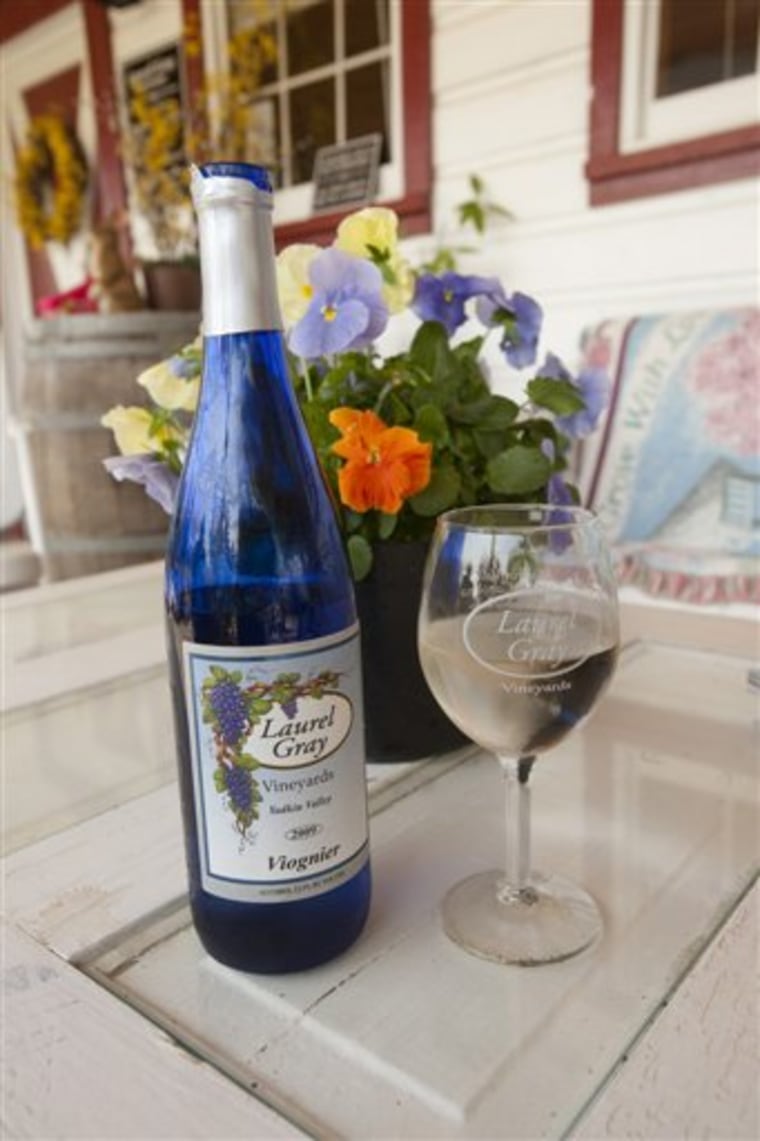 Raffaldini specializes in Italian grape varieties and grows two dozen types on 43 acres. It is the only exclusively Italian winery in North Carolina and one of relatively few vineyards in the country to grow the vermentino grape. Vermentino is the premier white of Southern Italy and Raffaldini's version is marvelously crisp and mineral-rich. You can also sample wines made from sangiovese (the predominant grape in Chianti), montepulciano, malbec, petit verdot, tempranillo, moscato, pinot grigio, and petit manseng. Spectacular mountain and vineyard panoramas can be seen from either the first floor piazza-like patio or upstairs balcony of the villa.
Your next visit is back in Hamptonville, to Dobbins Creek Vineyards, one of the newer members of the Swan Creek AVA. Retiree Charles King planted his first vines on his father's former tobacco farm in 2002 and the winery opened to the public in April 2008. Dobbins Creek produces 900 cases a year and King grows merlot, cabernet sauvignon, cabernet franc, chardonnay and riesling. There are only a few riesling producers in the state as the humidity makes it tough for the grape to flourish here, but King says it's his favorite and worth the extra effort. The tasting room is an expansive and airy log cabin with hickory plank floors and a large stone fireplace. The wine bar itself is covered in 100-year-old cherry wood harvested from the property.
Buck Shoals Vineyards, in the heart of North Carolina's Amish country, is also in Hamptonville. A nearby bakery and deli is a popular stop for wine tasters to refuel, and horse-drawn buggies can often be seen on the surrounding roads.
Owned by Terry and Joanne Crater, the vineyard's land has been in the Crater family for five generations and until 2002 was a tobacco farm. Buck Shoals opened in 2004 and grows 10 ten varieties: merlot, cabernet sauvignon, nebbiolo, sangiovese, barbera, pinot grigio, traminette, chardonnay and viognier. The winery produces about 5,000 cases a year. Buck Shoals is the only winery in the state with a legal distillery producing award-winning meads (a mead is any beverage fermented with honey). Buck Shoals also makes Midnight Royal, a port-style beverage with all local ingredients, and La Gloria, which is a ratafia (basically a white wine port) that's very sweet. The cozy tasting room is also in a log cabin and features a covered back deck for sipping before a tableau of the vineyards and mountains.
Right down the road from Buck Shoals is Shadow Springs Vineyard, the newest addition to the Swan Creek AVA. Shadow Springs' first vines were planted in 2005 (again, on land that most recently grew tobacco) and the winery opened for tastings in June 2008. Owned by Chuck and Jamey Johnson, Shadow Springs grows merlot, seyval blanc, cabernet franc, chardonnay, viognier, petit verdot, chambourcin and cabernet sauvignon. Their tasting room is bright and modern and fully equipped with the latest technology. There's a sun room and patio overlooking a spring-fed lake with a vineyard vista. Shadow Springs is best known for its dessert wines, Shortcake and Dark Shadow. Shortcake is made completely of strawberries and Dark Shadow is made from cabernet sauvignon, seyval blanc and dark chocolate, added right before the wine is bottled. Buck Shoals offers 14 different wines and produce about 2,500 cases per year.
"Tasting is believing," says Margo Knight Metzger, spokeswoman for North Carolina's Divison of Tourism and former executive director of the North Carolina Wine & Grape Council. "The wine industry here has a bright future."
All the winery owners say their greatest reward is in meeting different types of people, along with the reaction of customers trying something new and discovering they like it. Discover North Carolina wine for yourself — and don't be afraid to try a local cabernet with that 'cue.