/ Source: The Associated Press
Weeping as they stared out to sea, families of the 148 people killed in a charter jet crash gathered Thursday at this Egyptian resort to see where their loved ones perished and bid them a painful farewell.
Mourners clutched one another for support as they paid final respects to the victims of Flash Airlines Flight FSH604 in two solemn ceremonies — one on land and one at sea.
The Paris-bound jet crashed Saturday minutes after takeoff, killing 134 French, one Moroccan and 13 Egyptians. Several French had dual nationality, including Japanese and American.
For many family members, who arrived Wednesday on a chartered French government plane accompanied by Foreign Minister Dominique de Villepin, the sight of a freshly built monument listing the victims' names was too much to bear.
"No! No!" a woman wailed as she approached the monument after the day's first ceremony, a Christian and Muslim prayer service held on a sandy bluff. She wrapped her arms around it and wept.
'For all our disappeared ...'
The marble and concrete monument was dedicated in French to "Victims of the plane crash Jan. 3, 2004." Names of the Egyptian victims were written in Arabic.
One man staggered away from the service, crying out, "It's terrible!" before collapsing in grief.
The crash killed families of five, of six and an extended family of 11 members.
"We recall the memory of whole families who shared the same joys and were struck by the same fate," de Villepin said, speaking under an open-air tent facing the sea.
"For all our disappeared, for all those you love, I want to convey to each of you the solidarity, the support and the deep fraternal bonds of our nation," he said reading a message from President Jacques Chirac.
Journalists were kept at a distance.
De Villepin and Egypt's first lady, Suzanne Mubarak, then laid flowers at the monument followed by relatives with white roses and white carnations — a French symbol of mourning. Flags of Egypt, France, Japan and Morocco flew at half staff.
Grieving families then set out in a French Navy vessel and dropped flowers into the waters of the Red Sea, where searchers are still looking for the wreckage of the Boeing 737 and victims' remains.
Silence, then the names
Some tossed messages into the sea. A minute of silence was observed before all victims' names were read aloud.
On shore, two tourists in shorts and T-shirts took pictures of the monument.
"We had to come to pay our respects," said Ella Mettraux, 66, from Lausanne, Switzerland. She said she and her husband stayed in the same hotel with some French tourists and were haunted by thoughts of whether they were among the dead.
"It was a family with two small children," she said, wiping a tear from behind her sunglasses. "To think of the children is the worst thing."
A French frigate was visible on the horizon — a reminder of the ongoing operation to recover wreckage and remains. But the search was scaled back during the service, so no surveillance airplanes would be seen or heard buzzing through the area. Two helicopters hovered nearby, apparently for security.
Egyptian President Hosni Mubarak expressed condolences as he met early Thursday with de Villepin in Sharm el-Sheik, a popular seaside resort about 300 miles southeast of Cairo.
'Black boxes' yet to be found
Searchers have detected both "black box" flight data recorders from the jet, but they are too far underwater — 1,980 to 2,640 feet — to be retrieved with equipment now at the scene.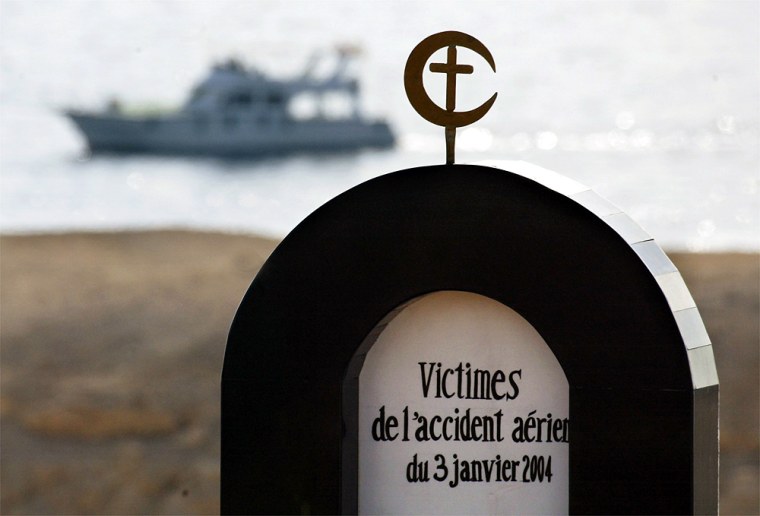 The French are bringing in other remote-control equipment that can go deeper, including a special submarine on loan from state-run France-Telecom that can dive to 3,630 feet and can retrieve objects weighing from 220 to 1,100 pounds.
Egyptian and French officials have called the crash an accident, but investigators want to get the black boxes to be sure.
Shortly after the crash it emerged that Swiss aviation regulators had banned Flash Airlines over safety worries more than a year ago, although Egyptian officials said the ill-fated jet checked out fine before it took off.