/ Source: msnbc.com staff and news service reports
Oil and gas companies operating in the Gulf of Mexico will have to permanently plug nearly 3,500 temporarily abandoned wells and dismantle about 650 production platforms that are no longer used, the Obama administration announced Wednesday.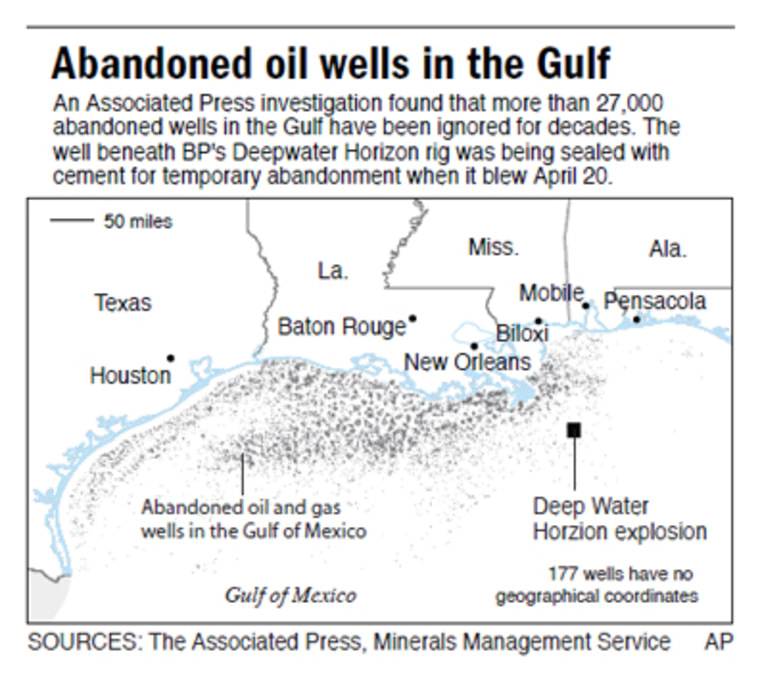 The move comes as the energy industry voices complaints that it is being overburdened in the aftermath of the BP oil disaster in the Gulf.
Iinitial reaction from the American Petroleum Institute was that it had been expecting the announcement and had been working with regulators "on a reasonable timeframe for implementation," spokesman Carlton Carroll told msnbc.com. "We believe that for most operators, compliance will not be an issue."
Carroll did not have an estimate of potential cost to the industry, but did say that one concern is "the ability of companies to get the permits necessary to undertake decommissioning activities."
The Wall St. Journal cited one expert as saying the cost could total $1.4 billion to $3.5 billion. Mark Kaiser, R&D director at Louisiana State University's Center for Energy Studies, also estimated that companies, mostly smaller producers, would be giving up $6 billion to $18 billion in lost revenue from future production.
Environmental groups welcomed the directive. "This is an important first step in cleaning up what's become a dumping ground for the offshore oil and gas industry," Peter Galvin, of the Center for Biological Diversity, said in a statement. "These old wells can and do leak oil that only adds to the environmental problems the Gulf has suffered in recent decades."
The Interior Department says the policy aims to make energy production safer and prevent potentially catastrophic leaks at wells that in some cases have been abandoned for decades.
The order requires operators to plug wells that been inactive for the past five years. Production platforms and pipelines must be decommissioned if they are not being used for exploration or production, even under an active lease.
"We have placed the industry on notice that they will be held to the highest standards of planning and operations in developing leases and today's notice reiterates that mandate," Interior Secretary Ken Salazar said in a statement.
More than 27,000 abandoned oil and gas wells lurk beneath the Gulf of Mexico, and more than 1,000 oil rigs and platforms sit idle. An Associated Press investigation showed that many of the wells have been ignored for decades, with no one checking for leaks.
The order requires wells that been inactive for the past five years to be plugged.
The 3,500 wells cited are currently capped with a "subsurface safety valve," Interior said.
"As infrastructure continues to age, the risk of damage increases. That risk increases substantially during storm season," Michael Bromwich, head of the Bureau of Ocean Energy Management, Regulation and Enforcement, said in the statement.
Federal rules already require plugging such wells within a year of a lease's expiration.
But, Interior noted, energy producers have historically said such "idle iron" might one day be used again to support other active wells located in the same lease area and were therefore reluctant to plug wells and remove infrastructure until they had to meet the government's final decommissioning requirements.
Interior said the new directive "clarifies the regulation and mandates that any well that has not been used during the past five years for exploration or production must be plugged, and associated production platforms and pipelines must be decommissioned if no longer involved with exploration or production activities.
"Companies will have 120 days to submit a company-wide plan for decommissioning these facilities and wells," Interior added.
Rep. Raul Grijalva, who had urged Salazar to do something about idle rigs, called the announcement excellent news for both the economy and the environment.
"These structures are not producing resources or creating jobs by just sitting there, and the risk of leaking abandoned rigs is something we've overlooked long enough," said Grijalva, chairman of a House subcommittee on national parks and public lands. "This announcement should put thousands of Gulf laborers back to work in short order cleaning up the Gulf and opening up new opportunities."
The Associated Press investigation in July found that about 50,000 wells have been drilled in the Gulf over the past six decades, with about 23,500 permanently abandoned.
Another 3,500 are classified by federal regulators as "temporarily abandoned," with sealing procedures that are not as stringent as those for permanent closures.
Some of the "temporarily abandoned" wells have been left that way since the 1950s, without the full safeguards of permanent abandonment.
Petroleum engineers say that even in properly sealed wells, the cement plugs can fail over time and the metal casing that lines the wells can rust. Even depleted production wells can repressurize over time and spill oil if their sealings fail.
Industry feels overburdened
On Tuesday, the U.S. oil and gas industry voiced complaints about an administration plan to double fees charged for inspections of offshore operations.
The industry recognizes the need for improved inspections and oversight following the BP oil spill, said American Petroleum Institute President Jack Gerard. But doubling the fees is not appropriate, especially during a recession, he said.
"This is not the time to go back and impose additional costs on industry," Gerard told reporters.
The oil and gas industry contributes billions of dollars to the U.S. government in royalty payments, taxes and other fees, Gerard said, adding that government policies should encourage development of domestic energy, while making sure it is safe.
The White House asked Congress late Monday to approve the higher inspection fees as part of a request for $80 million in new spending for the agency that oversees offshore drilling.
The proposal would more than double the amount collected from oil and gas companies, to $45 million next year from about $20 million this year.
President Barack Obama said in a letter to Congress that the fee increases and other changes are needed to strengthen oversight of offshore oil and gas operations; address deficiencies in mineral revenue collection; and complete the reorganization of the agency formerly known as the Minerals Management Service into the Bureau of Ocean Energy Management, Regulation and Enforcement.
"We need the additional resources to do the job that we've been asked to do," Bromwich said Tuesday.
Under its former name, the drilling agency was long plagued by staffing shortages and an overly cozy relationship with the industries it oversees.
Bromwich acknowledged those problems, but said the ocean energy bureau is turning a corner — and needs additional money to get even better.
"We've been faulted for not doing the job people expected us to do, and the central reason for that is we haven't had adequate resources. If we don't get the resources we need we won't be able to do the job effectively," Bromwich said.
Bromwich also said the Interior Department is "highly unlikely" to extend its six-month moratorium on deepwater drilling beyond Nov. 30.
He said he hopes to finish a report to Salazar by the end of September, a month ahead of a deadline to make recommendations on the drilling moratorium and other issues. It was unclear how soon Salazar will act after the report has been submitted.
Congress recently approved $29 million in emergency spending to hire hundreds of new offshore drilling inspectors and take others steps to improve the drilling agency. No new inspectors have been hired yet, but Bromwich said officials were conducting a "full-court press" to find and hire qualified inspectors to bolster the 60 or so inspectors now responsible for about 3,500 drilling rigs and platforms in the Gulf of Mexico.