/ Source: The Associated Press
Lawmakers who banned bullfighting in Spain's Catalonia region this summer voted Wednesday to endorse other traditions that have been criticized as cruel to bulls, such as attaching burning sticks to their horns as they chase human thrill seekers.
The vote will only affect the Catalonia region of northeast Spain, but it addresses another manifestation of this country's timeless fascination with bulls and the testing of people's bravery with the snorting animals.
Besides watching the deadly duel of matador and bull, Spaniards run with bulls in Pamplona every year, spear them to death from horseback in another northern town — neither are in Catalonia — and cordon off town squares to let even children dodge feisty calves of the kind used to breed top-grade fighter bulls.
In July, Catalonia banned bullfighting on grounds of cruelty, becoming only the second Spanish region to do away with the centuries-old tradition, after the Canary Islands.
Wednesday's bill — approved by a 114-14 vote, with 5 abstentions — protects other bull-related traditions in Catalonia that activists find repulsive.
Known as 'correbous' in Catalan, these traditions include attaching short sticks with flaming wax or fireworks to bulls' horns, then letting the animals run around and chase people, or letting the beasts chase human daredevils by seaside marinas and plunge into the water.
Many people in Spain said they find it odd that Catalonia didn't scrap these eyebrow-raising customs at the same time it banned bullfighting.
The goal of the spectacles is not to harm or kill the bulls, but animal rights activists say the experience is still denigrating and terrifying for the animals and that some of the beasts end up getting burned or even drown during such events.
Catalonia's dominant party, a center-right nationalist coalition called Convergence and Union, says the bill — which it sponsored — seeks to fill a legal vacuum by establishing for the first time safety norms and other regulations for these festivals, including measures to protect the bulls themselves. But the legislation is widely seen as a way to enshrine the customs and buffer them against pressure to do away with them.
Francesc Sancho, a party spokesman, insisted the customs are not cruel and cannot be equated with bullfighting because the animals do not die. He said the bill seeks to protect bulls by, for instance, limiting how long such spectacles can last and having veterinarians examine the bulls afterward for signs of injury or stress.
Of the flaming horns, he said: "If the horns are wide enough, the bull does not get burned."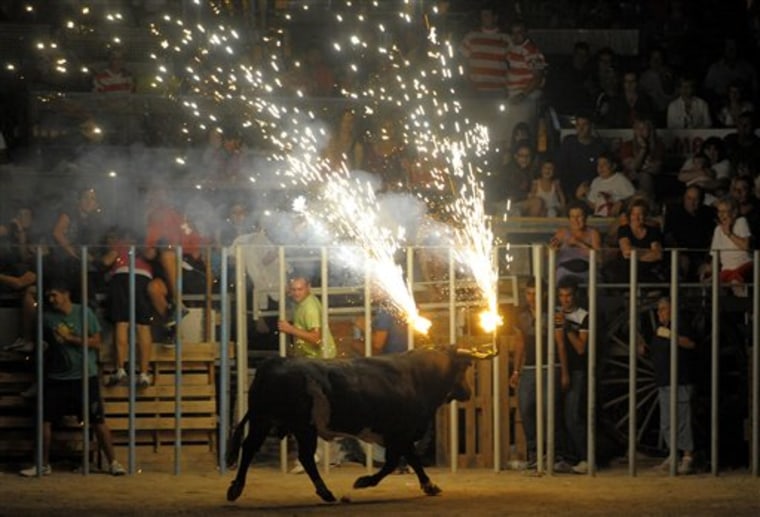 Sancho insisted that if the Catalonia region banned bullfighting on grounds of cruelty, it only makes sense to regulate the village festivals to minimize harm to the animals. "We are being absolutely consistent," he said.
But Alejandra Garcia, an animal rights activist who took part in a grass-roots campaign that led to the vote on banning bullfighting, said bulls do in fact suffer in the village parties.
"And it is absolutely unnecessary because the animal is being made to suffer just as a form of entertainment, so people have something fun to do in summer. That's all it is," she said.
In some seaside festivals, bulls chase thrill seekers on platforms set up along marinas, and usually end up falling into the water. People in boats lead the bulls back onto ground and back onto the platform for another go at it.
Garcia said there have been instances in which bulls got so sick of this they simply swam out to sea and drowned.
"There have been a lot of cases of that," she said.
Garcia said the bill is actually good because it will give activists a legal tool to go to court against, say, festival organizers who violate the rules it sets, such as a ban on kids under 14 taking part.
Ultimately, it will become clear these kinds of festivals are impossible to regulate and animals will continue to suffer, and this will lead to pressure to ban these customs, she said.
"For us it is a first step toward achieving a ban, over time," Garcia said.
An environmental party that is the only one in Catalonia to speak out against regulating the festivals — and which favors outlawing the traditions in which the animal is seen to suffer — has called the bill an act of contrition by politicians who banned bullfighting.
With regional elections scheduled for Nov. 28, the politicians are trying to reach out to Catalans who like bull-related events, said Daniel Pi Noya, a spokesman for the party, Initiative for Catalonia.
"This bill is all about seeking forgiveness," he said.