/ Source: a href="http://foodsafety.news21.com/" linktype="External" resizable="true" status="true" scrollbars="true" fullscreen="false" location="true" menubars="true" titlebar="true" toolbar="true" omnitrack="false" hidetimestampicon="true" hidecontenticon="true" contenticononly="false">News21</a
Eight federal water-management officials climbed into a Cessna 208B in Montrose, Colo., just after dawn on Oct. 8, 1997. They were headed to the Glen Canyon Dam in Arizona, but the chartered plane disappeared from radar shortly after takeoff. Two days later, searchers found the plane flattened among 60-foot pine trees. Everyone on board was dead.
It was clear from the wreckage that the Cessna dropped from the sky at about a 65-degree angle, according to an by the National Transportation Safety Board. There was no fire. The plane had passed all inspections and there was no evidence of a mechanical malfunction. Fog was reported in the area, but no weather advisories had been issued. The pilot, in his early 60s, had no serious medical conditions or drugs in his system and didn't issue a distress call.
NTSB investigators' only explanation for the crash was that the pilot failed to maintain an adequate flight speed, but why that happened remains a mystery.
Large commercial jetliners are required to have crash-resistant data and voice recorders — commonly called black boxes — to help accident investigators figure out the causes of crashes.
But small planes like the Cessna aren't required to carry the devices.
And no aircraft, large or small, is required to have cockpit video recorders.
In 2000, based on the Colorado crash and other accidents, the safety board issued a that commercial and charter planes be equipped with video recorders.
Ten years later, the Federal Aviation Administration has not implemented the recommendation, which pilots and their unions have fiercely fought, saying recorders are an invasion of privacy and could be used by airlines to police a pilot's every move.
Since the NTSB began urging video recorders in cockpits, it has investigated at least 88 unsolved accidents involving aircraft that would have been equipped with video recorders under the proposal, according to an analysis of FAA data by News21, a college journalism coalition, and the Center for Public Integrity, a nonprofit investigative journalism organization. (Many of their stories are being published this week by msnbc.com. You can read the full series at News21.)
Those include the recent accident in Alaska that killed former Sen. Ted Stevens, R-Alaska, and four other people. Without a recording device, NTSB investigators will have to rely on an analysis of weather conditions, radio communication, statements of survivors and crash debris to determine why the plane flew into the side of a mountain.
"The more information you have, the better your ability to determine what the cause was," said Jim Cash, an NTSB recorder specialist. "You can't fix something when you don't know what's broken."
No way to know

After six years, Craig Kurtz still doesn't know why his parents died.
He knows that his father, Jerome Kurtz, was flying his four-seater Mooney airplane and that his mother, Carolyn Kurtz, was a passenger. Married for 42 years, they were enjoying retirement by flying to every state capital.
He knows the weather was slightly rainy as his parents tried to land at a small airport outside Raleigh, N.C., on May 3, 2004. He knows that his father sounded disoriented while talking to the control tower, and that he made three passes at the runway.
The bodies of his parents were found in a lake along with the remains of the plane. The plane had no black box recorder, meaning that even after a two-year investigation there was no definitive answer. In the end, investigators listed the cause as pilot error.
"Pilot error is pretty much their catch phrase for saying, 'We really don't know what happened,'" Kurtz said during an interview at his Phoenix home in June.
Most small planes are not required to have any kind of data recorders, even though they account for most airplane accidents.
The NTSB recommendation for more sophisticated boxes — with video capacity — excludes piston-engine planes like theirs, which are often flown by hobbyists or personal fliers.
The number of registered general aviation aircraft that have piston engines outnumbers those with jet engines about 10 to one, according to data provided by the FAA.
Kurtz said that perhaps his father suffered a small stroke, but that's only a guess. It's something he tries not to dwell on, but he can't help thinking that if only he knew for sure he could better accept what happened.
"It happened on my older son's sixth birthday," Kurtz said. "A policeman knocked on the door, and I knew right away. I just knew they were gone. … You hear about commercial flights going down and their black box, but I just never thought it would happen to Mom and Dad."
Mysterious plane crashes
NTSB officials say cockpit video in jetliners could be an important supplement to the black box audio and data that record the critical moments leading up to a crash, providing visual documentation of what the pilot tried — or didn't try — to do.
Crash investigators say they wish they had video inside the cockpit of EgyptAir Flight 990, which plummeted into the Atlantic shortly after takeoff from New York City on Halloween 1999, killing all 217 people under mysterious circumstances. The Egyptian government disputed NTSB findings that the Egyptian pilot crashed the plane on purpose.
NTSB investigators say video would have helped them better understand other accidents as well, especially those on smaller planes, when smoke filled cockpits or the pilot overshot the runway.
Cockpit video would have helped investigators unravel the that killed Sen. Paul Wellstone. The Minnesota Democrat was traveling for his re-election campaign with his wife and daughter when their plane went down. All eight people on board died. Without a black box, investigators could only conclude that the pilot failed to maintain a safe air speed.
In 2002, the safety board's recommendation made its "Most Wanted" list, which attempts to nudge government agencies into compliance with high-profile recommendations. Since then, the NTSB updated its recommendations to include private jets and helicopters.
Privacy debate
The debate pitting pilots' privacy against passenger safety spans several decades. In the early 1960s, pilots unions agreed to the installation of audio recorders in airplane cockpits on the condition that recordings would be used only by crash investigators.
But union officials point to incidents in which black box audio was leaked to the news media. A TV station played audio from the cockpit of , which crashed in 1988 at Dallas/Fort Worth International Airport, killing 14 and injuring 26. The audio, which includes the sounds of metal crunching and the screams of people on board, still can be found on the Internet.
"We don't like to be scrutinized," said Ron Nielsen, a retired US Airways captain. "If you could absolutely guarantee that the contents of that video recorder would be limited to the people that had a need to see it, the resistance would drop away. But this is the year of YouTube."
The Air Line Pilots Association, the largest pilots union in the world with 53,000 members from 38 airlines in the U.S. and Canada, has spent $8.9 million lobbying the federal government since the NTSB made the video recorder recommendation, according to the Center for Responsive Politics' . The records don't break out how much was spent on lobbying against cockpit video recorders.
Repeated requests for an interview with union officials were denied. The union has that money would be better spent on creating "more robust" data recorders, which would record more information about a plane's condition before an accident.
This year, two train operators were investigated on suspicion of trying to block views of video cameras in their control cabs. Airplane pilots have been known to disable recording devices, Cash said. There is a circuit in many airplane cockpits that, if shut off, will cut the power to the audio recorder, and in some airplane crashes pilots shut off that circuit before impact, he added. The NTSB wants circuits rewired in the cockpit so pilots cannot disable black boxes as easily.
FAA response
In a written statement from Laura Brown, FAA deputy assistant administrator for public affairs, the FAA said it has significantly improved the quality and quantity of data that is collected from recorders already required on large commercial planes.
These improvements "meet the intent of the NTSB's safety recommendations for video recorders in the cockpit," Brown said.
In addition, she said, three of the accidents that the NTSB uses to justify the need for video recorders, including EgyptAir Flight 990, occurred on foreign airlines that are not subject to FAA oversight.
The FAA isn't persuaded that "there is a need to install cockpit image recording systems in commercial airplanes at this time," Brown said.
Cockpit video technology
The FAA in 2006 outlined the for a cockpit video recorder in case manufacturers want to start installing them. But that doesn't mean the agency is any closer to requiring video in cockpits.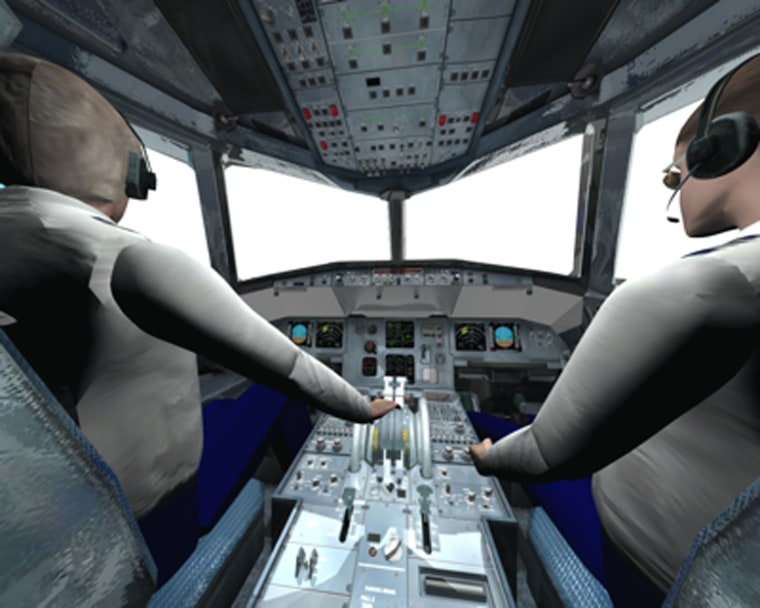 Cockpit video recorders are used in Europe, mostly in a handful of Sikorsky helicopters in England.
The NTSB wants recorders to hold two hours of video. The video probably would look jerkier than video captured on an average video camera because the cockpit camera would catch fewer frames per second. But the limited frames per second would allow the recorders to store more video without bogging down computer systems.
Some U.S. companies already are making video recorders, and some aircraft manufacturers are voluntarily installing them in new aircraft, the NTSB's Cash said. In California, the Physical Optics Corp. is making a to collect audio recordings, flight data and two video views of the cockpit that show the pilots' arms and controls but not the pilots' faces. And a patent has been granted for a video that can capture a fuller, rounder view of the cockpit from behind the pilots' seats.
In small jets and helicopters without any recorders the video recorder would provide the "most bang for our buck," Cash said.
The estimated cost for a video recorder is less than $8,000 on smaller aircraft, according to the NTSB. Higher-end video recorders for larger commercial aircraft could cost roughly $40,000, said Rick Shie, senior vice president of Physical Optics.
Despite the decade-long struggle to turn its recommendation into a rule, the NTSB continues to work to "make the FAA see our way," Cash said. "It probably is going to take some type of large event to get it over the hump."
The Montrose crash
The remains of the Cessna that crashed in Montrose are now a learning tool for investigators training at the in Prescott, Ariz. There, the plane has been laid out in roughly the same way it was discovered in the snowy woods of Colorado.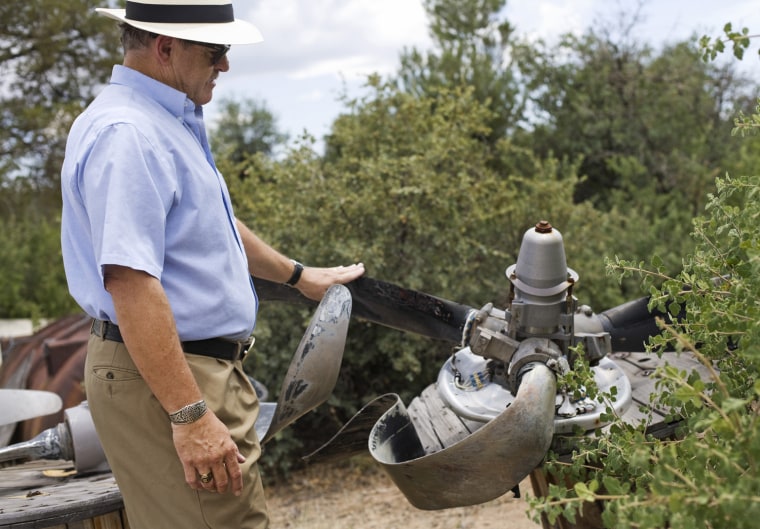 Bill Waldock, a professor of safety science at the flight school, said there are clues hidden within the 9,000-pound, crumpled plane about what happened during the accident.
The pilot hated flying in bad weather and was bringing the plane up to an abnormally high altitude of 15,400 feet, perhaps to avoid a storm, investigators said. He was still pulling on the controls at the time of impact, judging by the way the throttle was bent and the steering column was busted.
"He was fighting this thing all the way to the ground," Waldock said, surveying the remains.
But the broken pieces can never tell investigators what the pilot was doing in the critical moments that caused the stall, sending the plane into a spin.
"In this case, it certainly would have helped us fill in some of the blanks," Waldock said. "An image recorder would have shown us the instrument panel. It would have shown us where his hands were, the control manipulations – whatever he did to make the airplane depart controlled flight."
Part one: Driving While Tired: Safety officials are slow to react
Sidebar: Shhhh! Your pilot is napping
Part three: Truckers fit to drive — if a chiropractor says so
Part four: Outsourcing safety: Airplane repairs move abroad
News21 reporter Charlie Litton contributed to this report.