/ Source: a href="http://foodsafety.news21.com/" linktype="External" resizable="true" status="true" scrollbars="true" fullscreen="false" location="true" menubars="true" titlebar="true" toolbar="true" omnitrack="false" hidetimestampicon="true" hidecontenticon="true" contenticononly="false">News21</a
In 1991, a mechanic at a Turkish repair shop overhauled an engine on a U.S. passenger jet and missed a crack in the engine.
Four years later, on a June afternoon, the 57 passengers on ValuJet Flight 597 heard a loud bang as the plane bolted down a runway in Atlanta. Shrapnel from the busted engine ripped through a fuel line. The engine and cabin caught on fire. One crew member suffered serious puncture wounds from the shrapnel, and another crew member and five passengers suffered minor injuries.
A National Transportation Safety Board   of the ValuJet accident concluded that if the Turkish repair station had required the same rigorous record-keeping as U.S. airplane maintenance facilities, the crack probably would have been discovered and the engine part replaced.
Last year, US Airways Flight 518, traveling from Omaha to Phoenix, had to be diverted to Denver because the pressure seal on the main cabin was leaking. A mechanic at the Aeroman repair shop in El Salvador had put a part of the plane's door on backward, according to a National Public Radio report.
Lawmakers and aviation safety experts are raising new concerns about the outsourcing of plane repairs, especially to shops in other countries that are less closely supervised than domestic shops.
More maintenance has moved overseas. Airlines are not required to use regulated repair shops. Foreign repair stations can go five years between inspections, and even then are often tipped off that inspectors are coming. Manuals are in English, but not all the workers read English. Drug tests of workers are illegal in some countries.
A News21 analysis of Federal Aviation Administration data showed that about 15,000 accidents or safety incidents in all aviation travel can be attributed at least in part to inferior maintenance or repairs since 1973, when the FAA started keeping such records. In these accidents at least 2,500 people died and 4,200 were injured. (News21, a college journalism coalition, worked with the Center for Public Integrity, a nonprofit investigative journalism organization in its investigation. Many of their stories are being published this week by msnbc.com. You can read the full series at .)

The analysis shows that at least 253 of those accidents involved commercial or chartered passenger planes and harmed people onboard. On those passenger flights, nearly 800 people died and more than 850 were injured.
FAA not following many safety guidelines
Thousands of mechanics from all over the world work on U.S. commercial airplanes. Foreign repair stations are located in Canada, Mexico, Central America and Asia. Domestically, airplanes are repaired at large facilities in Mobile, Ala., Greensboro, N.C., and Everett, Wash., among many others.
Faulty maintenance, regardless of where the work is done, is the No. 2 cause of airplane accidents and safety incidents, second to pilot error and other operational errors, according to data compiled by the FAA.
When an airplane crashes or has a close call, it is the job of the NTSB to come up with ways to make the industry safer for passengers. But it's up to the FAA whether or not to turn those recommendations into rules for the industry.
The FAA has failed to follow at least 37 of the NTSB's 340 safety recommendations concerning airplane maintenance since 1967. Those safety suggestions include requirements for special training on complex aircraft parts and more frequent inspections of some critical parts.
By 2001, safety regulators had come up with new rules that hold foreign repair stations to the same standards as domestic repair shops for filling out paperwork and keeping records.
Safety advocates want FAA inspectors to make more frequent visits to foreign repair stations to check the quality of work. They want measures to reduce drug and alcohol use at those far-off facilities. And they want the FAA to get a better handle on the growing number of repair shops in the U.S. and overseas that operate without FAA certification or inspections.
The FAA has not "prioritized looking at the issue, and I don't think the American flying public realizes to what extent maintenance has been outsourced in an effort to cut costs," Sen. Claire McCaskill, D-Mo., an advocate of cracking down on foreign repair stations, said while questioning members of the aviation industry during a 2009 Senate .
Saving money
A couple of decades ago, U.S. airlines repaired and serviced their own airplanes in the U.S. But by the late 1980s, when labor costs rose and rules about foreign airplane repairs relaxed, airlines began outsourcing maintenance to less expensive repair shops. In 2003, airlines outsourced 34 percent of heavy maintenance, which includes taking an airplane apart and putting it back together, a process that can take weeks. That share rose to 71 percent by 2007, according to an inspector general's report in 2008.
And more of that outsourced work has gone to foreign repair stations, said John Goglia, a former NTSB board member who now works as a transportation safety consultant. In 2003, 21 percent of the outsourced heavy maintenance work was done by foreign shops; that rose to 27 percent by 2007, according to the same report.
Those numbers could be even higher because the FAA requires airlines to divulge only the top 10 stations they use most often for major repairs, according to the report.
Many airlines in America have faced financial distress over the past decade, and some have gone bankrupt. Goglia said airlines face pressures to outsource to maintenance facilities with the lowest prices, and that could mean planes are receiving lower quality repairs.
"The airlines will make a switch to another vendor for seemingly minor differences in price," Goglia said. "That does lead to considerable amounts of pressure on any vendor providing services to an airline."
Non-certified shopsThe number of outsourced airplane repairs is no doubt much larger than the FAA numbers indicate. That's because they only account for repairs done at certified shops.
The FAA certifies more than 4,100 maintenance facilities in this country and more than 700 abroad to work on U.S. aircraft. But the FAA doesn't require airlines to use those shops. Airlines can go to non-certified repair stations that are inspected only by the airlines that use them — not the FAA. The mechanics there must follow the airline's manuals and guidelines.
"Why do we have certified repair stations if people aren't required to use them?" McCaskill said.
In 2007, the Department of Transportation sampled 19 airlines and found that all of them were outsourcing to non-certified facilities. In its , the DOT's inspector general identified more than 1,400 non-certified shops performing maintenance for those aircraft, 100 of which were foreign stations in countries such as Aruba, Belize, Bermuda, Haiti and Mexico.
Sometimes repairs are as simple as boxing up a cockpit screen and sending it off to a television repair shop. Other times they're as complex as sending landing gears parts to a shop in Mexico for chrome plating.
When airlines outsource to countries where the rules are more lax, "you're increasing the risk a little bit," Goglia said. "Risk is like a ladder. If you raise the risk and go up the ladder, the danger of falling gets greater and greater."
The FAA would not agree to interviews on airline maintenance and repairs but said in a prepared statement that it closely regulates and monitors repair stations, both domestic and foreign, and that airlines and contractors are required to comply with federal regulations.
Double standardsThe FAA makes an attempt to monitor work done at foreign stations, but its oversight consists primarily of once-a-year inspections. And the stations typically are notified in advance when the inspection will take place.
In the U.S., however, repair shops are inspected every month or so by the FAA, and those visits often are surprises.
"I can expect to see the FAA at least once a month, if not more," said Dave Supplee, former director of flight safety with the International Association of Machinists and Aerospace Workers union. "Many of our FAA people are known to us by name."
But the 2008 inspector general's report reveals that in some cases foreign repair stations used by U.S. airlines can go up to five years without an FAA inspection.
"When the FAA wants to visit them, they have to call a couple weeks in advance and make an appointment," Goglia said. Then the repair stations "clean up the shop. … When you come in, it's all tea and crumpets. Everything's perfect."
Because the FAA only visits foreign repair stations annually at most, there's a long lag time before inspectors check to see if problems have been fixed. In fact, foreign shops can just send a letter stating that improvements were made, said Linda Goodrich, a longtime FAA inspector who now serves as vice president of Professional Aviation Safety Specialists, the union for FAA safety inspectors.
And unlike domestic repair stations, foreign repair stations do not require regular drug and alcohol testing of employees.
"It seems weird to me that we have domestic certified repair stations, and because we don't have as many of them anymore, because so many have been outsourced, there are FAA inspectors that hang out there, that are really looking over their shoulder," McCaskill said at the 2009 Senate hearing.
"And then you travel to Indonesia, and if there is ever an inspector that shows up … they aren't even doing drug and alcohol tests."
Goodrich, who has worked as an FAA inspector overseas, says language also is a barrier. Important information could be lost through a translator when inspectors question workers, and an inspector might not be able to tell if instructions written in other languages are comparable to repair manuals written in English. And sometimes translations of the manuals aren't even available.
"They're getting verbal instructions from people … so you don't know what you're getting," Goglia said. "Did he misspeak? Did somebody mis-hear?"
Numerous safety checks exist at domestic facilities, like Pacific Aero Tech, a third-party shop in Kent, Wash., that repairs airplane windows and instruments.
When each window comes in, one of two in-house inspectors checks for cracks, worn-out lamination and busted heating wires designed to prevent icing. They fill out a form then pass the window on to a mechanic, who fills out another checklist. That mechanic then sends the repaired part back for a final inspection.
Pacific Aero Tech receives regular inspections — about three or four times a year — from the airlines it services, and those audits are typically known in advance, said the company's human resources manager, Danielle Stafford. In addition, inspectors from the FAA pop in two or more times a year, often unannounced.
"Have we had surprise inspections? Absolutely," Stafford said. "They're allowed to come in at any time."
The FAA checks to make sure repair manuals are current and that workers and parts inspectors are doing what they are supposed to do.
Farther north in the state of Washington, a hot spot for aircraft manufacturing and maintenance, a handful of workers at Aviation Technical Services circle an Alaska Airlines passenger jet just outside the hangar. Some climb into the cockpit. One worker climbs a ladder and pops his torso up into the tail of the plane. Other employees peer into the engines and circle the craft, papers in hand.
The business is one of the largest non-airline repair shops in the country. It is housed at the Paine Field Airport about 40 miles north of the state's major commercial airlines hub, the Seattle-Tacoma International Airport. Planes can land at Paine Field and taxi right up to the hangar for service.
Aviation Technical Services, like many other large third-party maintenance shops across the country, would not permit a News21 reporter to take a tour to observe safety procedures.
A repair station in Mexico
Thousands of miles to the south, Mexicana workers leave their shifts at the maintenance facility at the Mexico City International Airport. The company provides outsourced repairs and maintenance to U.S. airlines. Mexicana officials would not allow a News21 reporter to tour the shop.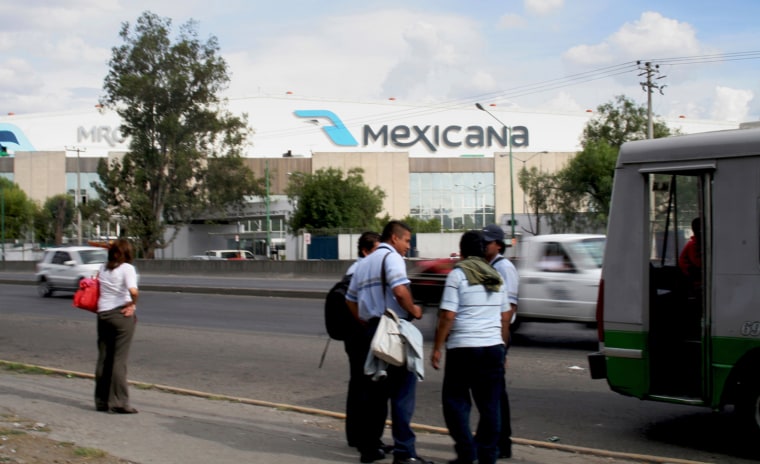 Workers at Mexicana must have at least a high school education and be able to pass challenging physical tests. One repairman, who did not want his name used because he didn't have authority from his company to speak, said only about 80 percent of the repair manuals are available in Spanish and workers must ask for help if they have trouble understanding instructions written in English.
"All the manuals are in English. … You need to have at least a basic knowledge of English," another Mexicana employee said through a translator in July. He also said the facility knows at least one day in advance before an inspection by U.S. regulators.
The politics of safetyWhen an FAA inspector finds something wrong at a foreign repair shop it's difficult to yank that facility's certification because of international politics, Goglia and Goodrich said.
"It is much more difficult for the FAA to enforce their rules and do what they do in the United States when a foreign country is involved," Goglia said. "We don't want to make them angry with us."
In some instances, FAA inspectors don't visit repair stations in countries that have agreements with the U.S. that allow their own inspectors full oversight of the repair facilities in that country. These Bilateral Aviation Safety Agreements have been negotiated with several European countries, and Goglia said there is a constant pressure to create similar agreements with other countries in the hopes of improving international relations.
Aeronautical Repair Station Association spokesman Daniel Fisher said if the U.S. required inspections of repair shops in countries with bilateral agreements, those countries could retaliate by requiring their inspectors to come into the U.S. and charge money for their own certifications. And that could affect the bottom line for U.S. repair shops that work on European planes, he said.
"Europeans outsource much of their aviation repair work here," Fisher said. The U.S. and Canada make $2.4 billion from servicing foreign aircraft. The industry employs 274,000 American workers and has a $39 billion impact on the U.S. economy, according to the .
During the past five years, the FAA says it has improved its oversight program with a data system that tracks which repair shops are used most frequently by airlines and which pose the most risk. Inspectors then increase their inspections of those maintenance facilities.
FAA responseFAA spokesman Les Dorr declined to answer questions about the FAA oversight of foreign repair stations but provided a written statement from the agency's maintenance division.
"The FAA is striving to continually improve safety," according to the statement. "Since 2007, FAA has hired more than 30 inspectors to staff the International Field Offices that inspect foreign repair stations. The FAA only certifies the number of repair stations it can efficiently monitor."
About 3,850 FAA inspectors oversee repair stations in the U.S. and abroad.
The NTSB has made only one safety recommendation addressing maintenance work at foreign repair stations, and that was regarding recordkeeping after the 1995 engine and cabin fire in Atlanta.
NTSB Chair Deborah Hersman said the safety board has no plans to make another recommendation about foreign shops because there has not been a recent safety incident involving maintenance done abroad.
"The safety board investigates accidents, and when we have an accident we basically follow the evidence and see what we can find," Hersman said.
Problems at home, tooThe NTSB has pointed out several repair and maintenance dangers that exist in the U.S. despite higher safety standards.
In January of 2000, poor maintenance caused Alaska Airlines Flight 261 to plummet into the Pacific Ocean off of the California coast, killing all 88 people on board. The flight, which was supposed to take passengers from Mexico to Seattle, was at cruising altitude when the mechanical system malfunctioned in the part of the tail that controls the plane's ability to move up and down.
that a crucial jackscrew in the mechanical system had been stripped because of inadequate lubrication and that the FAA had previously relaxed its rules about how often that part of the plane was serviced. And two years before the crash, a lead mechanic at Alaska Airlines noted the jackscrew — an $80,000 part — was worn out and needed to be replaced. It never was.
The FAA has not implemented four of the safety recommendations made by the NTSB regarding this crash, according to NTSB data. The suggestions include specialized training for mechanics who lubricate horizontal stabilizers and the inspectors who oversee them and another asking the FAA to re-examine its rules about how often certain airplane parts should be inspected or repaired.
In a statement, the FAA said that it took steps after the Alaska Flight 261 accident that met "the safety intent" of the NTSB recommendation. Those steps included new directives on jackscrew lubrication and inspection and guidelines for monitoring the effectiveness of training programs.
Outsourcing the outsourcingThree years after the Alaska Airlines crash another stabilizer system broke on Air Midwest Flight 5481.
About one minute after takeoff, the cable system in the plane's tail malfunctioned because it was rigged incorrectly, making it difficult for the pilot to control the craft's up-and-down movement. The plane, which was traveling from North Carolina to South Carolina, also was carrying too much weight. It careened into a hanger at the Charlotte-Douglas International Airport and caught fire. Twenty-one people were killed.
A mechanic receiving on-the-job training at Raytheon Aerospace in Huntington, W. Va., had last repaired the system of cables in the plane's stabilizer. Air Midwest had outsourced the plane's maintenance checks to Raytheon, and Raytheon had outsourced the stabilizer checks to a mechanic from Structural Modification and Repair Technicians.
that the mechanic and the Raytheon inspector supervising the mechanic had skipped steps while rigging the cables in the stabilizer.
The maintenance facility in this case was not certified by the FAA, Goodrich said, adding that when an airline outsources multiple times "it becomes such a complicated, scary scenario of lack of control."
Seven years later, the FAA has not followed two NTSB recommendations associated with the Air Midwest crash, according to NTSB data. One safety suggestion would prohibit the person training a mechanic from serving as the inspector on the same part; the other would create more supervision of work done by contracted mechanics.
In a statement, the FAA said it already prohibits personnel who perform maintenance from doing required inspections on the work they've done and it also requires airlines and their maintenance contractors to use qualified inspectors. "Therefore, we believe we have met the safety intent of the NTSB recommendation," the statement said.
Lawmakers step inThe , which is pending in Congress, would bolster requirements for FAA inspections and drug and alcohol testing at foreign repair stations.
The Aeronautical Repair Station Association views the Senate version of the legislation as the "lesser of the two evils," spokesman Fisher said. That version does not require twice-yearly FAA inspections and drug and alcohol testing in countries that have bilateral safety agreements with the U.S. The bill in the House would require both for any FAA certified repairs station around the world.
"In some countries it's illegal to drug test," Fisher said, adding that a bill to require such countries to drug and alcohol test its employees "is not respectful of the laws of those nations." Both versions of the bill "will drive up costs for aviation maintenance companies serving international customers and make U.S. repair stations less competitive."
Foreign repair stations have been a topic for lobbyists in Washington, judging by lobbyist spending reports made public through the 1995 Lobbying Disclosure Act. Boeing, British Airways, Alaska Airlines, Continental Airlines, the Cargo Airline Association, the Chamber of Commerce of the United States, the Bombardier Transit Corp. and the Aerospace Industries Association are just some of the groups that have spent money to lobby on the issue.
Goodrich says the FAA inspectors' union supports the more strongly worded legislation, because public safety should always come first.
"There's nothing wrong with people trying to save money but not at the expense of safety," she said. "The taxpayers are and should demand the highest standards for their safety."
Reported from Mexico City; Kent, Wash., and Everett, Wash.
News21 reporters Charlie Litton and Tessa Muggeridge contributed reporting.
Part one: Driving While Tired: Safety officials are slow to react
Part two: Privacy vs. safety: FAA, unions fight cockpit video recorders
Part three: Truckers are fit to drive — if a chiropractor says they're ready