/ Source: msnbc.com news services
North Korea on Thursday released what is believed the first official image of leader Kim Jong Il's youngest son and heir apparent.
A photo of a group of senior Workers' Party officials was published in the country's Rodong Sinmun newspaper.
An article accompanying the photo lists the names of those in the picture. The 20-something Kim Jong Un was one of the officials named.
The photo's release comes after the younger Kim earlier this week was handed top military and party posts at a Workers' Party conference.
The ascension of Kim Jong Un to a prominent ruling party post put him well on the path to succeed the supreme leader at the helm of nuclear-armed North Korea and carry the family dynasty into a third generation.
Rising with him were the ailing Kim Jong Il's sister and her husband, creating a powerful triumvirate ready to take over the family dynasty that has ruled North Korea since its founding after World War Two.
Kim's Swiss-educated, youngest son was made a four-star general in his first mention in North Korea's state media on Tuesday. Early Wednesday, the communist nation announced that Kim Jong Un was appointed to the Workers' Party Central Committee.
After months of speculation, the state KCNA news agency announced on Wednesday that the untested Kim Jong Un had been made second in command to his father at the ruling party's powerful Central Military Commission.
"It is another step toward a new power structure which will consist of Kim Jong Un, a young and inexperienced dictator, and two people — his aunt and her husband — who will be making all real political decisions while mentoring the young leader," said Andrei Lankov, a North Korea expert at Kookmin University. "A figurehead and a couple of powerful regents, if you like."
Kim Jong Il's sister Kim Kyong Hui, 64, retained her position as a department director on the Central Committee and gained a new post as a member of the Central Committee's Political Bureau — the country's second-highest political body. She has risen sharply in prominence in recent months and has been seen frequently at her brother's side.
Her husband was also awarded new political titles. Jang Song Thaek was named an alternate Political Bureau member, KCNA said.
The isolated state's collapsing economy and bid to become a nuclear weapons power pose major threats to the region.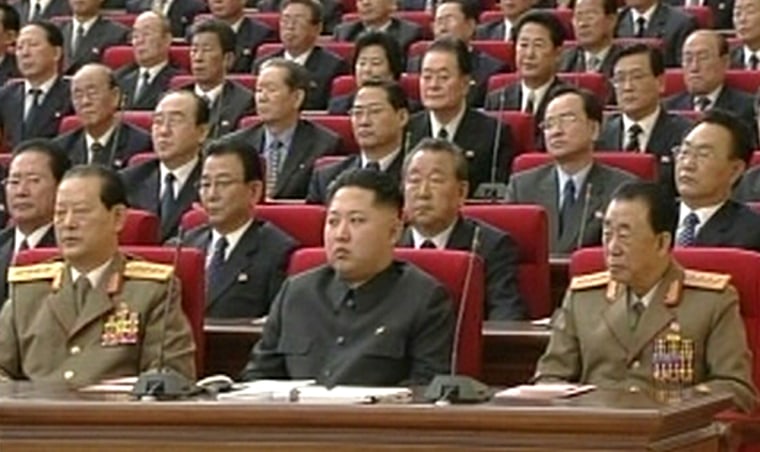 'Military-first' policyKim Jong Il has led the nation with absolute authority since taking over in 1994 upon the death of his father, North Korea founder Kim Il Sung, in the communist world's first father-to-son transfer of power.
Speculation has been brewing about another dynastic succession since the 68-year-old reportedly suffered a stroke in August 2008. There are concerns that his sudden death without a leadership plan in place could spark chaos in the nation of 24 million that he rules under a "military-first" policy.
Noticeably thinner and grayer, Kim Jong Il has resumed touring factories and farms but is said to be suffering from diabetes and kidney trouble.
But Kim Jong Il showed no sign of losing his grip on power and was reappointed on Tuesday as secretary-general of the Workers' Party.
The meeting, attended by Kim Jong Il, also elevated long-time loyal family aides to its supreme leadership body.
Kim Jong Un is believed to be only 27 and until this week held no known political or military positions. However, he was always his father's favorite, and the most like him in looks and ambition, the family's former chef wrote in "I Was Kim Jong Il's Cook" under the pen name Kenji Fujimoto.
The son has been kept well under wraps since childhood, and the mere mention of Kim Jong Un's name in state media caused ripples among North Korea watchers looking for confirmation that Kim Jong Il had anointed the young man as his successor.
From work to play, see pictures from inside the secretive country.
A stable succession will be a relief to its economically powerful neighbors — China, South Korea and Japan.
But regional powers will be watching for any signs of a change in the policies which have driven the North's economy to near ruin and potential collapse. That would put a huge burden on China and, especially South Korea, which would end up with much of the cost of absorbing a likely flood a refugees.
'Dilemma'They will also be looking for any change in the reclusive state's efforts to build a nuclear arsenal that has been central to forcing aid out of the outside world even though it has meant sanctions have largely cut it off from the global economy.
Experts are skeptical of any new dawn.
"Even with a new leader, North Korea is not likely to give up its nuclear ambitions," said Anh Yinhay of Korea University. "But the North faces a dilemma — while keeping the reins of power within the family, the North needs to find a way to overcome its economic crisis.
"They have no choice but to rely on aid from other countries, and they may try to use their nuclear weapons as leverage during negotiations."
Financial markets favor a continuation of the current system and relative stability.
"Externally, it's in everyone's best interest to support the status quo," said Shaun Cochran, head of research for brokerage CLSA in Seoul. "Internally it is simpler to avoid conflict.
"There is an argument that there is less political stability now but I would argue there is potentially more simply because we have a direction everyone is aware of."
China, its only powerful friend and main benefactor, said Beijing would "always handle, maintain and boost China-DPRK (North Korea) relations from a strategic height and a long-term perspective ... despite the ups and downs of the international situation."