Some fishing vessels that catch tuna, prawns and other seafood bound for European dinner tables are being run under slave-like conditions, according to a report published Thursday.
The London-based Environmental Justice Foundation said it had found "horrific" human rights abuses in a four-year investigation detailed in a report called "All at Sea — the abuse of human rights aboard illegal fishing vessels."
Such boats fish illegally in waters across the world but many are officially licensed to sell their catches in the European Union, the EJF report says. Pirate fishing makes between $10 billion and $23.5 billion a year worldwide.
The report adds while any kind fishing at sea was widely considered to be "one of the most dangerous occupations in the world," conditions were even worse on board "pirate" boats engaged in IUU or "Illegal, Unreported and Unregulated" fishing.
"The abusive and often illegal treatment of workers aboard IUU vessels include financial exploitation; poor healthcare, food and accommodation; incarceration; and abandonment," the report says.
"The worst cases meet the International Labour Organization definition of forced labor, including physical confinement, compulsion, retention of identity documents, and non-payment of wages," it adds.
"Crew members aboard IUU vessels have reported being punched, beaten with metal rods, deprived of sleep, imprisoned without food or water, and forced to continue working after injury; the worst cases of violence include murder," it continues.
The group's findings, which were first reported by the U.K.'s Guardian newspaper, came after it investigated vessels operating in fishing exclusion zones off the coast of Sierra Leone and Guinea.
These boats had official European Union numbers, indicating they were licensed to import their catches to the EU and had supposedly passed hygiene standards.
"EJF documented extremely unsafe hygiene conditions on many of these vessels, along with unhealthy and hazardous conditions that the crews were forced to work in," the report says.
Marooned for complaining
The report includes a number of case studies, including one about a trawler, Apsari-3, which was caught fishing illegally in Sierra Leonean waters. Its crew consisted of South Koreans, Chinese, Vietnamese, Indonesians and locals.
"Sierra Leonean crew members had been picked up in Freetown and taken on without contracts and were not given cash payment. Instead they were paid in boxes of frozen 'trash' fish (caught as bycatch), which they would then have to sell locally," it says.
"Crew members reported to the EJF that any protest to the captain of the vessel about conditions, pay or treatment would result in immediate termination of the work, and abandonment on the nearest beach," it adds.
The boats also had "poor or non-existent safety equipment, atrocious hygiene standards and extremely poor crew food and accommodation standards," the report says.
The EJF, which worked with Greenpeace International on its investigation, produced a video to go with the report showing workers on a South Korean vessel. It describes how about 200 people lived in cramped conditions in a wooden structure "haphazardly built onto the back deck."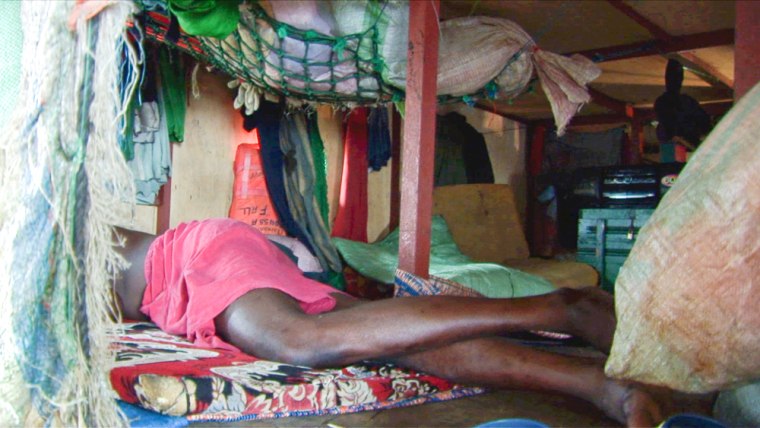 The report also documents the "brutal exploitation of Cambodian and Burmese migrant workers" on Thai fishing vessels in the South China Sea.
"Sold by unscrupulous brokers to Thai fishing boat captains, these individuals are treated as virtual slaves," the report says.
"Workers are subject to constant beatings and forced to work in inhumane conditions, often for days, without sleep or meals. Wages and travel documents can be withheld for years," it adds.
And if they are paid and try to send money to their families, "the payments are required to go through brokers affiliated with the captain. In many cases, the money is stolen."
Reportedly beheaded by captain
The report cites a 2009 survey by the United Nations Inter-Agency Project on Human Trafficking of 49 trafficked Cambodians who worked on these "slave ships."
It found 59 percent had witnessed a boat captain murder a crew member. "One 19-year-old victim witnessed two separate incidents whereby a Thai captain decapitated a member of his crew," the report says.
Duncan Copeland, a senior campaigner for the EJF, said in a statement "that the owners of these unscrupulous operations will go to any lengths to cut costs and maximize their profits."
"If it's not bad enough that consumers risk eating fish that's been stolen from some of the world's poorest countries, there's a real chance it's been caught by crews working in horrific conditions that amount to little more than slavery," he said.
"The international community has to date simply failed to adequately address pirate fishing operations, and measures must be achieved to ensure that these pirate vessels can no longer steal fish and abuse their crews," he added.
Copeland told msnbc.com fishing boats of this type generally caught shrimp and prawn off the West African coast, tuna in the South Pacific and Indian Oceans and toothfish in the seas off Antarctica.
He said the fishermen working off West Africa were either locals or people brought in from rural areas of countries like Vietnam, Philippines or China.
"Agencies go out and tempt these people with the promise of wages way higher than they could earn at home," Copeland said.
However when they arrive on the boat, "their passports are taken away and they find a very different world than they were promised." "The conditions the men are working in are horrific," Copeland said.
He said the boats were often flagged as Chinese or South Korean and while the EU assesses the level of these countries' regulation of fishing, they leave it to such countries to do the actual inspection.
"What you find is Chinese vessels fish on the other side of the world. They are certainly never inspected by EU inspectors and certainly not inspected by Chinese inspectors," Copeland said.
The report calls for "urgent international action" to address illegal fishing and the conditions of the fishermen. It says there should be a global ban on the use of flags of convenience by fishing vessels.