/ Source: msnbc.com staff and news service reports
Justice Elena Kagan took the final, formal step today to become the Supreme Court's 112th justice and fourth woman in its history.
In a very brief but highly traditional investiture ceremony at the court, Kagan repeated the judicial oath that she recited in private in August and then took her place on the high court bench, in the seat for the junior justice.
President Barack Obama attended, as did all three living former justices — John Paul Stevens, whose retirement in the spring opened up the spot for Kagan; Sandra Day O'Connor; and David Souter. It was Souter's first time back in the courtroom since he retired last year.
The court session was merely ceremonial. Kagan and the rest of the court will return Monday for the start of the new term.

In August, the 50-year-old New Yorker became the third woman on the current court, and its fourth ever. She replaced Justice John Paul Stevens.
She wore a black robe she received as a gift from her former colleagues at the University of Chicago and Harvard Law School, where she served as dean, and a white scarf.
"We wish you a long and happy career in our common calling," Chief Justice John Roberts said after administering the oath.
Roberts to Obama: 'You are always welcome here'
It was Obama's first appearance with the justices as a group since he criticized the court's campaign finance decision at his State of the Union speech in January.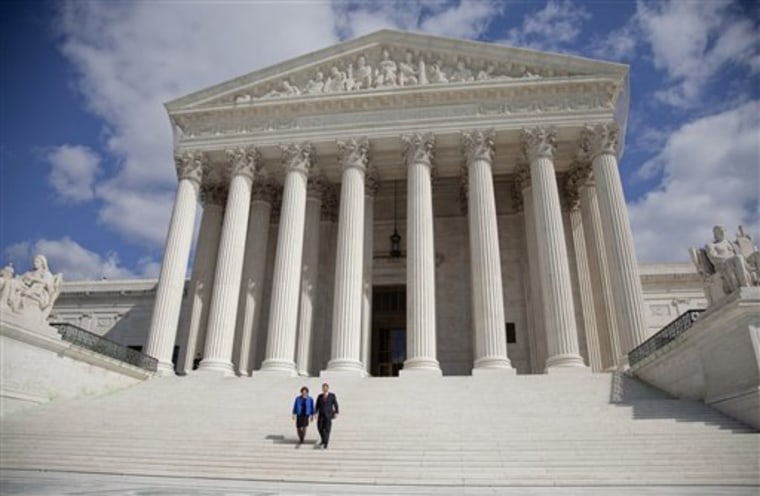 Roberts formally greeted Obama, saying, "You are always welcome here."
After the court session, again following custom, Kagan and Chief Justice Roberts descended the steps in front of the court to pose for photographers.
Asked if she is ready for Monday, Kagan said, "All set."
NBC News' Pete Williams contributed to this story.