/ Source: msnbc.com staff and news service reports
President Bush proposed on Wednesday to develop a new spacecraft to carry Americans back to the moon as early as 2015, and to establish a long-term base there as an eventual springboard to Mars and beyond.
"Inspired by all that has come before and guided by clear objectives, today we set a new course for America's space program," he declared during a speech at NASA Headquarters in Washington.
Although the president sketched out a time line that extended to 2020, he spelled out the financial details only through 2008, and said NASA would receive just $1 billion in new money over that time. That meant the bulk of the space initiative would be in the hands of future administrations.
Under Bush's plan, the space shuttle fleet would be retired in 2010, after the completion of the international space station. Studying the health effects of human spaceflight would become the overarching theme of U.S. research on the space station, he said.
Bush said America would turn its focus from low Earth orbit to "a new foothold on the moon ... and new journeys to the worlds beyond our own."
The moon would be used as a base for more ambitious missions to Mars and into the deeper reaches of the solar system. Bush explained that an extended human presence on the moon would allow astronauts to develop new technologies and take advantage of lunar resources, opening the way to further exploration. The moon has one-sixth the gravitational field of Earth, so spacecraft could be launched from there with less fuel.
'The next step'
"It's time for America to take the next step" in space exploration, said Bush, who spoke 32 years after the American Apollo program last landed astronauts on the moon. He drew applause from NASA employees when he outlined a timetable that would put the first human trip to Mars well into the century.
"Mankind is drawn to the heavens for the same reason we were once drawn to unknown lands and across the open sea," Bush said "We choose to explore space because doing so improves our lives and lifts our national spirit. So let us continue the journey."
Bush told his audience that "this will be a great and unifying mission for NASA, and we know that you'll achieve it."
He proposed a modest increase in spending for the first phase of the new venture — roughly $1 billion in new spending over five years. Bush would also shift $11 billion in federal money from other NASA programs over that same time frame to make way for the program.
He said a private-public commission, chaired by former Air Force Secretary Pete Aldridge, would help develop the initiative further and report back to the White House in four months. NASA Administrator Sean O'Keefe, a Bush appointee, said the space agency would be reorganized to fit the new plan.
Under the plan sketched out Wednesday, unmanned spacecraft would explore the lunar surface beginning no later than 2008. "Robotic missions will serve as trailblazers — the advance guard to the unknown," Bush said.
But Bush brushed aside the idea that robots could completely replace humans in space exploration.
"The human thirst for knowledge ultimately cannot be satisfied by even the most vivid pictures or the most detailed measurements," he said. "We need to see and examine and touch for ourselves."
For that purpose, NASA would develop and build a new "Crew Exploration Vehicle" by 2008, Bush said. The vehicle could ferry people to the international space station after the shuttles are retired. "But the main purpose of this spacecraft will be to carry astronauts beyond our orbit to other worlds," Bush said. "This will be the first spacecraft of its kind since the Apollo command module."
The Crew Exploration Vehicle would put humans on the moon as early as 2015 and no later than 2020, Bush said. The goal would be to have humans "living and working there for increasingly extended periods of time," he said.
Only the beginning
The spending plan for the next five years merely sets the stage for an effort that, if followed to its conclusion, could cost tens or hundreds of billions of dollars. Bush said he hoped other countries would contribute to the outer-space cause.
"We'll invite other nations to share the challenges and opportunities of this new era of discovery," Bush said. "The vision I outline today is a journey, not a race. And I call on other nations to join us on this journey, in the spirit of cooperation and friendship."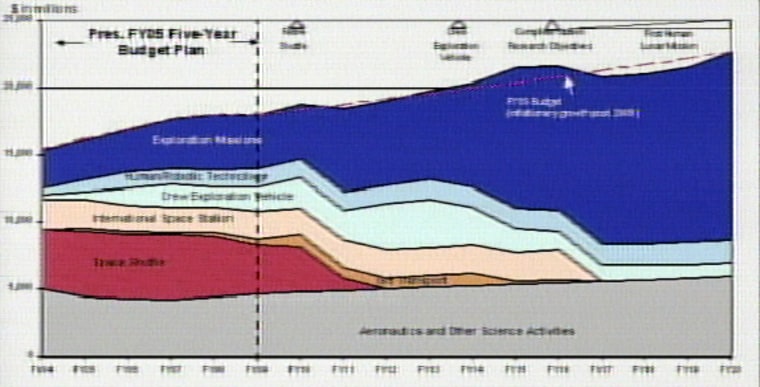 After the speech, NASA's O'Keefe said he had discussed the initiative with his counterparts from other space agencies, and the "enthusiasm and interest in opening up a dialogue over what the degree of international cooperation could be ... was pretty high."
A chart that O'Keefe showed to journalists indicated that spending related to the new initiative could amount to more than $150 billion through 2020. However, the projection for the total NASA budget showed only a gradual increase, due to the decline in spending on the space shuttle and space station programs.
Although Bush did not provide a timetable beyond 2020, officials have said NASA would turn its sights to a manned landing on Mars sometime after 2030.
A less ambitious project proposed by Bush's father called for putting astronauts on Mars, but did not mention a moon base. The cost of that project in 1989 was projected at $400 billion to $500 billion, a price tag that discouraged Congress. The project was never started.
Critics have suggested that the younger Bush's initiative would likewise be too expensive for taxpayers.
"With today's dollars and today's technology, we're probably ultimately talking about half a trillion to a trillion dollars from a budget that is already trillions of dollars in deficit," Robert Greenstein, executive director of the liberal Center on Budget and Policy Priorities, told NBC News.
House Democratic Leader Nancy Pelosi, D-Calif., said Bush's plan would face strong congressional scrutiny. "As we go forward with any initiative, we have to examine our priorities," she said. "We have serious challenges here on Earth."
Sen. Bill Nelson, D-Fla., who flew on a space shuttle in 1986, questioned whether $1 billion in extra funding would be enough to do what Bush had in mind. "You can't go to the moon by 2014 on that," he said.
In contrast, the initiative was praised by Bush's Republican colleagues.
"America is not going to remain at peace, and we're not going to remain the most prosperous nation, and we're not going to remain a free nation unless we remain the technological leader of the world," said Rep. Dana Rohrabacher, R-Calif., chairman of the House subcommittee on space. "And we will not remain the technological leader of the world unless we are the leaders in space."