/ Source: msnbc.com contributor
Bedbugs mean big money — whether you're a victim or an exterminator. The result: an exploding bedbug business that is not likely to die down anytime soon.
Why? Bedbugs are expert hitchhikers, catching rides inside purses, shoes, luggage, clothes and shopping bags, and they can secretly set up camp in new locations, going for up to a year without feeding. They're showing up in college dorms, nursing homes, day care centers, libraries, funeral homes and even movie theaters.
And they are tough to get rid of.
"We are on the threshold of a bedbug pandemic, not just in the United States, but around the world," said Missy Henriksen, spokeswoman for the National Pest Management Association, an industry trade group. "They can go into clean and dirty properties alike. They are equal opportunity pests."
That's good if you're an exterminator or make stuff that kills bedbugs. Revenues from bedbug extermination hit $258 million last year, up from $98 million 2006, according to the trade group, which represents 7,000 pest control companies. Industry officials expect 2010 revenues to be even bigger.
"It is absolutely out of control right now," says Andy Carace, owner of Pest End Exterminators, based in Derry, N.H. So far this year, the 28-employee company has had 800 bedbug jobs. Five years ago, it had 50 cases.
"Bedbugs have been identified as the single most difficult pest to treat in our industry," Henriksen says.
Extermination is a tough job. Pesticides such as DDT once nearly wiped out the bedbug problem 50 years ago, but there is no one single effective way to tackle them today. One method used successfully in Ohio, for instance, might not work on a different bedbug strain in New York, says Henriksen.
Bedbug victims may have to pay hundreds and even thousands of dollars for extermination, since most cases require repeated treatments.
To meet demand, Pest End created a new bedbug division, hired three new employees and spent $15,000 to buy and train a 2-year-old beagle named Rascal who can sniff out bedbugs and their eggs. Carace says a trained dog can find bugs faster and with better accuracy than a technician can.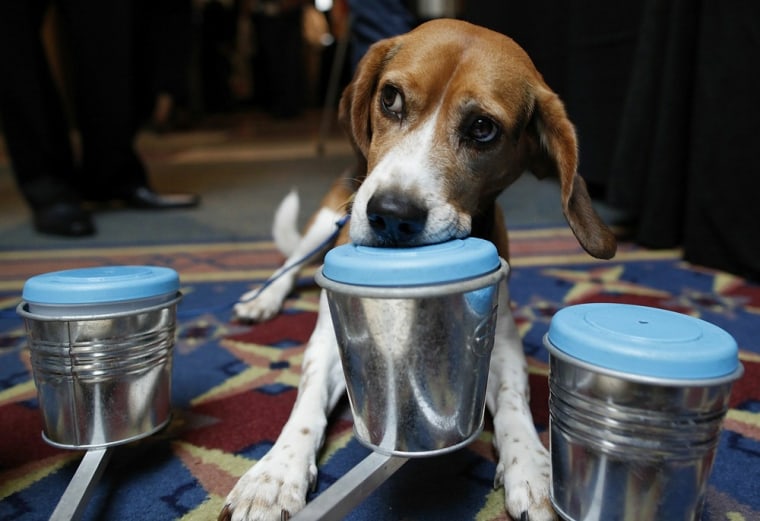 Pest End now gets 15 to 30 calls a day from hysterical homeowners wanting to book Rascal at $200 an hour. Nationwide, dogs are used in about 15 percent of bedbug cases.
"A lot of people call and they think they have bedbugs and they don't," says Courtney Nicholson, Pest End's bedbug dog handler. "Some people start scratching themselves, driving themselves crazy. There's a bit of paranoia."
Homeowners and hoteliers are not the only ones affected by the creepy crawlies. Last month, Nike Town, Victoria Secret and Abercrombie & Fitch closed the doors of their New York City outlets to deal with bedbug infestations. Used furniture stores, office buildings and Laundromats have been affected. Hospitals, nursing homes and cruise ships are seeking advice on what to do if they're invaded as well.
"These companies may be spending hundreds of thousands of dollars dealing with bedbugs and managing hysteria," says Jeff White, research entomologist for BedBugCentral.com, a for-profit online clearinghouse of bedbug information. White says he has seen hotel rooms stripped down to the concrete to purge the pests.
For retailers, the expense extends beyond extermination and includes lost revenues due to business closures and contaminated products that must be discarded. Most insurance policies don't cover infestations so any costs come straight out of the bottom line. Return policies may change to prevent contamination from returns from bedbug-ridden homes, says White.
The even bigger cost is obvious: What happens to a store's reputation when customers can't shake the heebie-jeebies and to come back and spend money?
"We have clients across the board who are concerned about this," says JoAnn Sullivan, who advises retail clients on the topic for Marsh Risk Consulting. She tells them to treat a bedbug infestation much like they would a food recall.
"You want to have a plan," she says. "It's going to get out, so get out in front of the story."
Consumers can choose from a wide range of products, although it is hard to say what might be effective.
There are $160 FabricTech mattress covers, $10 specialty sprays and $30 luggage liners. For $22, people can buy "interceptors," which are placed under a bed's legs to trap the bugs on their way up to a nighttime snack. For $320, a portable heating unit is said to kill off "stowaway" bedbugs hidden in luggage.
Another new gadget, NightWatch Bedbug monitor, is supposed to identify bedbugs by mimicking a sleeping person by releasing heat and carbon dioxide that attracts the bugs. The cost: $422. There are even $30,000 portable insect inferno trailers for sale that fire up the heat to kill bugs in a couch or mattress.
Many makers tout "green" products, promising safer solutions over harmful chemicals, and bedbug experts say it's tough to know which products are legitimate and which are not.
"There is potential for fraud," says Jerome Goddard, a Mississippi State medical entomologist. A maker of a "green" herbal spray recently embellished comments Goddard made about the spray's effectiveness and then implied in advertisements that Goddard endorsed it when he did not.
"Whenever there is a buck to be made, people may stretch the truth," he says.
Many county or university extension services also offer online advice on how to sort through bedbug products, and PestWorld.org, which is run by the National Pest Management Association, lets people search for reputable pest control companies.
The Environmental Protection Agency recently warned consumers to also check whether the pesticides to be used have been approved by the EPA and are approved for treating bedbugs.