/ Source: Tribune Media Services
If you're bound for Europe, be warned: Your U.S. credit card won't always work. Thanks to new technological advances, old-fashioned tax evasion, and merchants' disgust with fees, your U.S. credit card is not nearly as welcome as cash.
Much of Europe has started implementing a chip-and-PIN system, using credit cards that are embedded with a microchip and require a Personal Identification Number (PIN code) for transactions. What this means for Americans is that your magnetic-stripe credit card won't be accepted at some automated payment points, such as ticket machines at train and subway stations, luggage lockers, toll roads, parking garages, and self-serve gas pumps.
For example, while driving in rural Switzerland on a weekend, you could discover that your card won't work at the gas pumps in the few gas stations that are open on Sunday. In Paris, you'll see bikes in racks all over town for anyone to use for quick trips, but the machines accept only chip-embedded cards, allowing Germans and Brits to cruise the cobblestones — but not Americans.
The chip-and-PIN system is most commonly used in the British Isles, Scandinavia, France, Switzerland, Belgium, and the Netherlands. Most of Western Europe should be converted to chip-and-PIN cards in 2012 (and Canada will complete its conversion in 2015).
Chip-and-PIN cardholders don't sign a receipt when making a purchase — instead they enter a PIN (similar to using a debit card for a point-of-sale purchase in the U.S.). Europe's automated machines will sometimes take your U.S. credit card if you know the card's PIN number. Every card has one; ask your bank for the number before you leave on your trip.
Don't panic if your card is rejected. There's usually a solution. Just like at home, cash works. It's easy to withdraw cash from a nearby ATM (there's no problem using magnetic-strip debit cards in European ATMs), or simply carry sufficient cash with you (in your money belt for safekeeping).
Freeway tollbooths and automated payment machines at parking garages often give you an option to pay cash. At train stations, you can stand in line at the ticket window and buy your ticket with euros, rather than try to charge it at a machine. If a gas station with self-serve pumps is staffed, a cashier may be able to take your credit card, swipe it, and have you sign the receipt the old-fashioned way.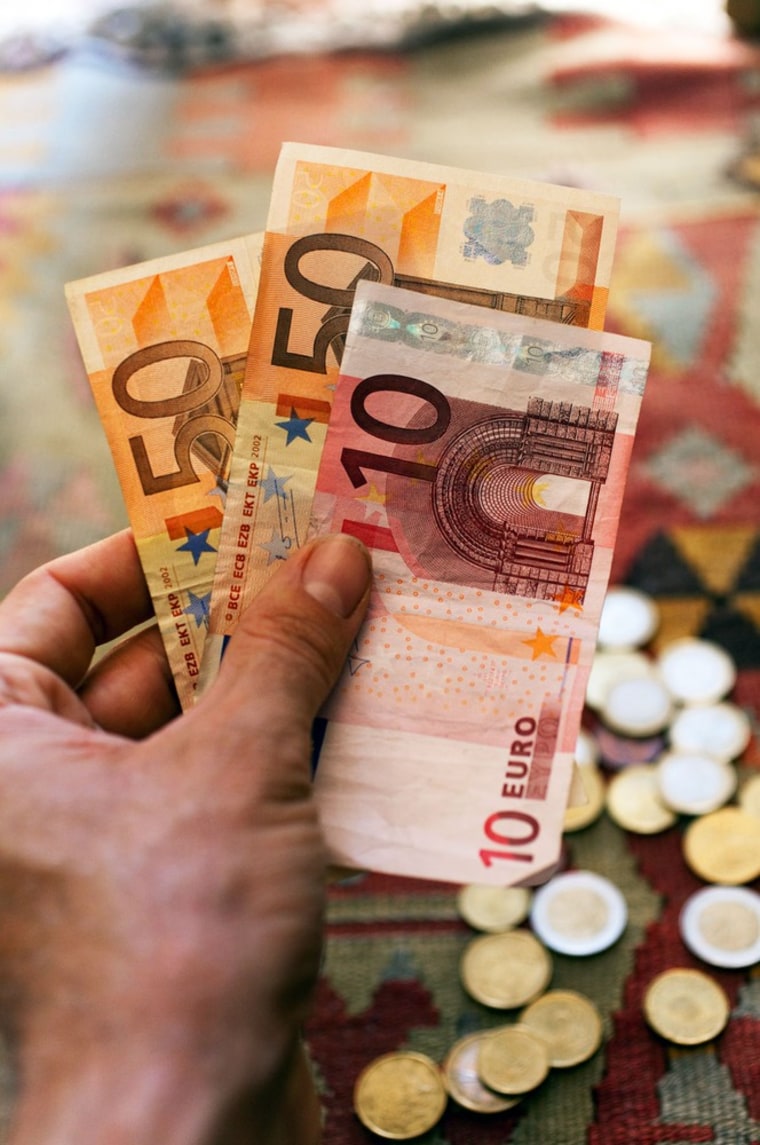 Live transactions are easier. For now, most hotels, restaurants, and shops that serve Americans will accept U.S. cards. But change is coming. So far the new chip-and-PIN card processors can still read U.S. cards, but eventually some of these countries could stop accepting magnetic-strip cards.
Long before chip-and-PIN came on the scene, European merchants preferred payment in cash to plastic. Businesses pay sky-high commissions to credit-card companies; the fees cut deep into the small profits of small places such as B&Bs and restaurants. Unscrupulous merchants want you to pay cash so they can avoid reporting — and being taxed on — all of their income. Whether avoiding commissions or taxes, vendors might offer you a discount for paying with cash, charge you extra for using your credit card, or refuse to accept credit cards at all.
Cash is the way to pay, but there's no need to exchange your dollars for euros (or pounds or whatever) before leaving on your trip. Throughout Europe, cash machines are the best way for travelers to get local currency. You'll pay fees, but less than you'd pay to exchange dollars for foreign currency at home.
It's smart to carefully choose and limit how you use your plastic, whether at home or abroad. You can safely use your debit card at ATMs to pull out cash, but using it to routinely pay for purchases at various shops increases the chance that a disgruntled employee could lift your number (which, if abused, draws money directly out of your account). Don't shop your credit card number around too much, either. For example, as much as I love Prague, I wouldn't pay any restaurant bill with plastic, because the waiters there are notorious for "borrowing" cards' numbers.
In Europe, I use my debit card to withdraw money from ATMs, and pay for most of my purchases with cash. I use my credit card only sparingly: to hold hotel reservations and to pay pricey bills such as car rentals and plane tickets.
Think about it: A dependence on plastic reshapes the Europe you experience. Pedro's Pension, the friendly guide at the cathedral, and most merchants in the market don't take credit cards. Going through the Back Door — seeing the untouristy side of Europe that many Americans miss — requires hard local cash.
( writes European travel guidebooks and hosts travel shows on public television and public radio. E-mail him at , or write to him c/o P.O. Box 2009, Edmonds, Wash. 98020.)