/ Source: NBC News and news services
North Korean leader Kim Jong Il and his son, heir apparent Kim Jong Un, appeared together for a massive military parade described as "the biggest in history" by officials of the reclusive state.
The two Kims stood on a reviewing stand at Pyongyang's central Kim Il Sung Square, named after the country's national founder, where goose-stepping military personnel marched by and military hardware, including tanks, passed below.
The festivities — officially to celebrate the foundation of the country's ruling party — were broadcast on state television, giving the North Korean people one of their first good looks at their future leader, who will succeed his father to carry the communist dynasty into the third generation.
The elder Kim entered the venue to huge cheers from the crowd. He was accompanied by his son and other top officials including Kim Yong Nam, the president of the country's parliament.
The parade is part of celebrations marking the 65th anniversary of the establishment of the Workers' Party of Korea. The party last month held a landmark political convention, its most significant gathering in 30 years, at which Kim Jong Un was promoted to vice chairman of the organization's central military commission.
State TV showed military personnel marching past the reviewing stand and being saluted by Kim Jong Il and later Kim Jong Un, who was not dressed in military uniform as some analysts had expected. He wore the same dark, communist-style outfit he has been seen photographed in recently since making his public debut late last month.
'Historic task of unification'
Earlier, a North Korean flag was raised and military officers in full dress uniform watching as a band played rousing music and the large crowd looked on.
"If the U.S. imperialists and their followers infringe on our sovereignty and dignity even slightly, we will blow up the stronghold of their aggression with a merciless and righteous retaliatory strike by mobilizing all physical means, including self-defensive nuclear deterrent force, and achieve the historic task of unification," Ri Yong Ho, chief of the General Staff of the North Korean army, said before troops began marching.
Even in a country known for its elaborately staged displays of military might, the scale and pomp of the weekend festivities — less than two weeks the news that Kim Jong Il's 20-something son would succeed him and grandfather as leader — suggested something special.
In a radical policy shift by a government typically wary of the international press, foreign reporters and television crews were invited to cover the event.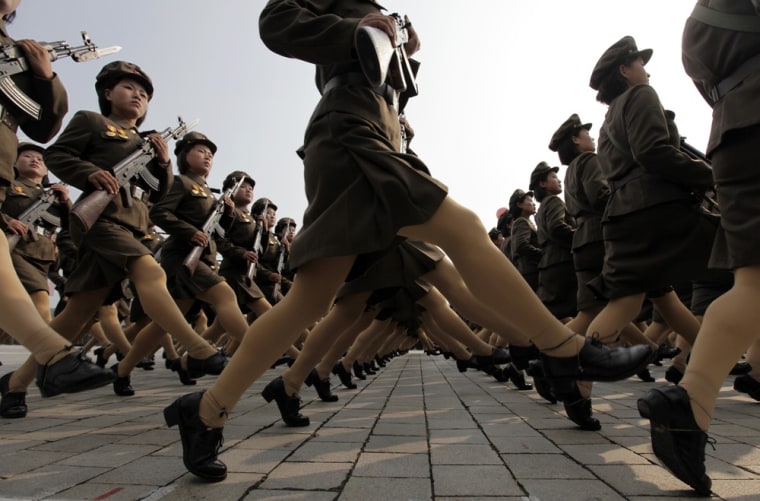 The opportunity set of a mad scramble for visas at the North Korean embassy in Beijing.
A photographer from the Philippines waved the North Korean visa stamped into his passport excitedly like it was a golden ticket, while a writer from Europe noted that, "after four years in Asia, this will easily be the highlight of my career."
The loose, almost blasé way that North Korea was suddenly issuing visas after years of tightfistedness with access underscores the global importance the regime has placed on Sunday's events.
North Korean minders reminded journalists constantly that the military parade would be "the biggest in history" for the country.
Sunday's appearance by Kim Jong Un was a heady debut for the mysterious young man who until two weeks ago was a virtual unknown outside North Korea's inner circle of military and political elite.
Kim Jong Un is the third son of Kim Jong Il but his name never appeared in state media until late last month, and even the exact spelling of his name was unclear.
Nor were they any photos of him as an adult until the state's main Rodong Sinmun newspaper last week published a group shot of the young man seated with his father and other top party leaders. This week, state television showed still images of father and son watching a military unit carry out live-fire drills.
The Swiss-educated son said to be his 68-year-old father's favorite emerged in recent months as the rumored front-runner to inherit the mantle of leadership, despite his youth and inexperience.
Odes to 'Young Commander'
There were reports that children were singing odes to "the Young Commander," and that his January birthday had been made a national holiday like those of his father and grandfather.
He won his first military post with the promotion to general late last month, and was appointed during the nation's biggest political convention in 30 years to the Workers' Party's central military commission, as well as the party's Central Committee — strong signs he was being groomed to eventually succeed his father.
State television later Sunday showed Kim Jong Il and Kim Jong Un appearing at an indoor meeting in which a report about the party's achievements was read out by Yang Hyong Sop, a member of the powerful political bureau of the Central Committee of the Workers' Party.
A newsreader, however, described it as a recorded event and it was not clear when it took place.
Yang on Friday confirmed Kim Jong Un's future role in the country's leadership in an exclusive interview with APTN.
"Our people take pride in the fact that they are blessed with great leaders from generation to generation," Yang said.
"Our people are honored to serve the great President Kim Il Sung and the great leader Kim Jong Il," he added. "Now we also have the honor of serving young Gen. Kim Jong Un."
The question of who will take over leadership of the nuclear-armed nation of 24 million has been a pressing one since the last big military parade in 2008.
Power struggle
At the parade celebrating the 60th anniversary of the founding of the Democratic People's Republic of Korea in September 2008, Kim Jong Il was noticeably absent. U.S. and South Korean officials said Kim had suffered a stroke, sparking concerns about a power struggle and social upheaval if he were to die without a clear successor.
Though thinner and grayer, Kim Jong Il has resumed busy rounds of tours to factories and military units. And a surprise trip to China in late August may have been to introduce his son to top officials in the neighboring nation that is North Korea's most important ally and source of aid.
Though officials in Beijing and Pyongyang never confirmed whether Kim Jong Un accompanied his father on that trip, highly publicized stops at sites dear to the late President Kim Il Sung pointedly reminded North Korean people of the Kim family's political heritage.
Kim Il Sung was a former guerrilla who fought against Japan's colonization of Korea and built a cult of personality around himself and his son. Kim Jong Il took over as leader when his father died in 1994 in what was the communist world's first hereditary transfer of power.
Kim Jong Il rules under a "songun," or "military first," policy with a 1.2 million-member military that is one of the world's largest. Along with military manpower and weaponry, North Korea under his leadership has been building up its nuclear arsenal, much to the consternation of other nations.
Military parades have long been a way for the regime to bolster pride as well as show off its military hardware to the outside world, analyst Yoo said.
"They are going to try to prove that their military might is nothing to be underestimated," he said in Seoul.
NBC News' Ed Flanagan, reporting from Pyongyang, contributed to this report from The Associated Press.