With the unveiling of nine Windows Phone 7 phones to be rolled out on four continents this holiday season, Microsoft's re-entry into the smart phone business is nearly underway.
Of the nine, five are coming to America — three from HTC, LG and Samsung go to AT&T, while T-Mobile will sell an additional two, from Dell and HTC. Though the big reveal is today, the first of the phones won't be available until November 8.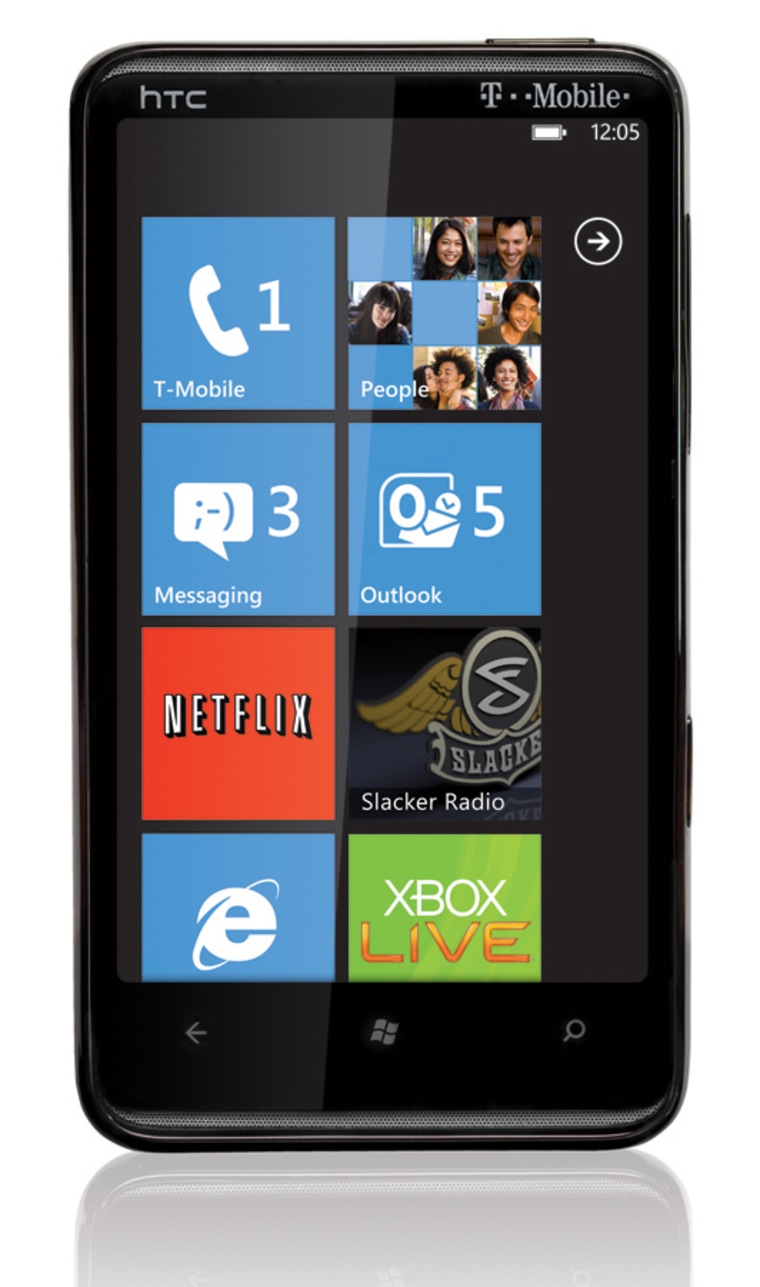 As for the two other major U.S. wireless carriers, Microsoft promises that Verizon and Sprint will have phones in 2011, and that "select models" would be sold at Microsoft Stores and on Amazon.
The hardware
AT&T's phones include the HTC Surround, LG Quantum and Samsung Focus, all pictured up top. They all have 1GHz Qualcomm Snapdragon processors, capacitive touch screens and 5-megapixel cameras. They will each sell for $199.99 with a two-year contract.
The HTC Surround has pop-out speakers and uses Dolby's mobile technology, for better sound when watching movies. It has a "kickstand," so that it can be propped up on, say, an airplane tray table, without the use of severely bent paperclips, intricate origami or a $30 case.
The LG Quantum has a slide-out real QWERTY keyboard, so it will be favored by BlackBerry converts and people who don't like software keyboards. AT&T says it will also play music and video wirelessly via home networks to compatible devices, so you can, say, stream a song to a Sonos wireless music system with a tap of the screen.
The Samsung Focus, scheduled to be the first Windows Phone 7 device to hit retail in the U.S., on Nov. 8, is the thinnest. At 9.9mm, it's nearly (but not quite) as thin as the iPhone 4.
T-Mobile's core offering, due out mid-November, will be the HTC HD7, also with a 1GHz processor and a 5-megapixel camera. The HD7's distinguishing feature is a 4.3-inch touchscreen, which is the same spacious size as the HTC Evo and Motorola Droid X. Like the Surround at AT&T, T-Mobile's HD7 also has a kickstand. (Here's more info on the HD7; pricing isn't yet announced.)
Another T-Mobile handset will actually be sold by Dell and "select retailers," says the carrier. Out in time for the holidays, the Venue Pro will have the requisite 1GHz processor and 5-megapixel camera, but also a vertical slide-out keyboard and a nice large 4.1-inch screen. The Venue Pro is likely the previously leaked slider referred to by Engadget and other blogs as "Dell Lightning." Why the name changed — for the lamer — is a mystery.
HTC prematurely announced the HTC 7 Pro for Sprint. The attractive clamshell-style slider has similar specs to the other models above, but Sprint tells us it won't be available until the "first half of 2011" — a rather nebulous timeframe indeed.
The other major U.S. carrier, Verizon Wireless, has yet to announce (or even spill) any of its WP7 phone lineup, though it will have them in 2011 as well.
The sales pitch
Today's press release quotes Microsoft CEO Steve Ballmer as saying that Windows Phone 7 is "a different kind of mobile phone and experience — one that makes everyday tasks faster by getting more done in fewer steps and providing timely information in a 'glance and go' format."
Clearly, the marketing strategy Microsoft is employing is to show how different Windows Phone 7 is, interaction-wise, from Apple's iPhone and Google's Android. The trouble is, Android is doing gangbuster business precisely because it resembles the iPhone (while selling on all four carriers and in many configurations). Microsoft's zag-while-everyone-else-zigs strategy may be risky, but no more risky than being perceived as more of the same.
This isn't going to be another Kin, the too-smart-for-its-own-good teenager phone that Microsoft launched with Verizon and then squashed a few months later. Windows Phone 7 is a phone operating system with plenty of hardware partners, third-party developers and worldwide carriers. By comparison, Kin was a garage-built science project. Still, it doesn't take a market analyst to see that Microsoft may have trouble selling WP7 to the masses.
(Msnbc.com is a joint venture of NBC Universal and, yes, Microsoft, but that doesn't mean we're going to portray WP7's chances as unreasonably rosy.)
Why you'd buy
So what does make Windows Phone 7 "different"?
For starters, there's the "glance and go" interface of "Live Tiles," customizable plates on the home screen that update regularly, so that users don't have to open apps, or wait for pop-up alerts, to receive new information. (Android users could argue that "widgets" serve a similar purpose, though they tend to be app-specific.)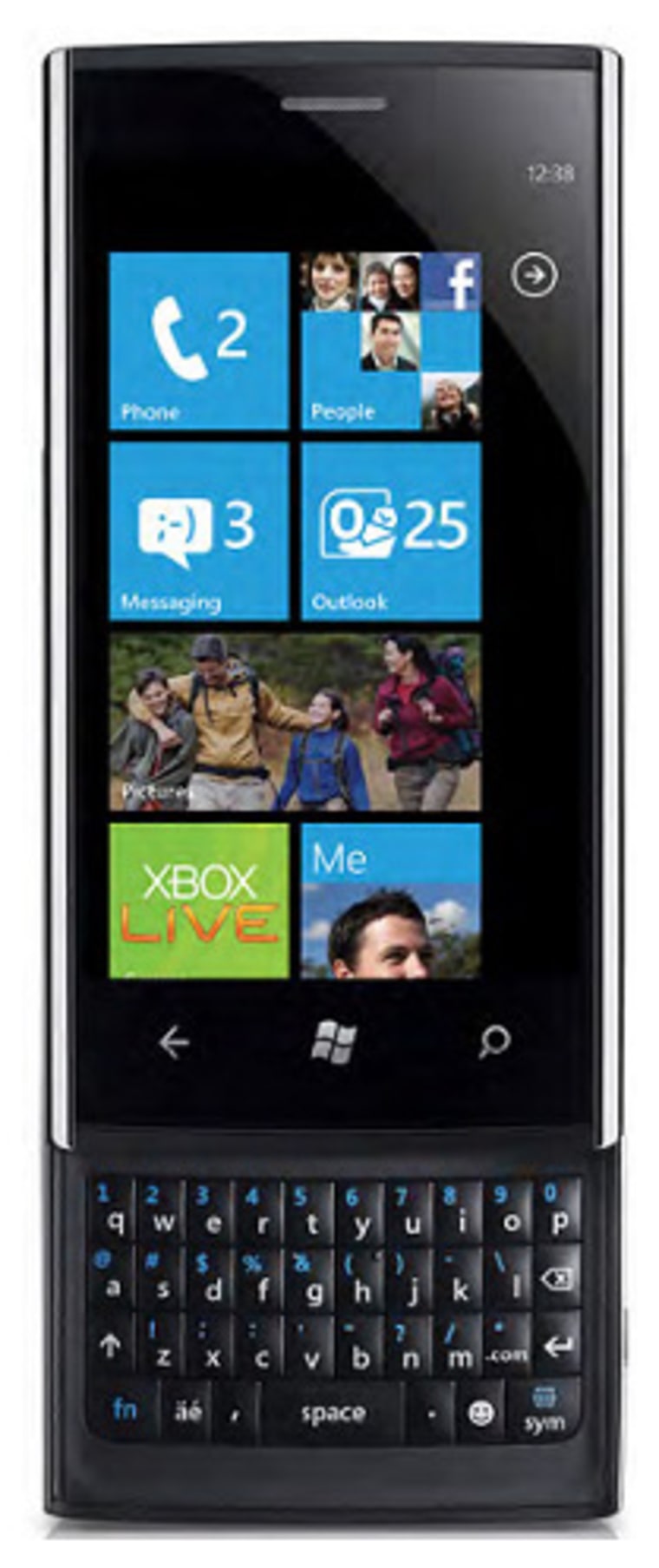 Another differentiator is the Xbox Live integration. Microsoft is definitely sticking it to its gaming console competition, Sony and Nintendo, by rolling out a way for game developers to sync up the living room and mobile game experience. And with monster game publisher, EA, pushing out titles at launch ranging from "Need for Speed: Undercover" to "The Sims 3." I have argued that Xbox nuts may make up the first wave of WP7 adopters.
Dudes who went around saying "I'm a PC" last fall are the other likely converts. Microsoft is using the platform to leverage a bunch of their existing software products. Not only is Exchange right there at the core, you also get an Office hub with light versions of Word, Excel and OneNote, the critically praised Zune client with its Zune Pass subscription music, and free services like Windows Live's Find My Phone, which lets you track your phone's location on a map, and ring, lock or erase it remotely. Most of these things can be mimicked on an iPhone or Android phone, but besides Exchange support, neither of these comes with all this stuff built in.
Why you'd pass
Even given all of that, there are plenty of reasons why people wouldn't jump ship. No matter how many third-party apps Microsoft announces, WP7 will likely never catch up to Android and iPhone when it comes to developers. Most of Apple's 250,000 apps are junk, sure, but the momentum matters.
And it's not just about the apps, it's about the so-called "ecosystem." People who buy iPhones buy iPads — and it's not just fanboys. There's a comfort in two different devices that use the same OS, and even share apps. Android tablets are only slowly poking out of the dirt, but just like Android phones, I suspect the tablets will eventually shoot sky high.
Microsoft has declared straight-up that it's not going to use Windows Phone 7 for tablets; rather, they'll use the bulkier, desktop-oriented Windows 7. If the phone and tablet have a different OS, owners of one have no real incentive in buying the other.
In the end, there may not be room for yet another smart phone option. Ever since Windows Phone 7 was revealed, reviewers and pundits have lauded its design. We all want to like it — on its own. But Android and iPhone compete mostly for the same consumer customers, generally people who pay out of their own pocket for phones and service, while BlackBerry absolutely dominates where there's a company paying the bills. Things will get very bloody in the spring, when, according to multiple reports, Verizon gets its own iPhone. WP7 may end up just getting caught in the shootouts.
Visit Microsoft for .
Catch up with Wilson on Twitter at . If you've got a bulletproof argument for WP7's success, you're under legal obligation to share it.